Air Hockey Table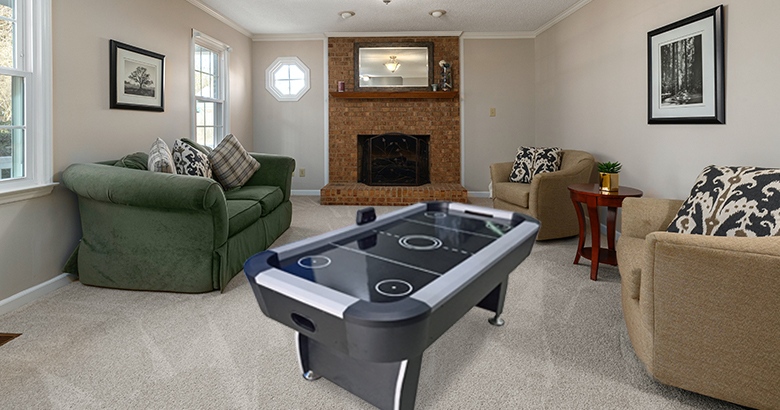 Introduce the origin, benefits and gameplay of air hockey table
Air hockey is a game in which two players play against each other on a low friction table. Air hockey requires an air hockey table, forwards held by two players, and a puck.
A typical air hockey table includes a large, smooth playing surface designed to minimize friction, a wraparound track to prevent puck and shots (rackets) from leaving the table, and track slots at either end of the table that serve as goals. Behind the goal and at either end of the table below, one puck usually returns.
In addition, tables often have some kind of mechanism that creates a cushion of air on the competition surface through holes, with the goal of reducing friction and increasing playback speed.
Hockey can exercise adults' and children's flexibility, flexibility, coordination, endurance, physical strength and so on.
Air hockey table rules of play is very simple, as long as the hand does not cross the Central Line when hitting the ball, any shot scored are more, if the ball is out of bounds by the other side serve.
Contact Huizhou Double Star Sports Goods Co., Ltd. to see more related cases.
Contact: sales@huipus.com
Air hockey is an enjoyable sport to play. It may move quickly, and you must have quick reflexes to avoid being scored upon. Air hockey is significantly more enjoyable when played on the proper table size.
The most important aspect of hosting an air hockey match at home is having sufficient area. To ensure that you obtain the correct sized air hockey table, you'll need to measure your basements or Livingroom. You can't change the size of the table once it's been delivered. A common air hockey table for recreational usage has a 6' by 4' (1.8288 × 1.2192 meters) playing surface hanging from the surface around waist height.
What Are the Dimensions of Air Hockey Tables?
They can grow to be quite large. If you're a dedicated air hockey player, a 6 to 7 1/2-foot air hockey table could be the way to go. It's the same size as the air hockey tables in arcades.
They may be up to 50 inches wide. This provides you with a large playing field and the opportunity to refine your air hockey tactics. A table with a smaller footprint might nevertheless measure 72 inches long and 38 inches broad.
Dimensions of a Small Air Hockey Table
If you live in a tiny apartment and don't have enough space in your home for a huge air hockey table, you're in luck. These games are also available in smaller sizes. However, you must still consider how much area you have. Strategizing while gaming is still critical to scoring and having a good time.
These relatively smaller air hockey game tables are divided into two types. The tiny size is lightweight and portable, allowing it to be moved from place to place. They are 5 feet long and either 2 or 3 feet broad.
Dimensions of an Average Air Hockey Table
Whenever it comes to finding the best air hockey game table for both you and your family, you want to adopt the Goldilocks mentality. It needs to be perfect. This indicates that the table should not be overly huge or too little.
You will be able to select one that is ideal for you, your family, and your house. The normal dimensions of an air hockey table are 5 to 6 feet long and 3-4 feet broad. The bigger sizes are the most popular. They are harder, more durable, and will last you a long time.
Dimensions of an Arcade Air Hockey Table
Arcade operators want their clients to have a good time and keep coming back to their arcade. That is why a small or tabletop-sized air hockey game will not suffice.
Those sized games will not be able to withstand the severe air hockey treatment that the arcade's consumers dole them. They are exclusively intended for family entertainment. Arcade owners need huge, durable air hockey tables that will last for a long time.
What is the Minimum Size Requirement? Table for Air Hockey
This adult-sized air hockey table is the solution to this issue. The adult size covers 8 feet by 6 feet and it is the most typical size seen in public spaces. Clubs, bars, casinos, and other similar establishments are examples.
Because these air hockey tables must withstand the abuse that comes with the most violent air hockey game, they must be large. It is the most common size all around the world.
So what were the dimensions of a professional air hockey table?
There appear to be tournaments and events for almost every game these days. Tournament participation for air hockey exists, and the same sizing remains no matter wherever you game in the world.
You may expect to play on an 8 by 6 foot air hockey table if you enter a competition. Official institutions such as the United States Air Hockey Association (USAA) as well as the Air Hockey Player Association have also accepted this size (AHPA).
There are no exceptions to this size. You will not find a smaller table or it is not an officially sanctioned tournament game or tournament. This means that air hockey tables designed for arcades are not suitable for professional tournaments.
They come with features not allowed by professional organizational rules, etc. They also may not be designed in quite the same way even though they meet those organizations' regulation size for length and width.
What is the definition of a full-size air hockey table?
A full-sized air hockey table has a height of 6 to 8 feet and a width of 4 to 6 feet. If you put this size table in your house or business premises, you'll need a lot of space for the teams to perform properly.
What size air hockey table should I get?
Before acquiring your air hockey table, one needs to think about a few things.
1. The level of experience - If both you and your family are new to air hockey, you may choose to start with a small or tabletop size. When your skill improves, you may always update to a larger table.
2. Game area size - do you even have sufficient room to play comfortably on your good air hockey table?
3. Power source - if you desire flexibility and want to play and there are no electrical outlets accessible, you may choose to acquire a battery-driven air hockey table. If you wish to keep the table immobile, use an electronic air hockey An electronic air hockeytable is the best option.
4. ​Design - do you want a tabletop version or a full-size one? It is entirely up to you and who will utilize the games the most.
5. Puck thickness - light pucks are ideal for youngsters, but if you do have some ability, a thicker puck is advised.
Conclusion
So now you have all of the details you require about the size of an air hockey table. What remains is for you to examine your living space or playing area and determine whichever air hockey table would be better suited to that location. Once you've made that decision, you may choose the quality, materials, and appearance you desire. Possessing an air hockey table will provide you and your family with hours of entertainment. It will also provide you with some healthful activity. If you want a high-quality air hockey table, you should think about SZX.