Foosball Table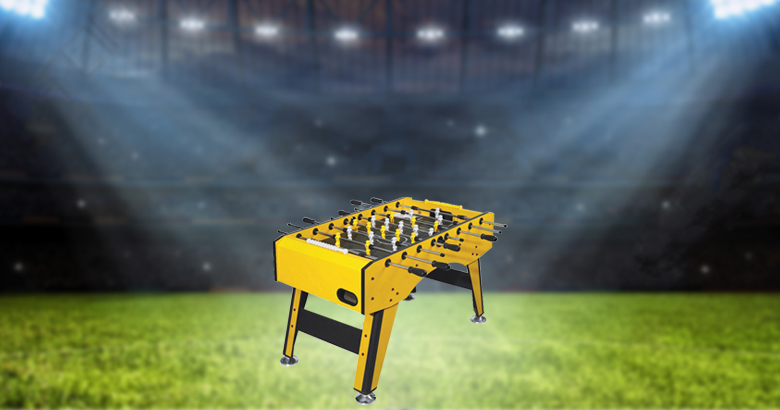 Introduce the origin, health benefits and commercial value of football table
Football table is a popular sport in Europe and the United States. It originated in Europe in the 20th century and has the characteristics of a national sport. After it was introduced into China in this century, it was gradually favored by children and society.
It concentrates the essence of football, which is a kind of fitness and intelligence sport integrating various ball sports skills. It is currently the only small muscle group exercise that uses both hands equally.
Long-term practice of table football can balance the development of the left and right brain functions of the human body, can make up for the imbalance of the development of the left and right brain functions of other sports, so some people jocotically called it "brain sauna".
Table football is a perfect combination of intelligence and physical sports, can promote and cultivate children's innovation ability, is conducive to children's IQ, eq, business development.
Fun strong: table football is speed and fake as one of the opposing sports! Interactivity is very strong, there are singles and doubles, men and women can be arbitrary match.
To physical strength age does not have too much limitation: table football basically relies on hand push pull and rotate, to physical strength consumption is smaller, normal ball stage height area is smaller, can play from the child to the old man.
Smaller footprint: Smaller foosball tables save on rent costs! It can be operated in bars, teahouses, restaurants, hotels and other entertainment and leisure clubs, and lovers can also be placed at home.
Low investment cost: the unit price of football table is low, long service life, ultra-low loss, so it is very suitable for low-cost investment, the risk is very small!
Contact Huizhou Double Star Sports Goods Co., Ltd. to see more related cases.
Contact: sales@huipus.com
Whether you're entertaining friends for the holidays or attempting to design the ideal gaming room/man cave, you may be debating whether to purchase a used foosball table or a new one. Because a new one of these bad boys might set you back a pretty penny, you might as well consult your significant other for their opinion.
Do you know how it feels when your entire family and friends gather around the table to play foosball? It's a fantastic method for people from many walks of life to work from homes, such as entrepreneurs and freelancers. After an evening spent playing games, you'll always feel connected!
Available options for you
Before you start looking for used foosball tables for sale, you need to figure out what sort of table you want. There are various varieties to pick from.
Normal foosball table
A full-sized gaming table or a conventional foosball table may require some setup if it is supplied to you. Because these tables may be fairly hefty, they are normally left in one location. Solid wood or a mix of wood and particle board can be used to create these tables. If properly maintained, the mechanical elements of a high-quality standard table will normally endure a long time.
Foosball table with tabletop
Because table foosball tables are substantially smaller than conventional foosball tables, they are often referred to as mini soccer tables. These are perfect for those who want to buy a used foosball table for their kids or who don't have a lot of room because the tabletop table can be stored until you need it. Please keep in mind that these soccer tables are constructed of plastic and are not intended to endure.
Tables with combination
A combo gaming table is a terrific alternative if you want to get the most bang for your buck. These tables can have a variety of games on them. Air hockey, foosball, and billiards are the most prevalent games on combination tables. Keep in mind that these tables are often available in full size, but if you're on a tight budget, you can discover inexpensive tabletop versions.
Advantages
1) what a  competitive game
Foosball may be played by two to four people, entertaining everybody in a fast-paced, entertaining game that also promotes competitiveness amongst players who are enthusiastic and eager for a challenge. Everyone who plays it strives to improve their skills by practicing more and healthily competing with one another.
2) improve communication skills
People may not only converse and interact while playing, but they can also become friends. While playing, a wide range of conversations could arise, including serious discussions. Overwork can cause people to become disconnected, but this fun game can bring them back together in a playful environment where they can debate anything while having fun and being stress-free. It also promotes co-worker harmony and builds teamwork spirit by teaching them how to communicate effectively, make strategies, and appreciate each other while communicating.
3) Improves productivity
Along with building team spirit, teammates will strive to support and predict what their partner is about to do, allowing them to have a better knowledge of one another. Creating such a link between employers would undoubtedly boost their productivity, especially if their jobs frequently involve collaboration.
4) How it can be a healthier game for you?
Games have always been wonderful medicine, and light sports like foosball are a terrific way to get people back on their feet and back to their regular lives. In addition, the game is a good treatment for arthritis. People with osteoarthritis can use the foosball to keep active and stand so that their afflicted joints do not become stiff, since this game gives a mini-workout in which the knees, feet, wrists, shoulders, and elbows are continually moving and flexing.
5) ideal for your body
Foosball is an excellent tool for recovering from any ailment. This hand-eye coordination game will help the patient's brain heal faster and adapt his prosthetic limbs more quickly than it would otherwise. For example, American servicemen in hospitals refused to do hard rehabilitation routines, but foosball was a less difficult activity to play than the others. In reality, the foosball table is already in use in European hospitals and has begun to spread to hospitals in the United States; it is used to help patients get out of bed and back to their normal lives.
6) availability and prices 
Foosball is becoming more popular and accessible all around the world, and the cost of a foosball table is falling. Eventually, everyone will be able to purchase the table, which comes in a variety of styles and sizes. It may be found at local markets or online businesses, and it is available to everybody.
7) easy to play
There are no constraints or limitations to playing this sport, and the rules and prerequisites are straightforward. Even a physically impaired person or a senior citizen may enjoy this game because it requires just a few hand motions and focuses to reach the ball on the table, and the rod action requires no additional room.
8) A family game
Everyone may enjoy this game, whether they are men or women, young or elderly. Even youngsters can participate in a game with their parents. They may play it while visiting shopping malls or community centers and have a good time while doing so because the game promotes respect and equality among family members both directly and indirectly.
9) A source of motivation
Foosball is a game that may be played in every modern society. Despite the innovative new technology, this game continues to have a place in people's hearts, and even the younger generation finds it intriguing to play. It is, like other sports, an inspirational game that encourages individuals to strategize and plan for victory. The game promotes good etiquette and social habits, as well as strong interpersonal relationships.
conclusion
Foosball tables with modern atheistic designs are top sellers at SZX. It's a best-seller on several websites. You can play on a flat surface thanks to the sturdy broad baby foot and rubber baby foot. The surface is simple to keep clean. Its size makes it suited for most locations. It's simple to use with abacus-style scoring.