Cornhole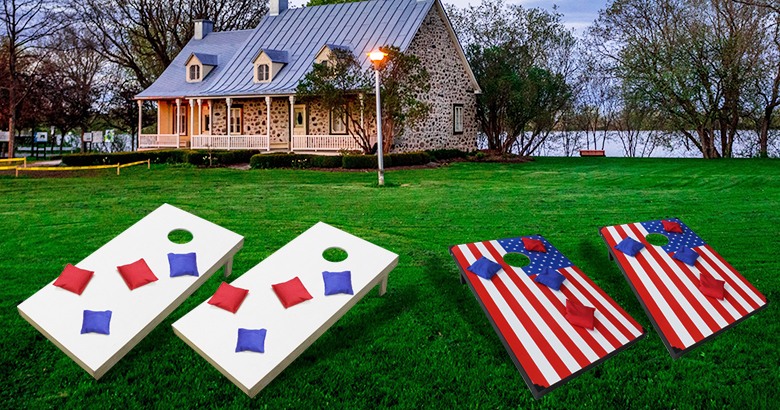 Classic outdoor corn hole game
If you're looking for a fun-filled outdoor game that brings lots of fun to your family and friends in the outdoor backyard, choose the corn hole game.
Our corn hole boards are handmade from MDF and undergo a rigorous polishing and sealing process. Two foldable brackets ensure it is strong enough to prevent warping and rebound. High quality design and solid construction are the enduring pleasures of this classic corn hole game.
Corn hole games can not only exercise small muscles, but also train the hand-eye coordination ability, quick reaction ability and personal agility, which is conducive to regulating people's emotional tension, improving people's psychological state, and stimulating people's enthusiasm, creativity and initiative; Conducive to a civilized and healthy lifestyle.
Contact Huizhou Double Star Sports Goods Co., Ltd. to see more related cases.
Contact: sales@huipus.com
It's not simple to choose a Cornhole board because so many firms are now producing these Cornhole board sets. So, to make your decision easier, we've compiled a list of the top 10 gaming platforms. However, before you get to the list, you should be aware of the numerous aspects to consider before selecting your ideal Cornhole board set.
Before acquiring any product, it is necessary to conduct research on it. It is vital to ensure that you have a thorough understanding of the product in order to obtain the best potential result.
As a result, it is critical to understand Cornhole boards and the factors to consider when acquiring these boards.
Level of experience
The bag toss board you choose is determined by your degree of experience. If you are a beginner, you should avoid purchasing a high-priced Cornhole board. It is also not necessary to purchase a regulation-size board. There are a variety of plastic platforms on the market that you may get for a lower price. So, start with a plastic and tailgate-sized board and work your way up to a high-quality product.
It is vital for Intermediate level players to continue practising on a regular size board, but it is also required to obtain the highest quality Cornhole board. If you're a newbie, you should first read the corn hole regulations.
However, if you are a professional who travels to numerous locations to compete in tournaments, it is critical that you select the finest of the best goods available on the market. Always make sure the wood you're using is of high quality. The more you concentrate on the quality and other aspects of the Cornhole board set, the more helpful it will be to you.
Materials for manufacturing
Regardless of whether you are a novice or a seasoned gamer, the building materials of your chosen goods must be examined. As previously said, plastic boards are great for novices, but make sure you are purchasing a high-quality plastic product.
Other than plastic, certain board frames are made of aluminium, so if you're a novice or intermediate player, you might want to go for aluminium.
However, it is preferable to choose a product made of high-quality wood. It is preferable to get a product that satisfies the ACA guidelines. As a result, make sure your gaming board is composed of half-inch plywood. Wooden platforms are commonly used by professionals and other serious players because they prevent the hurled bags from bouncing. They reduce bounce and provide you the most enjoyable throwing and playing experience imaginable.
Surface of the board
It is also vital to examine the board surface in addition to the building material. If you're a serious player searching for a Cornhole game board to practise on, the texture of the board surface is critical. Anti-skid surfaces keep thrown bags from sliding into the ground and provide a professional gaming experiencae.
Sides of the Board
It is not necessary to inspect the board sides to see if they are protected. Many professional players and tournament organisers, on the other hand, prefer Cornhole game boards with side barriers to keep hurled bags from rolling down the board edges.
To ensure a fair game, these little side barriers keep the bags on the board surfaces.
Painting of the Surface
If all you want to do is play with your friends and family and wow your visitors, you may use any paint or purchase any aesthetically appealing playing board. Professionals, on the other hand, prefer latex-based colour coating. There are many numerous hues that are acceptable, including white. As a result, it is preferable to use ACA-approved paints or colours. Otherwise, you may make your board more appealing by using any paint, colour, or decals that are commonly utilised in board design.
Size of the Board
The boards for the Bean Bag Toss Game are available in two sizes. The first is the standard size, which is 4 ft x 2 ft. The other is the size of the tailgate, which is 3ft x 2ft.
So, if you want to play and have fun at tailgates, campsites, holiday weekends, and other events, you may choose a tailgate board size. However, whether you are playing for leisure or training for a competition, it is preferable to play on a standard size board.
Things to take care for:
There are a few additional things to think about as well:
1. It's a good idea to check with the vendor to see if the playing board is waterproof. Always look for a waterproof playing board so that you may store it wherever without fear of damaging it.
2. Many Corn hole gameboards come with folding legs for quick game setup or storage, and waterproof or all-weather playing boards allow you to continue playing in a variety of weather situations. So, when you go out and buy your perfect Corn hole game board, make sure it has sturdy folding legs.
3. A carrying bag is essential for effortlessly transporting the playing boards. Some board sets, on the other hand, nest together to form a carrying box with a convenient rope handle. This function is preferable than slinging a bag over your arms or shoulders.
Conclusion
Bean bag toss is one of the most universal games you'll ever come across, and it's as simple to play for tiny kids as it is for grandparents. Some people recognise this as bean bag throw or a game you could see at a county fair. Corn hole boards for bean bag toss created by SZX are handcrafted from MDF and go through a thorough cleaning and sealing procedure. It is sturdy enough to resist warping and rebound thanks to two folding brackets. The enduring delights of this traditional corn hole game are the high quality design and robust construction.