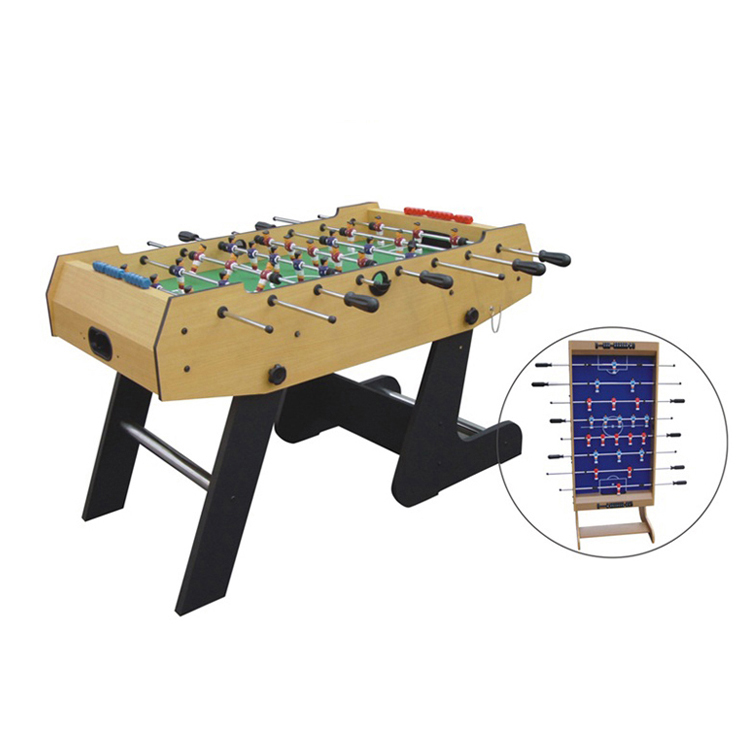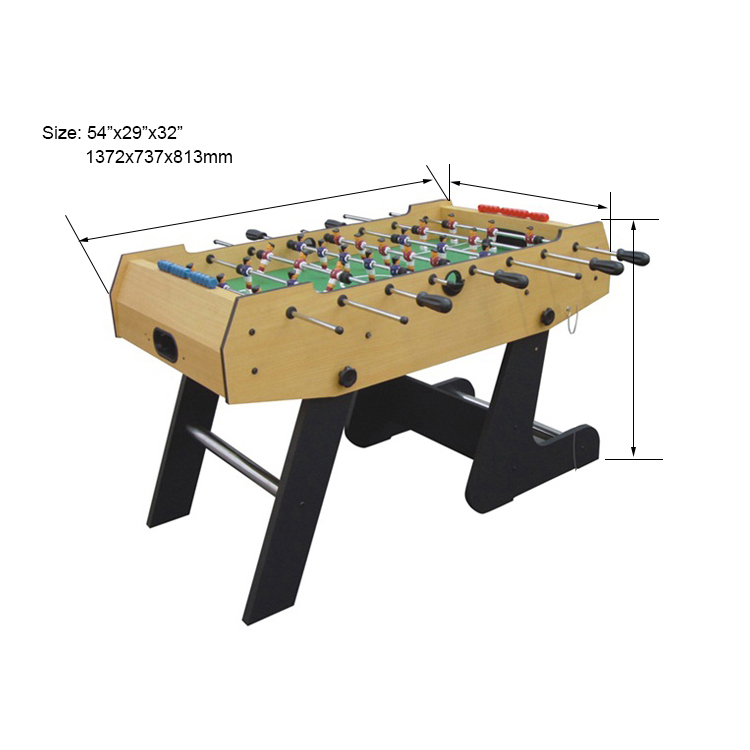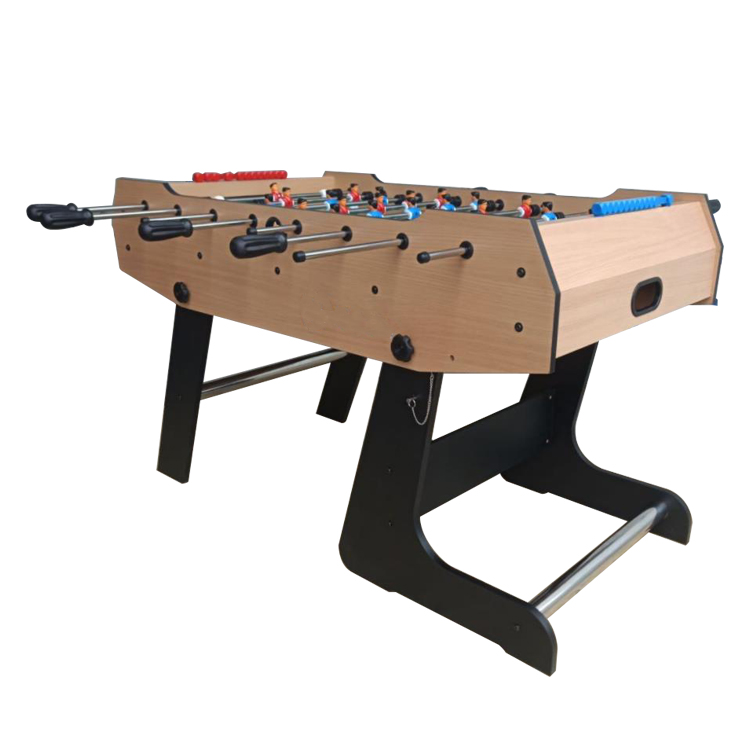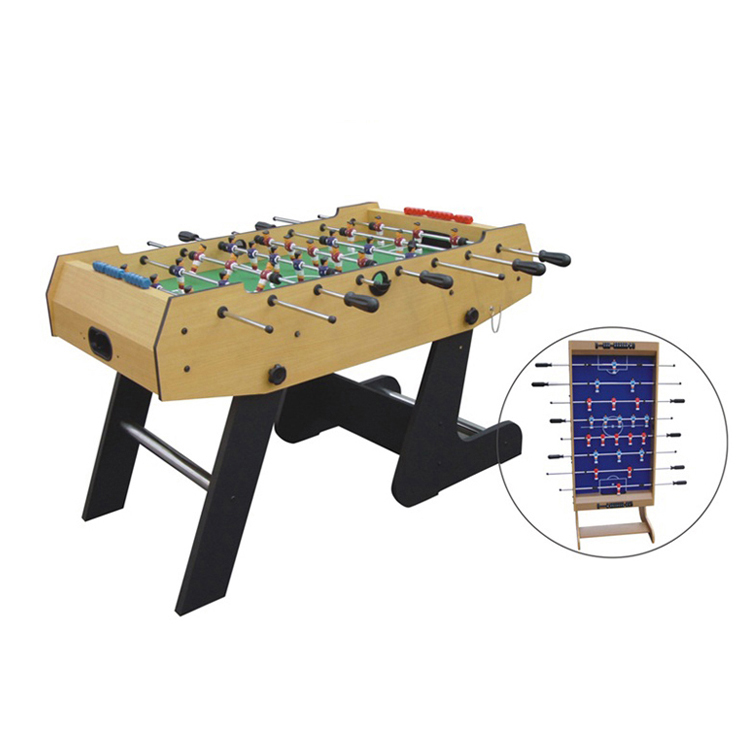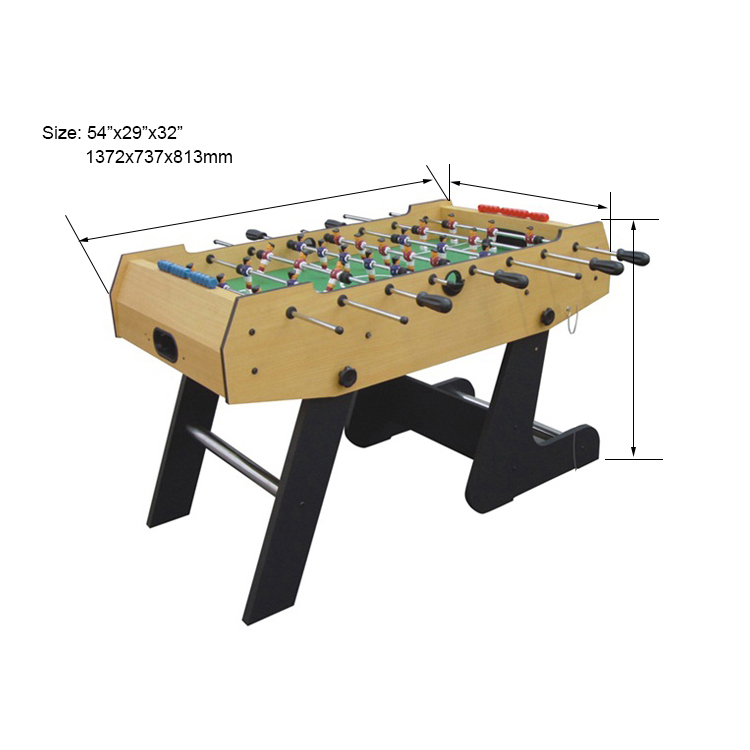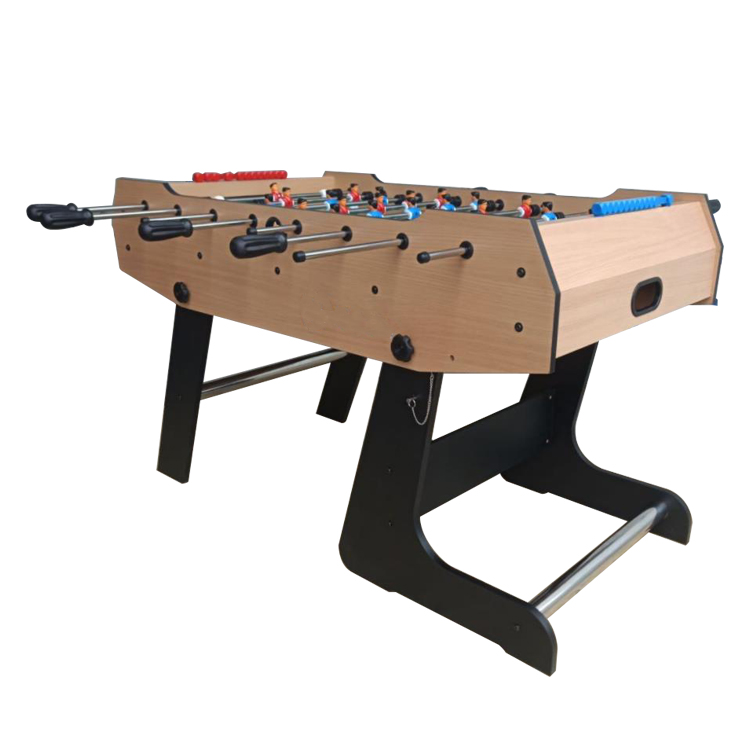 Table Detail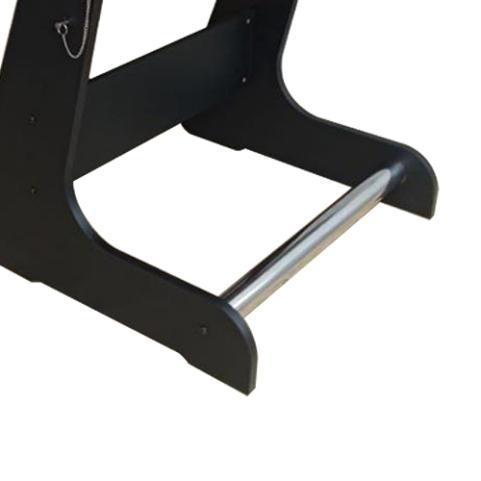 1. Foldable legs
It comes with four foldable legs. You can fold it while not in use. Foldable structure can save space. Also, it's more convenient for you to remove it.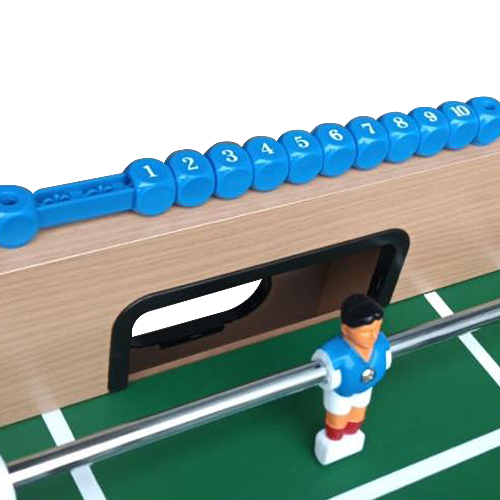 2. Slide Scoring Mounted
Slide Scoring Mounted On Each End of Table.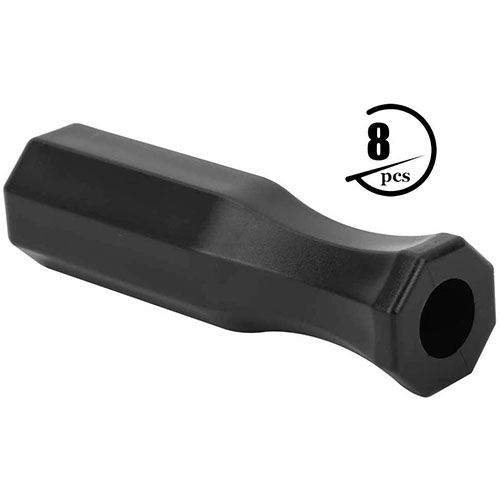 3. Smooth and comfortable handle design
Roller bearings to greatly improve the game speed, while reducing the stress for the players' wrists.
About This Item
SZX-S08 is a classic foldable soccer table. It comes with four foldable legs. You can fold it while not in use. Foldable structure can save space. Also, it's more convenient for you to remove it. This foosball table is hot selling on many sites including Amazon. The table body has another feature, It's easy to clean the surface. Its length is 54″. The size is suitable for most places. It has two plastic scorers which make it easy handling.
Foosball is an ancient tabletop game that you may find upon. It was created in the early 1900s and has since evolved into a game with a sizable fan base. Due to the lengthy history of foosball, there is a wide range of equipment from various times. This makes finding antique equipment surprisingly simple.
You may check out the foosball table nearby. As a result, you may purchase a foosball table from a neighboring gaming store. However, it is preferable to take it online. There are several brands of foosball tables as well. The majority of the time, brand-name items are the best. This article contains all of the information you need to buy a foosball.
Whether you are a skilled competitor or simply enjoy a nice game of foosball in the comfort of your own home, you will want to know what to look for when selecting the best foosball table for you. There are a plethora of various tables to choose from, whether you choose to buy online or at a shop.
Foosball Tables types
First, you must pick what sort of foosball table you want to buy. Do you want a stand-alone table, a tabletop table, or a multi-game table? Are you looking for a coin-operated foosball table for a pub or arcade?
It is also important to remember that there are two types of foosball tables: professional and residential variants. Once again, you must pick what type you are looking for.
Which tale is corrct for you?
Once you've decided on the sort of table you want, you can begin determining which folding foosball table will be ideal for you and your needs.
Finance
How much money are you willing or able to spend on a foosball table? Table-top foosball tables are the most affordable of the several variants and will most likely fit into most budgets. The stand-alone foosball tables, on the other hand, are more expensive. They can range from $100 to several thousand dollars. If you've settled on this style of table, you'll need to think about your budget.
Game oponent
Who will be at the foosball table? Will it be kids, teens, or adults? What is the competence level of the adults who will be utilizing the table? Are they novices, intermediates, or advanced players?
If you are purchasing a folding foosball table for your children to play on, it is better to go for a cheaper version, and a tabletop foosball table is recommended for simple access.
For intermediate players, search for mid-level tables with smooth rods and adjustable table legs. You'll also want a more robust table to sustain more aggressive play.
For the most advanced and skilled players, you will want a high-quality model that is regulation-sized and has a flat, hefty playing surface built of only the best and most durable materials.
Material
The price you pay for a foosball table will influence the quality you receive.
If the table is built of particleboard, its durability will be low and its pricing will below. This is most appropriate for youngsters. If the foosball table is built of composite or wood, it will be more sturdy and will last longer. The higher-priced variants are composed of composite or wood.
The steel rods are the next thing to look at. There are three kinds: hollow (the best), solid, and telescoping.
Lastly, have a look at the surface. A smooth, hard surface enables faster gameplay. Tempered glass offers the highest quality play, while a wooden surface slows down the game.
Available Space
Table Size Foosball tables come in a variety of sizes. Analyze the area you have available for a foosball table, and don't forget to account for the space surrounding it that you'll need to play.
Table Leg height
Some tables include movable legs that allow the table's height to be modified to equal the table if the floor is uneven. Levelers are included with higher-quality tables.
Goalie Setup
For more advanced players, a one-goalie configuration is optimal. A three-goalie concept is intended for quicker play.
Number of Players
Counter-weighted men are favored by intermediate to expert players; this characteristic implies that the foosball table is a professional one.
Warranty
A foosball table's typical warranty is one year. The furniture-styled tables, on the other hand, have a shorter guarantee because they are more attractive and meant to endure longer.
Once you've decided on the sort of foosball table you want and your budget, the rest of the elements listed above will fall into place. Remember that your total quality will be determined by your budget.
If you are prepared to pay a little more, your foosball table will become an investment that will provide you with many years of gameplay. The amount of expertise is an important consideration. If you are a serious player, you will want the highest quality table available.
Conclusion:
When you invest in a foosball table, you undoubtedly want to have it as quickly as possible. Many individuals have foosball tables in their homes because it is a fun game for people of all ages. When consumers are looking for foosball tables, they usually go to their favorite gaming store or sports goods manufacturer, depending on the size they want, the available features, and, of course, their budget. However, you should consider a few factors that may impact delivery time, such as the location of the business, the accessibility of your goods, and so on. SZX combines all of these features into a single platform.