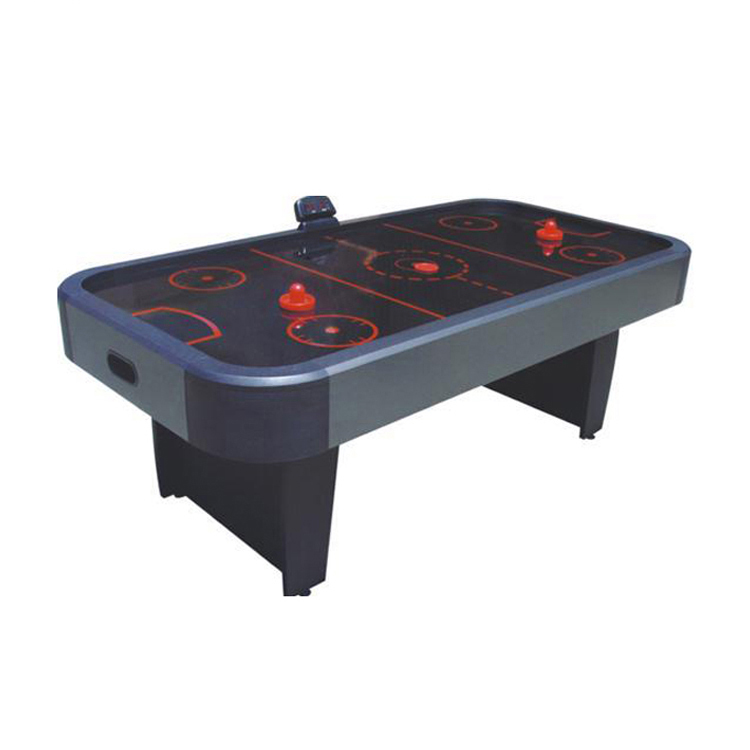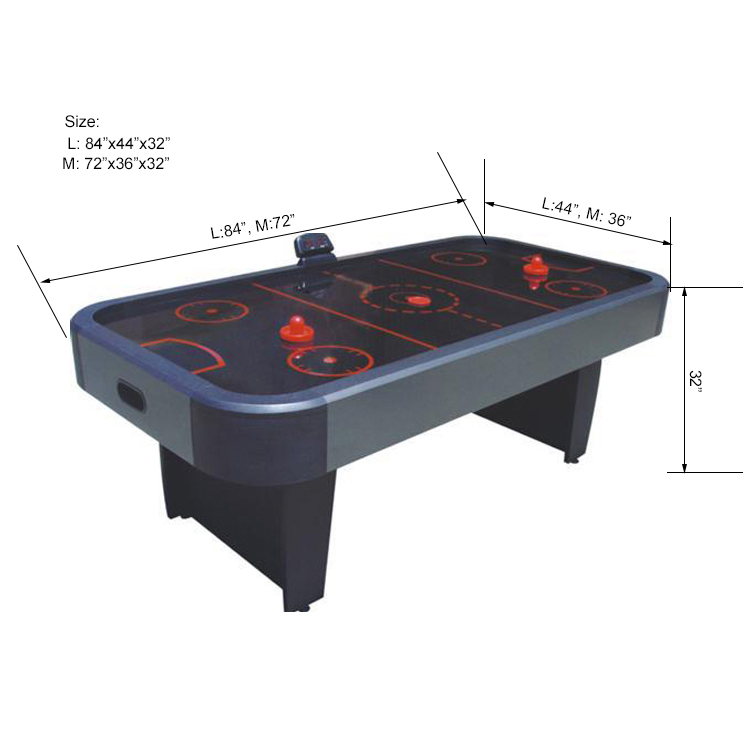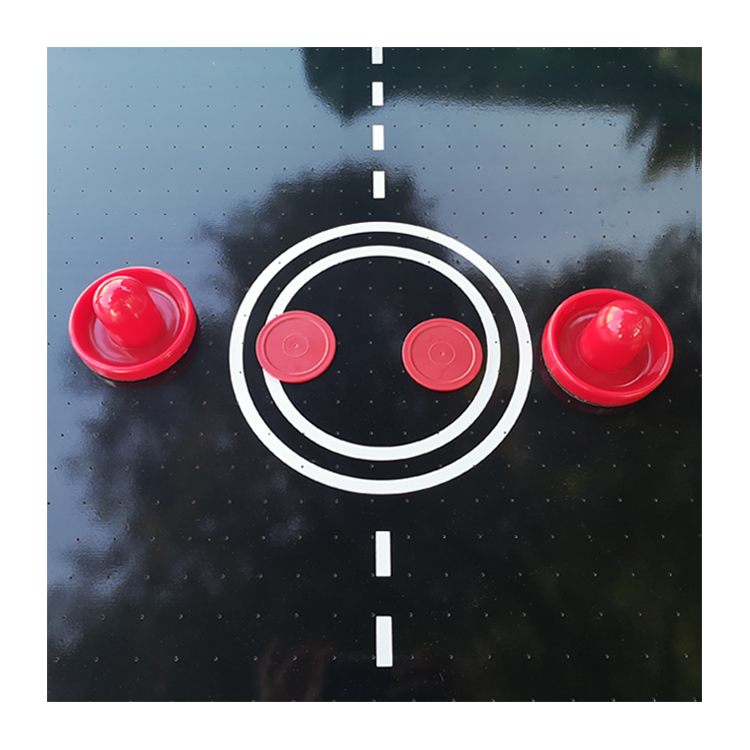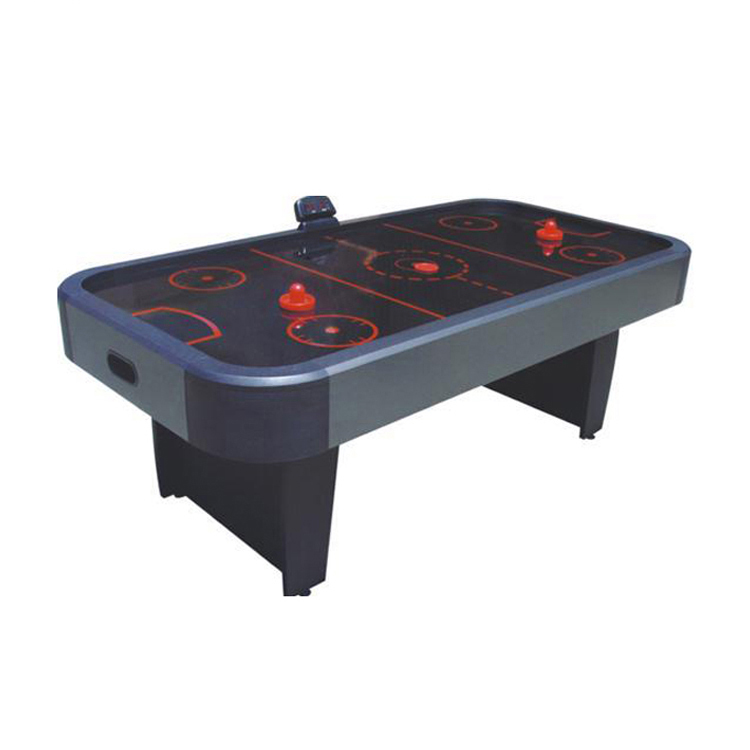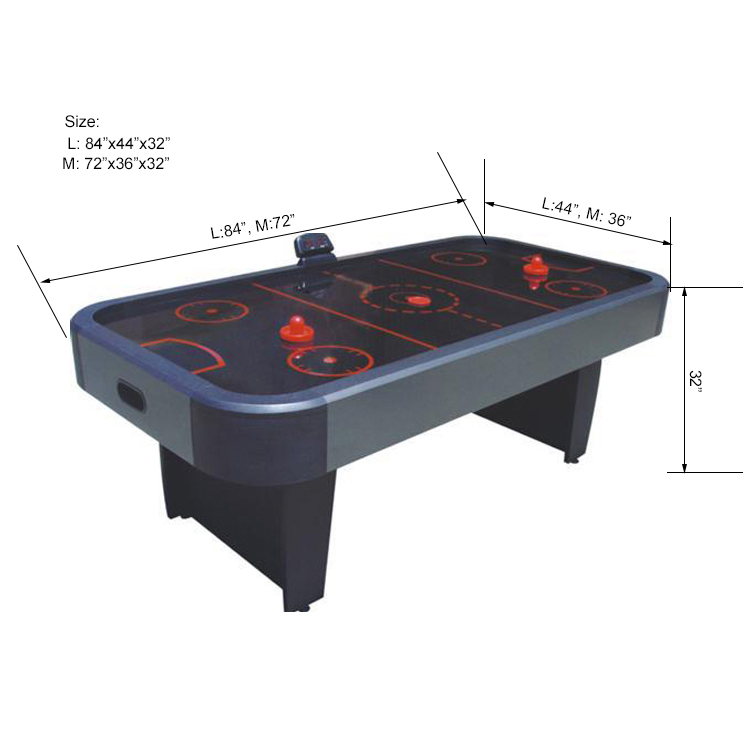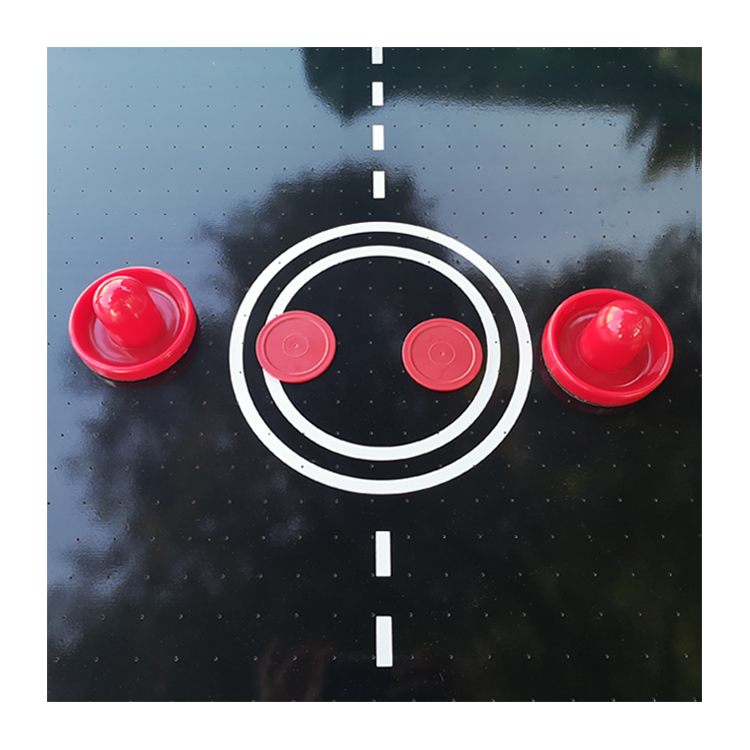 Table Detail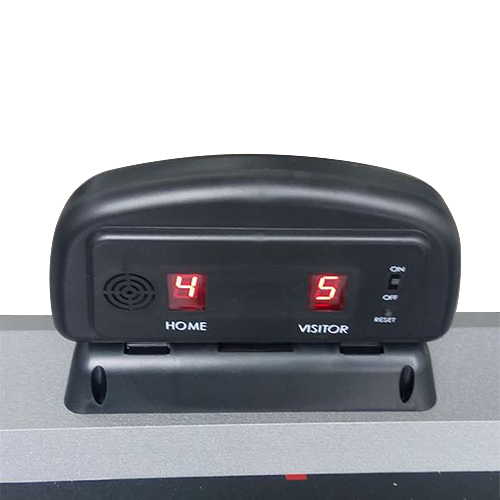 1. Electronic scoring and switching
Unlike the manual scorer, the electronic scorer is much easier to operate. The player doesn't need to spend time recording the score. The score is automatically displayed on the screen and is very accurate.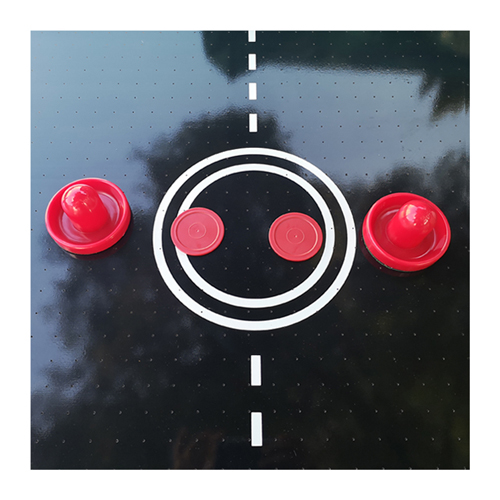 2. Exquisite play field
Play field is made of 15mm MDF with black color PVC, the evenly packed holes in the panel allow the air generated by the fan to blow out easily, pushing the sieve to slide quickly and allowing the player to score easily.
3. Comfortable goal hole
There have two goal hole in both of the air hockey table side , after the pucks being struck by the Strikers,they can run into the hole comfortable and not drop off.The players can catch the pucks quickly and put them on the table play again and again.
About This Item
ADJUST LEG LEVELERS: The leg level adjustment system makes the table adjustable in the case of uneven floors to suit your environmental needs to make the game as accurate and fair as possible.
PERFECTLY SIZED AIR HOCKEY TABLE - TABLE DIMENSIONS: 84" L x 48" W x 32" H
EASY ASSEMBLY: After opening the package, the table is already in a semi-assembled state, and only the legs of the table are needed to complete the assembly of the product. It only takes two people 20 minutes to complete it, which is very simple.
ELECTRONIC SCORING: Electronic scorer is much easier to operate. The player doesn't need to spend time recording the score. The score is automatically displayed on the screen and is very accurate.
SUITABLE PLACES: This 7ft air hockey table is perfect for family fan and can be put in rooms, garages, basements and out yards, as well as in bars, game rooms and other entertainment venues.
ACCESSORIES INCLUDES: 2pcs premium Air Hockey Strikers, 2pcs Pucks
What is an air hockey?
Air hockey is a popular sport in which two players compete against each other on a low-friction table. It's entertainment for some, and it's just a casual way to have competitive fun for others. It does, however, take up room, and the conditions for obtaining one are typically not inexpensive.
Before purchasing a table, there are a number of factors to consider. As a result, consumers become disillusioned and forget to make purchasing judgments.
To make a better selection, learn about the features of the table you want to buy. For example, before you buy a hockey table, you should know what characteristics it offers. The majority of people make the error of purchasing without first conducting thorough research into their requirements. We'll make it easier for you by listing some characteristics to look for in a good air hockey table.
Who can play?
Air Hockey was first played in the 1970s. The tables were made to resemble hockey rinks in look. In the same way, air hockey games are played. Air hockey was created so that people could experience what it was like to play on a hockey field.
The tables are available in a variety of styles to accommodate players of all skill levels:
1. Beginners
For novices, you'll want to choose a light-weight table. Beginners in air hockey are children and adults who have never played before. A table that costs less than $100 is more than adequate for learning the game's basics. Although the table is shaky, it is ideal for practise and informal gaming.
2. Intermediate
Look for a table with a more sturdy construction and a wider playing space for intermediate players. The majority of intermediate air hockey tables are more robust and less prone to dent, resulting in frustrating games. If you're short on space, consider acquiring one.
3. Advanced
A full-size air hockey table or an arcade air hockey table are preferred by most advanced players. These tables are long-lasting and have sturdy rink walls and smooth playing surfaces. These tables are pricey, but they provide the best gaming experience.
How Do You Play Air Hockey?
The rules of air hockey are straightforward. Each player gets an opportunity to score by putting the puck through the goal of the other team. Air hockey is a game that requires strategy, skill, and quick reactions. You'll be a difficult opponent to beat after you've mastered the game's principles and regulations. Once you get the hang of it, you'll find air hockey to be a fun game to play. When playing the game, remember not to strike the puck with too much force. Hitting the puck too hard might damage the table and make it more difficult for you to win the game.
You want to play air hockey in a calm and composed manner. Read the opponent's next movements to figure out what they're going to do. Get a sense of your opponent's playing style to better understand them. It will be simple for you to think out a strategy to defeat them after that.
Also, when playing air hockey, aim to have a good time. While it is a competitive activity, keep in mind that it is also a great chance to socialise with your peers. Air hockey may be used as a source of amusement and can be a lot of fun to play.
If you wish to practice air hockey professionally, we recommend that you practise every day. Buy a professional air hockey table, for example, to become accustomed to the flat surface. You can win certain competitions if you workout for at least 30 minutes every day.
Things to Consider When Buying a Hockey Table
When looking for a hockey table, consider the following aspects. Each table has its own set of characteristics that distinguish it apart from the others. When shopping for the best air hockey pucks for your needs, keep these qualities in mind. Then decide which characteristics are most important to you and buy a table with those features.
The following are the considerations you should make while purchasing this item.
· Table Or Table Top
· Size
· Puck Size
Highly recommended air hockey table to buy:
Our buyers' favourite table is the SZX 7FT high-quality air hockey game table for wholesale. It's also one of our most popular designs. This table's properties are shown below.
1. Change the level of the legs: The leg level adjustment mechanism allows you to adjust the table to accommodate uneven flooring and make the game as precise and fair as possible.
2. Ideal size of the table– table size: 84" L x 48" W x 32" H
3. Assembly of the table: After opening the packaging, the table is already partially constructed, and only the table legs are required to complete the product's assembly. It takes just two people 20 minutes to finish, and it is quite simple.
4. Digital scoring:Using an electronic scorer is significantly easier. The player is not required to keep track of the score. The score is presented on the screen instantly and is quite precise.
5. Included accessories: 2pcs premium Air Hockey Strikers, 2pcs Puck
Conclusion:
Finally, you will not be disappointed if you purchase this air hockey table because it is appropriate for people of various skills, ages, and heights. The legs are adjustable, the assembly is simple, the scores are shown electronically, and the game can be played in any indoor space. This 7-foot air hockey game table is ideal for family amusement and can be used in rooms, garages, basements, and backyards, as well as bars, gaming rooms, and other fun venues.