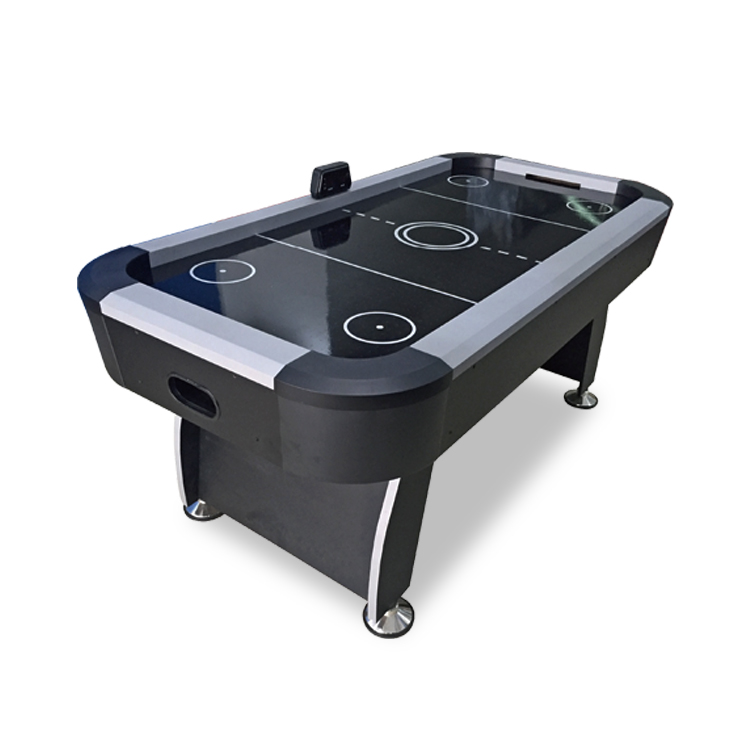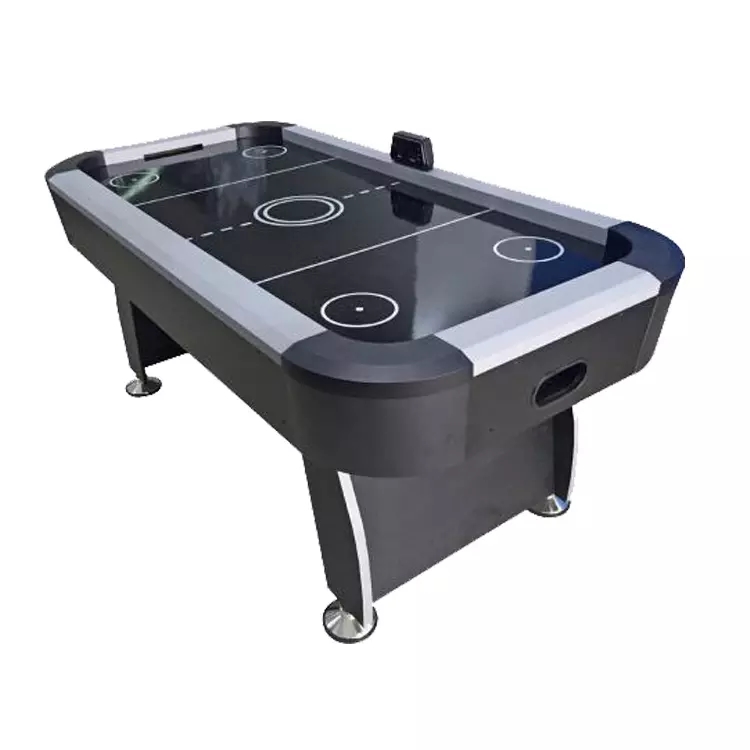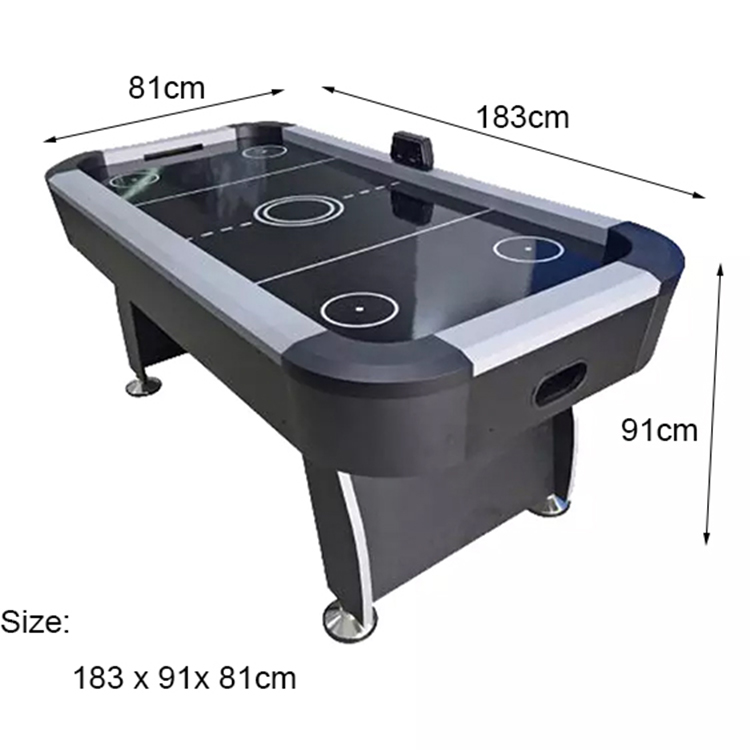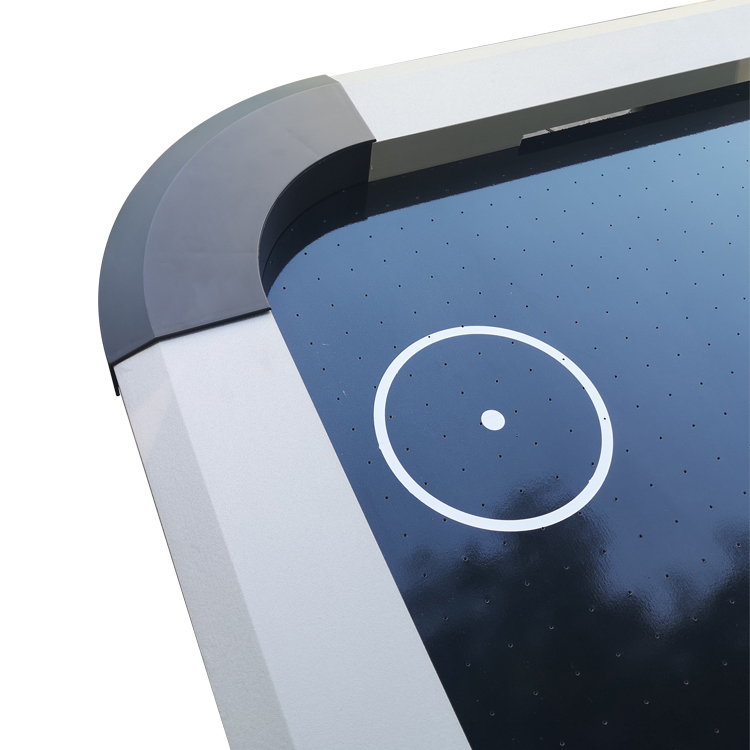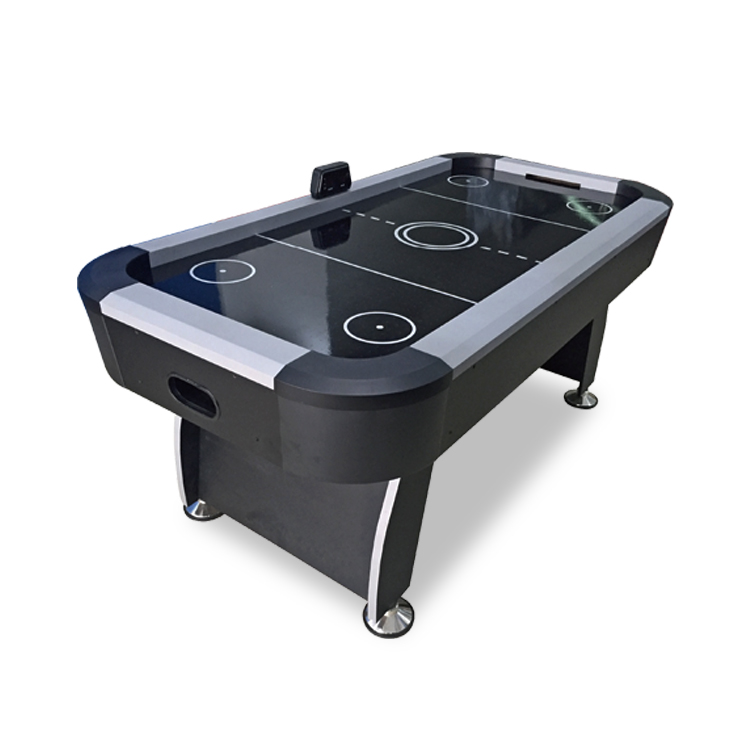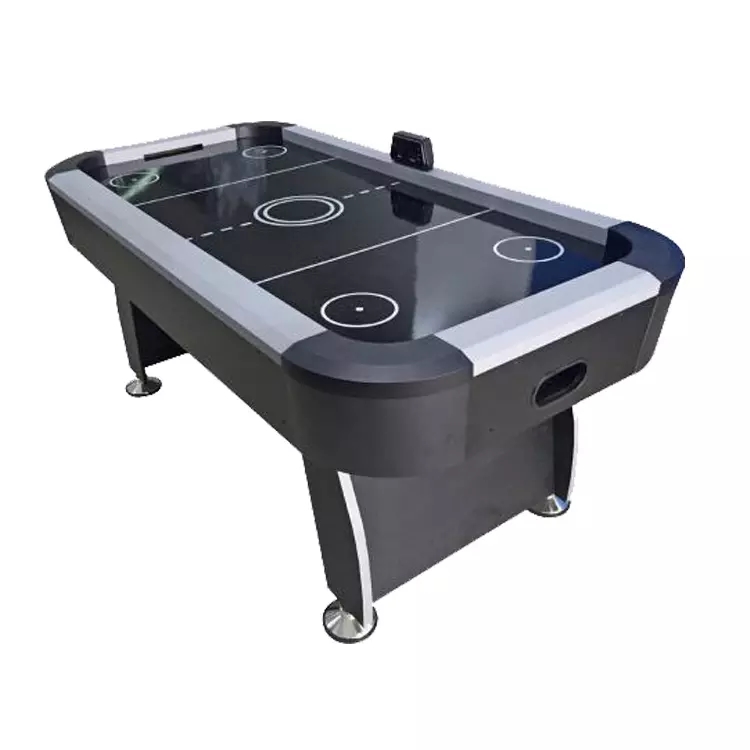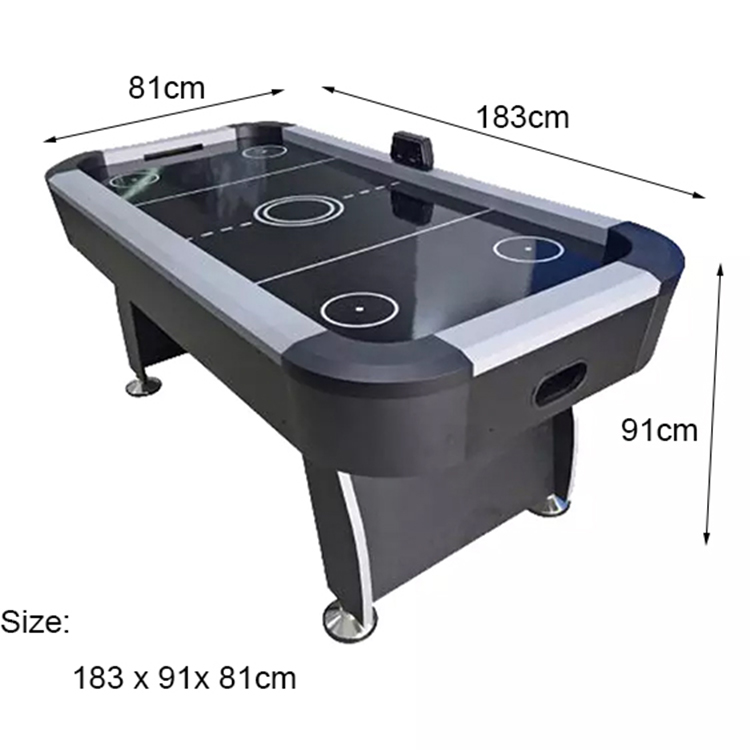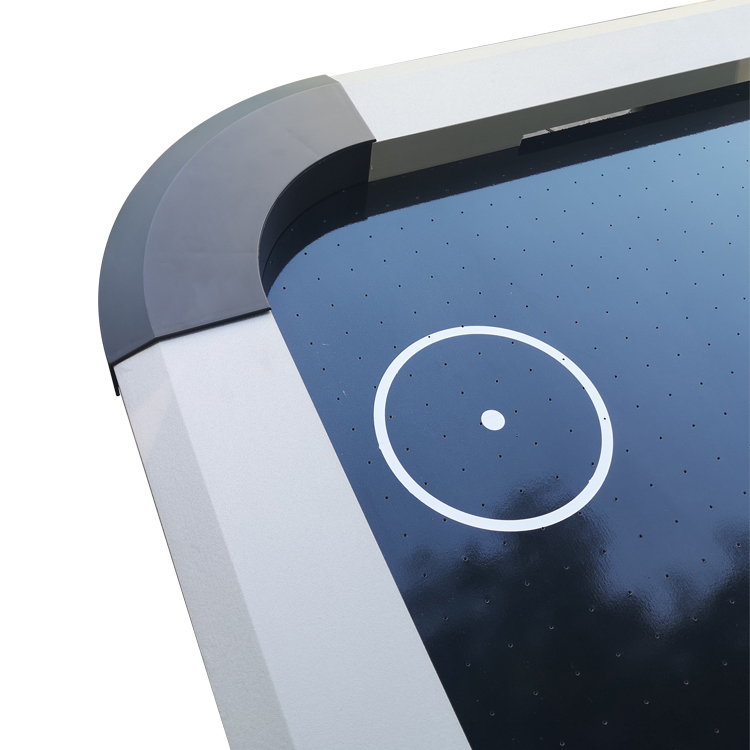 Table Detail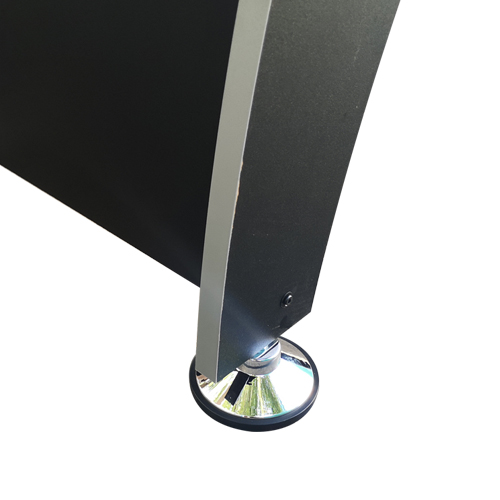 1. LEG LEVELERS
The leg level adjustment system makes the table adjustable in the case of uneven floors to suit your environmental needs to make the game as accurate and fair as possible.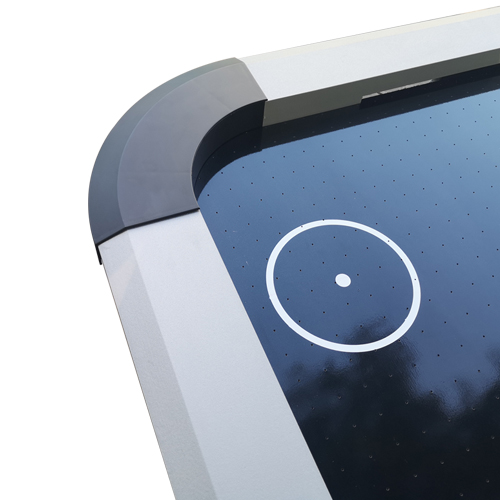 2. Exquisite play field
Play field is made of 15mm MDF with black color PVC, the evenly packed holes in the panel allow the air generated by the fan to blow out easily, pushing the sieve to slide quickly and allowing the player to score easily.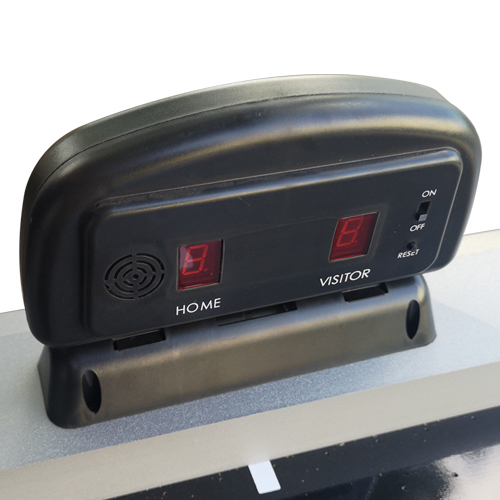 3. Electronic scoring and switching
Unlike the manual scorer, the electronic scorer is much easier to operate. The player doesn't need to spend time recording the score. The score is automatically displayed on the screen and is very accurate.
About This Item
ELECTRONIC SCORING: Electronic scorer is much easier to operate. The player doesn't need to spend time recording the score. The score is automatically displayed on the screen and is very accurate.
SUITABLE PLACES: This 6ft/7ft air hockey table is perfect for family fan and can be put in rooms, garages, basements and out yards, as well as in bars, game rooms and other entertainment venues.
ADJUST LEG LEVELERS: The leg level adjustment system makes the table adjustable in the case of uneven floors to suit your environmental needs to make the game as accurate and fair as possible.
PERFECTLY SIZED AIR HOCKEY TABLE - TABLE DIMENSIONS: 72" L x 36" W x 32" H
EASY ASSEMBLY: After opening the package, the table is already in a semi-assembled state, and only the legs of the table are needed to complete the assembly of the product. It only takes two people 20 minutes to complete it, which is very simple.
ACCESSORIES INCLUDES: 2pcs premium Air Hockey Strikers, 2pcs Pucks
One of the most popular and long-lasting arcade games in recent decades is played on an air hockey table. Air hockey is a popular sport in which two players compete against each other on a low-friction table. It's entertainment for some, and it's just a casual manner to have competitive fun for others. It does, however, take up room, and picking one up isn't always inexpensive.
Air Hockey was first played in the 1970s. The tables were made to resemble hockey rinks in look. In the same way, air hockey games are played. Air hockey was created so that people may experience what it felt like to play on a hockey field.
What Types of Air Hockey Tables Are There?
It's a good idea to know what sorts of air hockey tables are available if you're seeking for one. For the most part, there are four different types:
1. Simple design
2. The pricey arcade-style
3. Tables with little tops
4. Air hockey tables that can be converted.
Choosing the Right Air Hockey Table
How can you pick a table that will provide you with high-quality, low-friction play? The fan, which is essential for forcing air through the table surface to create an ice-like, low-friction playfield, is usually advertised as being powerful. If your potential air hockey table doesn't have this precise criterion, some manufacturers will simply claim "commercial-grade."
If you're buying a game table, it's worth it to spend a little more money on something that will last for years. Black lights and distinctive decals are available on some tables. This may make a significant difference in your game room!
Benefits of Owning an Air Hockey Table
1. Social
A joyful and convivial atmosphere is created by a superb game of hockey. It's a game that you can't play by yourself, therefore you have to play it with others. This is crucial if you want to brighten up and break free from your social shell.
2. Non-physical Activity
Air hockey is a non-physical activity in the sense that it is not as physically demanding as sports, jogging, or weightlifting. Consider air hockey to be a fun cardio activity that helps you lose weight while increasing your heart rate. This social game is ideal for people looking for a quick workout.
3. Entertainment
Investing in an air hockey table is a terrific way to pass the time. It improves the playing experience and provides a pleasant atmosphere. According to studies, having an air hockey table increases the happiness of almost 40% of households.
4. Competitive
People must be exposed to competition on a regular basis. Air hockey introduces children to a competitive setting in which their talents are put to the test. Even if they attempt, they will occasionally have to lose. Air hockey is a fun, fast-paced game that teaches kids the competitive edge they need to succeed in life.
5. Improved Reflexes
Air hockey players have faster response times and reflexes. Air hockey is a fast-paced game that requires both skill and quickness. Air hockey players have consistently better hand-eye coordination than the ordinary individual, according to scientific evidence.
Do's and Don'ts of Air Hockey
While playing air hockey, there are a few things to keep in mind.
Do Buy an Extra Set of Replacement Pucks
Since air hockey isn't a physically demanding activity, pucks do seem to disappear after a few games. You'll lose at least one puck per ten games on average. It's simpler to keep playing if you have an extra set of pucks in your rec room.
Air Hockey is first and foremost a social game. Even while competing against professional players, they maintain their composure throughout the game. You don't want to be constantly leaning over the table when playing.
The most effective approach to avoid harsh play during air hockey games is to maintain proper posture. When clutching the handle, for example, strike a balance between a gentle and strong grip. This assists you by keeping you aware so you can deflect your opponent's shots while being cool enough to score a goal.
While air hockey is primarily a social game, there are benefits to taking the competitive aspect of the game seriously. Only through proper practice will you be able to win this game more regularly. Here are a few pointers to help you improve your game.
To see improvements, practice at least three to four times each week. It's simpler to develop as a player when you're constantly exposed to competitive sports like air hockey.
Don't Forget to Clean the table
1. To extend the life of your table, remember to clean it frequently. If your table is left ignored, it might become difficult to play on. Use a cloth and sandpaper once every two weeks to maintain the table performing smoothly.
2. Next, sand the puck with the sandpaper. The sandpaper sharpens both sides of the puck, allowing it to slide more easily across the board.
3. The number one approach to improve your gaming experience is to clean the table. It preserves the table in good operating order, making your game more enjoyable.
Conclusion
This Air hockey table is a fun sport that incorporates both competition and social interaction. The tables are available in a variety of sizes to fit a variety of skill and gaming levels. When looking for an air hockey table, ensure sure it is robust enough to be used for long periods of time. Factory direct wholesale contemporary 6ft air hockey table from SZX is an excellent alternative if you want a more intense, standard air hockey table experience.