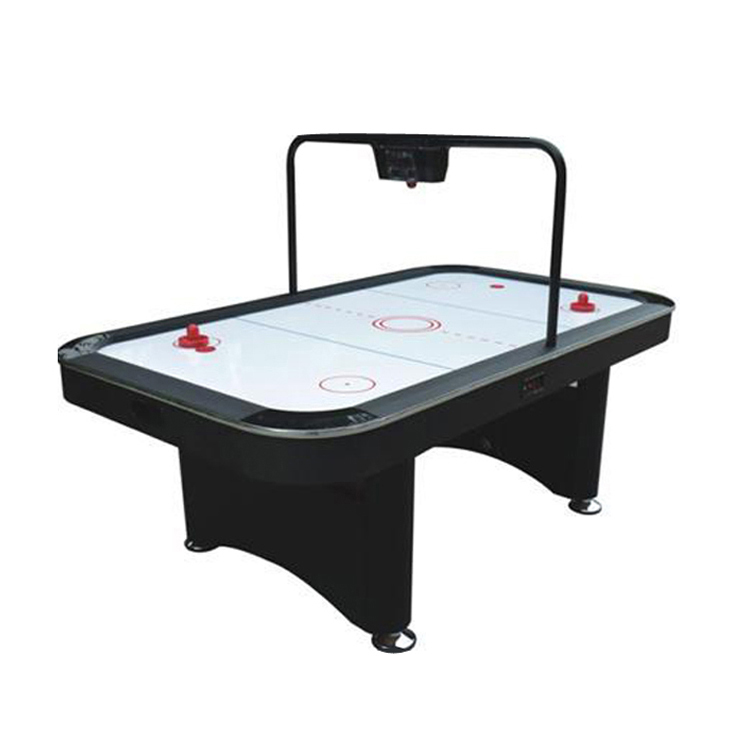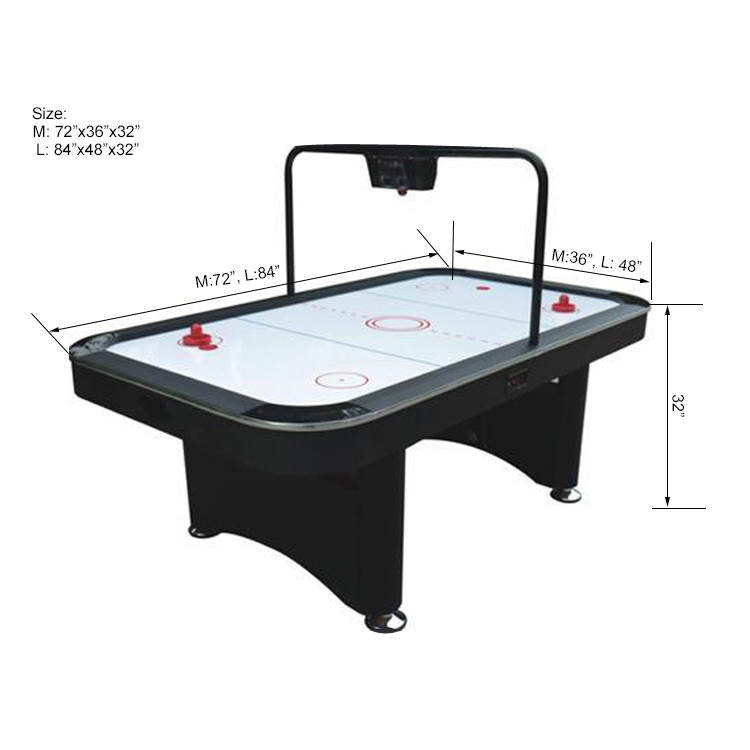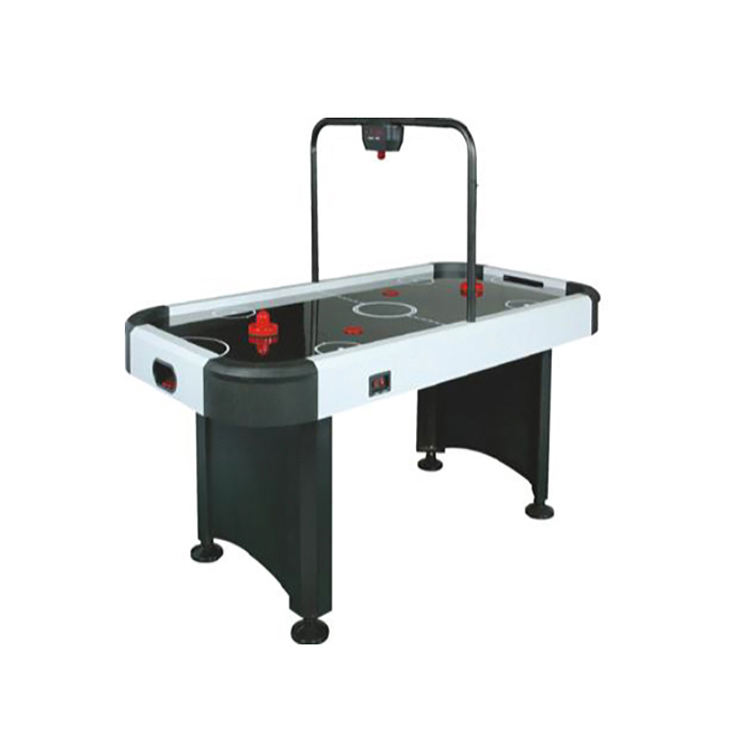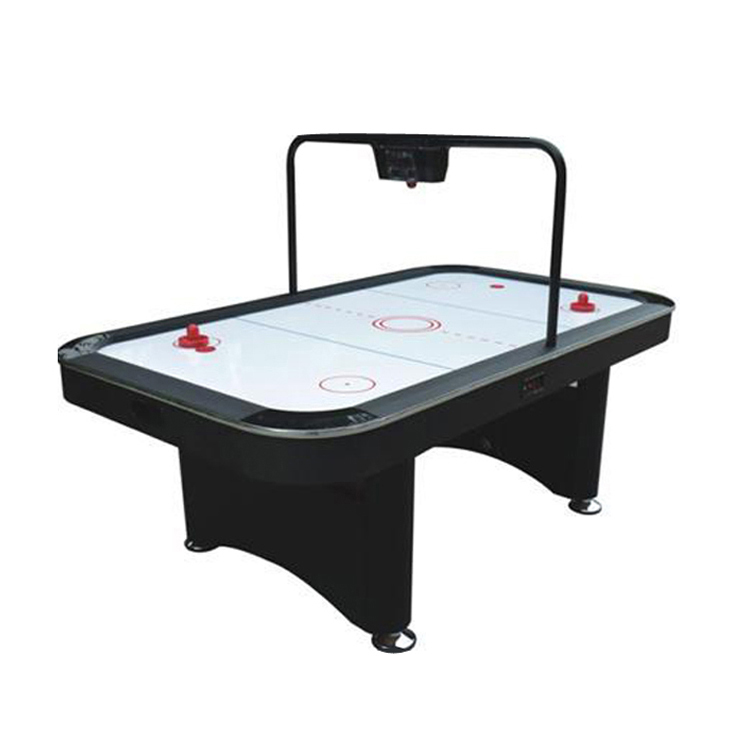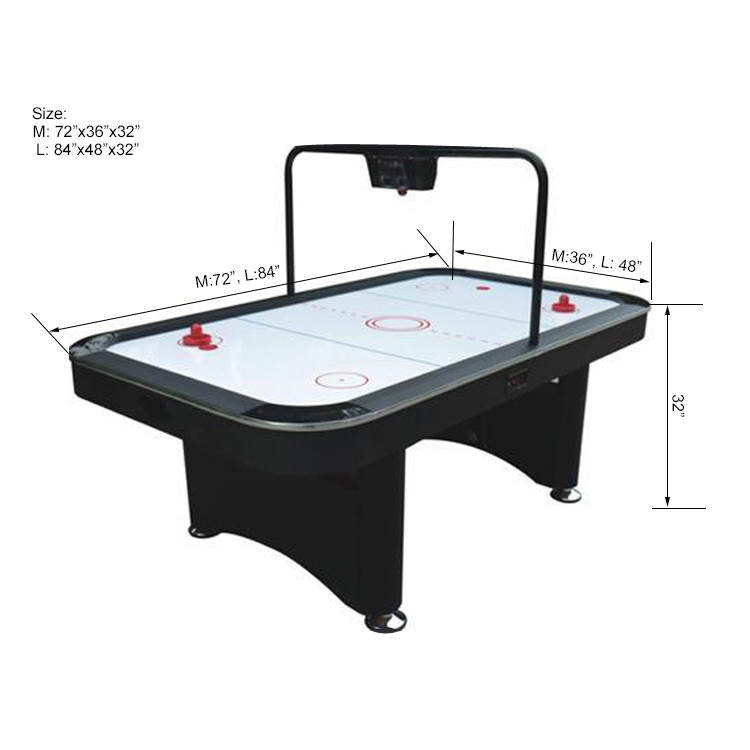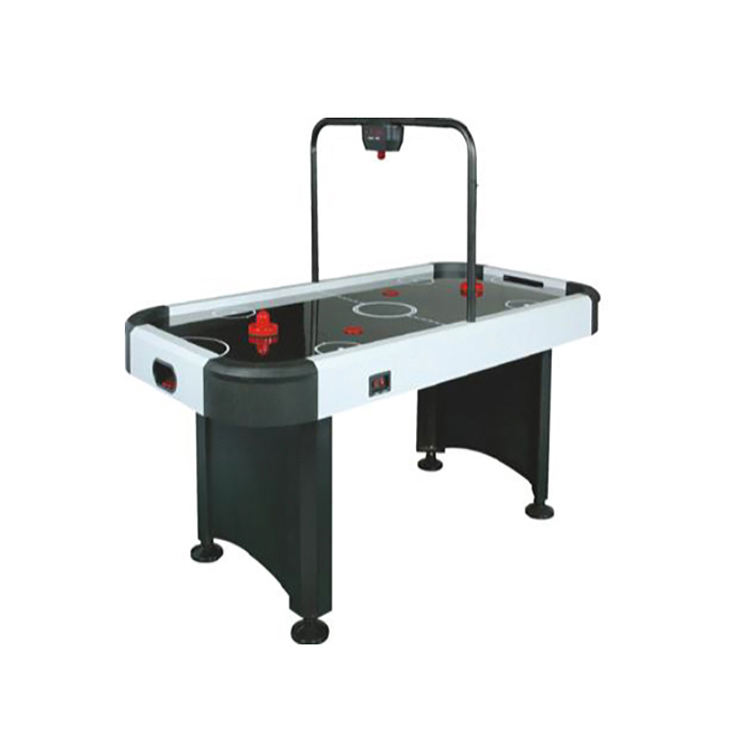 Table Detail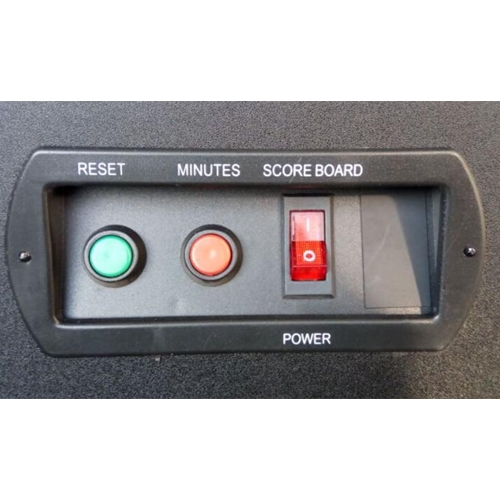 1. Electronic scoring and switching
Unlike the manual scorer, the electronic scorer is much easier to operate. The player doesn't need to spend time recording the score. The score is automatically displayed on the screen and is very accurate.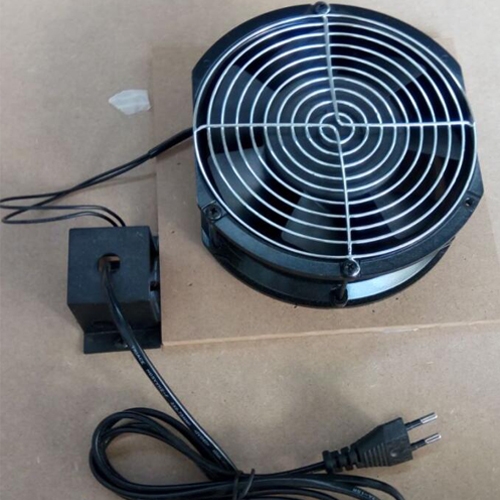 2. Powerful motor fan
There have a powerful, high velocity air blower inside the table , UL, CE, TUV/GS recognize with plug suitable for 110V-240V outlet,This creates a strong air force that pushes the pucks across the table quickly, helping the player score more efficiently.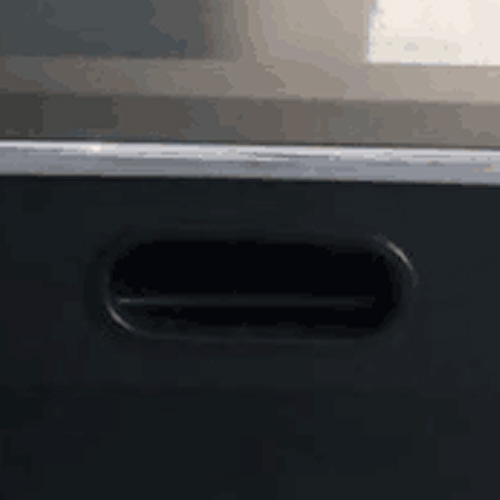 3. Comfortable goal hole
There have two goal hole in both of the air hockey table side , after the pucks being struck by the Strikers,they can run into the hole comfortable and not drop off. The players can catch the pucks quickly and put them on the table play again and again.
About This Item
ADJUST LEG LEVELERS: The leg level adjustment system makes the table adjustable in the case of uneven floors to suit your environmental needs to make the game as accurate and fair as possible.
PERFECTLY SIZED AIR HOCKEY TABLE - TABLE DIMENSIONS: 84" L x 48" W x 32" H
EASY ASSEMBLY: After opening the package, the table is already in a semi-assembled state, and only the legs of the table are needed to complete the assembly of the product. It only takes two people 20 minutes to complete it, which is very simple.
ELECTRONIC SCORING: Electronic scorer is much easier to operate. The player doesn't need to spend time recording the score. The score is automatically displayed on the screen and is very accurate.
SUITABLE PLACES: This 6ft/7ft air hockey table is perfect for family fan and can be put in rooms, garages, basements and out yards, as well as in bars, game rooms and other entertainment venues.
ACCESSORIES INCLUDES: 2pcs premium Air Hockey Strikers, 2pcs Pucks
If you want to build the ultimate game room, an air hockey table is a great addition. How do you determine which air hockey games to buy while you're looking for them? We have a range of air hockey game tables for sale in our showroom to assist you to pick the best one for your requirements. Read on for some suggestions and information that will help you choose the best air hockey games for your house before you start buying.
Air Hockey Table fundamentals
Large-puck models and small-puck models are the two most common varieties of air hockey tables. Full-size pucks with a diameter of roughly 3 14 inches are included in the large-puck variants. Small-puck air hockey games have smaller pucks and are less expensive than large-puck air hockey games. The large-puck tables are built of high-quality materials, with the majority of them being produced in the United States. Inspect the airflow before purchasing a new air hockey table. Smaller pucks may be required on tables with poor airflow to guarantee that they slide across the table properly. Small-puck tables are less costly, but they can be more challenging to use since the tiny puck has a tendency to fly off the table while you play.
Different sorts of air hockey tables
1. You'll find a range of various air hockey table styles on SZX. When shopping for air hockey games for purchase, look at the many setups to see which one is right for you.
2. Air hockey games in the arcade format are available in full-regulation size, which is around eight feet long. Powerful fan motors keep your pucks sliding smoothly on these tables. They're also built to last, so the table won't move or tip while you're playing, even if it's a fast-paced game.
3. Arcade-style tables with sound effects and computerized scoreboards are also available. If you require a high-quality table for professional leagues or heavy play, these tables are ideal.
4. Normal air hockey games are comparable to arcade-style games, but they're less costly don't contain sound effects or flashing lights.
5. Depending on your demands, these tables come in a variety of sizes and prices. This is an excellent alternative for a simple gaming room or if you have adolescents who only play air hockey once in a while with their pals.
6. Consider tabletop air hockey games if your game room is on the smaller side. When not in use, these collapsible tables may be easily stored to save room on your floor. Rubber feet on the tables hold them in place on any surface. Because they're compact and durable enough to withstand normal usage, you can even set them on the floor.
Selecting the perfect size
1. When shopping for air hockey game tables for sale, the most crucial factor to consider is the size. Before purchasing an air hockey table, measure the size of your gaming room or garage to ensure that it will fit. These games might be as short as two feet long or as long as eight feet long.
2. The size you choose will be determined by a variety of criteria, including the amount of space available, the level of professionalism desired, and the ease with which the table can be moved or stored.
3. Air hockey tables with a length of two feet are small and usually only come in tabletop forms. Because of their smaller size, this alternative is ideal for young children or teens. They may also be folded down for storage.
4. For a full-size gaming room, air hockey games that are between four and six feet in length are a better alternative. These tables are suitable for players of all ages, and they can usually withstand a lot of use.
5. Consider an air hockey table that is between seven and eight feet long if you require something professional. This is the most costly table, yet it is ideal for tournaments and professional leagues. This size is commonly found in arcades and businesses.
6. SZX has a wide selection of air hockey games for sale, regardless of size or design. If you need something to handle serious gameplay, look for models that have been certified for use in air hockey leagues. We provide a variety of brands and styles for the casual gamer in your gaming room. Visit us today to select the ideal air hockey table for your needs,
Best Air Hockey Table
SZX 7FT Professional air hockey game table for wholesale 
The SZX 7FT Professional air hockey game is the finest air hockey table on the marketplace, measuring 84 x 48 x 32 inches. This regulation-sized air hockey table is composed of high-grade polymer and designed to endure scratches and regular wear and tear from even the most ardent players.
A digital scoring system reflected the result onto the field, leg levelers provide speedy setup and precisely balanced play, and the table is already partially completed when you open the package, with only the table legs needed to finish the installation. It takes just two people 20 minutes to finish, and it is quite simple.
1. Made from MDF with PVC lamination
2. Digital scoring system
3. Available sizes: 6ft/72" x 36" x 32" (183 x 91 x 81 cm) and 7ft/84"  x 48" x 32" (213 x 122 x 81 cm
4. Regulation-size for competitive players
5. Comes with 2 pcs pucks:2 pcs strikers
Conclusion:
Finally, this tiny air hockey table has a straightforward design with manual sliding scorekeepers and goal boxes, as well as two strikers and two pucks. It contains a fan motor that helps the puck glide across the surface more smoothly, as well as a convenient puck-return hole on either side of the table.