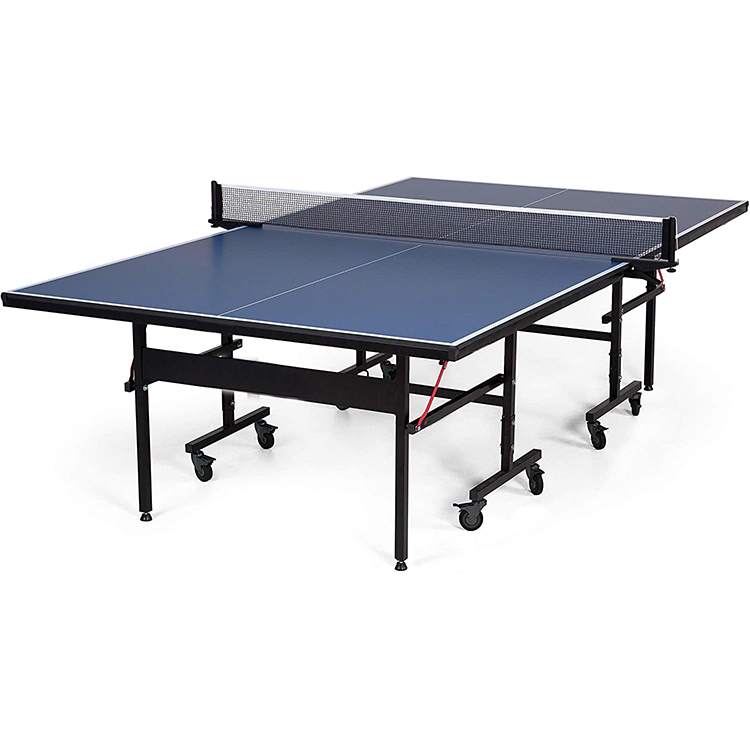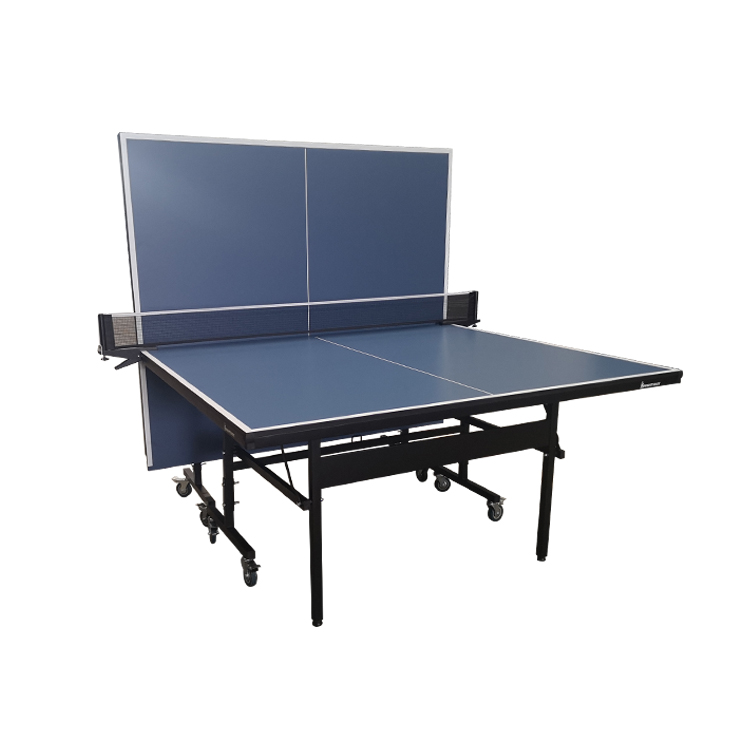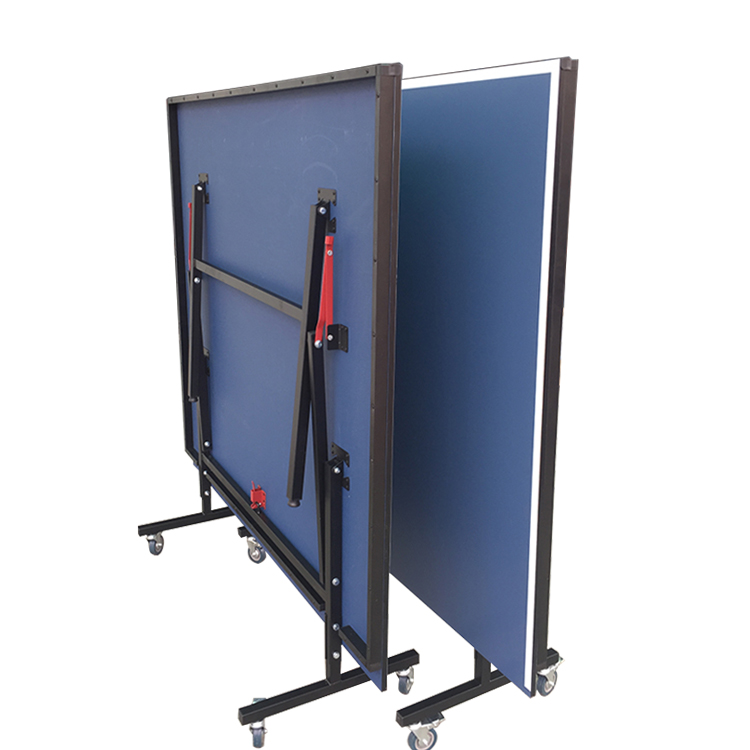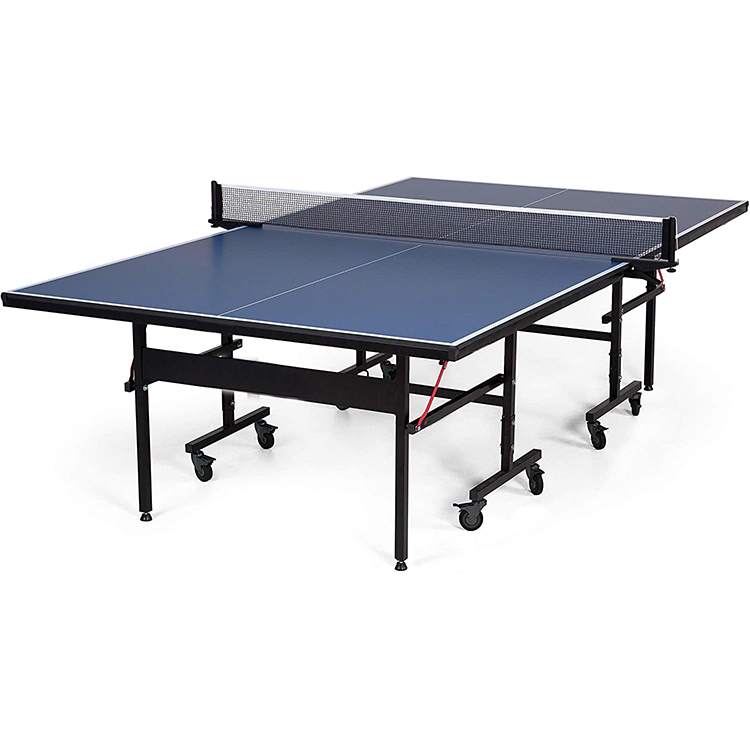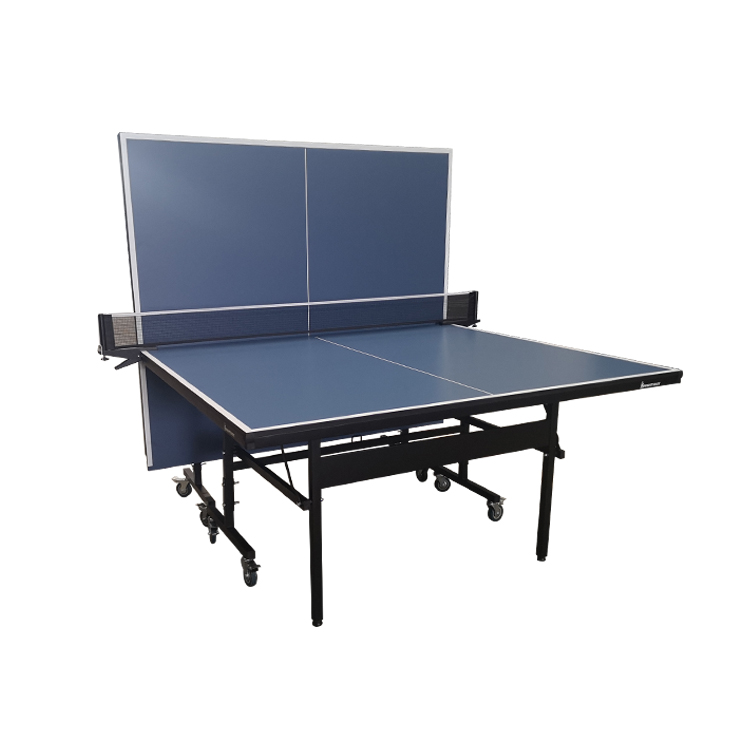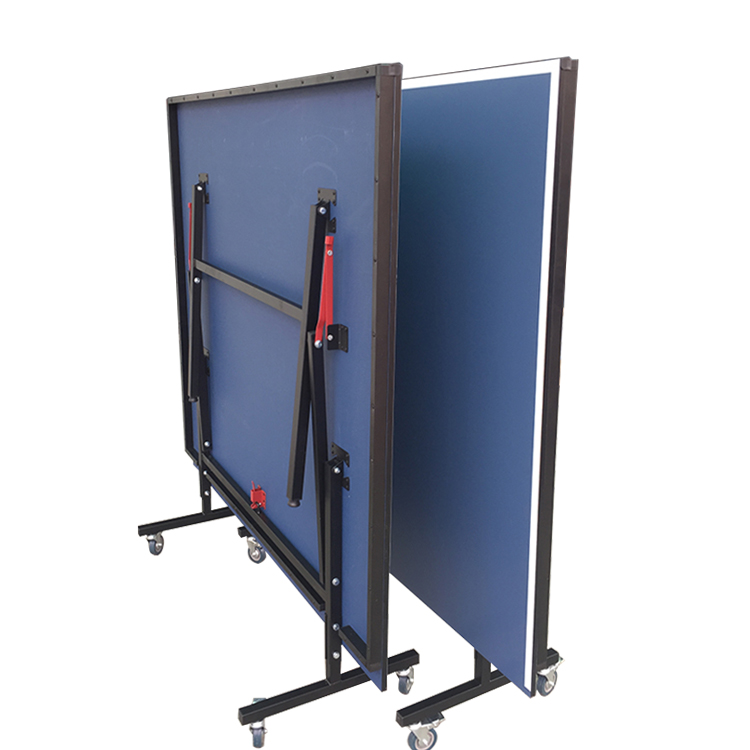 Table Detail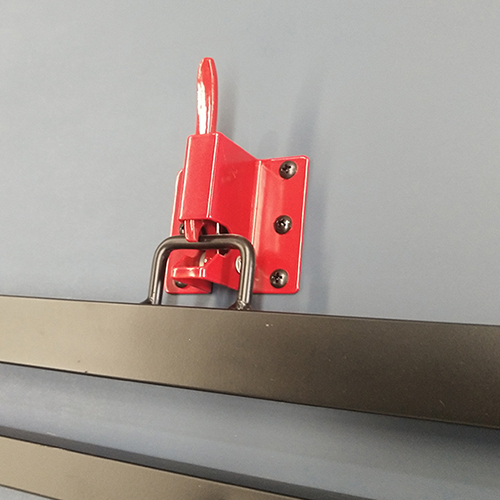 1. Safety lock
This table tennis table adopts foldable safety lock, which includes left safety lock and right safety lock. It can be locked on one side for training when used by a single person, and can be locked on both sides to reduce space occupied when not used.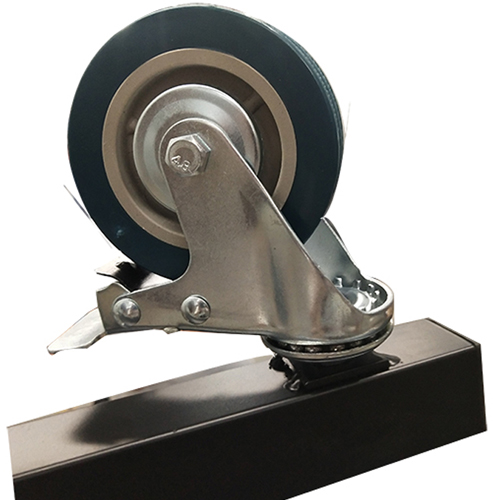 2. Locking casters
Locking casters are movable and locked fixed wheels, which can move quickly regardless of difficult handling or poor site conditions. Casters can be locked for movement under good site conditions.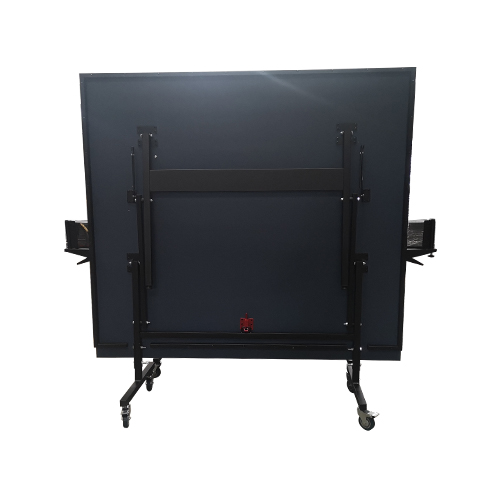 3. Foldable space saving
This table tennis table adopts foldable table legs, which can adjust the position according to space requirements, occupying less space, and can also adjust the table Angle according to personal needs.
About This Item
PLAYBOARD: This table tennis MDF panel comes in two sizes: 12mm and 15mm. The blue paint on the panel can effectively enhance the flexibility of the ping-pong ball, making it more fun to use.
ACCESSORIES INCLUDES: Net, bats, ball
SUITABLE PLACES: This table is perfect for home use and can be used in garages and basements as well as playrooms and other entertainment venues.
EASY ASSEMBLY: After opening the package, the table has been in a semi-assembled state, only need to install the table legs can complete the assembly of the product. It only takes two people 20 minutes to do it. It's very simple.
FOLDABLE SPACE SAVING: This is a foldable table that allows you to train in a very small space. When not in use, the table can be folded up to reduce the space it takes up.
LOCKING ACSTERS: The legs are equipped with 75mm movable casters that can be moved at any time and place without interference from the venue.
CLAMP STYLE INSIDE NET: Clamp type, easy to disassemble and assemble, when not in use can be convenient and fast storage, do not need any tools to install, suitable for carrying at any time.
A full-size table tennis table is 2.74m (8ft 9") in length. 1.525m is the width (5ft). This will give you an idea of how much room you'll need around the table. The more space there is, the easier it is to move around.
This appears to be a large amount of space at about 50 feet in length, but keep in mind that these measures are for professional players who play a lot of byline shots and spend the majority of their time away from the table tennis table. This is in no way indicative of the amount of space you would require if you are a hobby gamer, as do 70% of our clients.
Normal Table Tennis Size and space required
1. For hobbyists, such as 70% of our clients, this is in no way indicative of the amount of space required. Full-size table tennis tablesare typically 9ft by 5ft in size - Table Tennis Tables are enormous pieces of gaming room equipment!
2. To obtain a clear concept of how a Table Tennis Table will fit in your room, we recommend using making tape to define the size on the floor or carpet to properly realize how huge a full-size Table Tennis Table truly is.
3. We recommend that the ideal room size for any of our full-size table tennis tablesfor hobby and beginner play be around 22ft x 11ft. This appears to be a rather huge space, but it will provide you ample room at the byline to play some more difficult shots. In our opinion, a space that is at least 11ft wide is required to hold a full-size table tennis table; this is not something that can be compromised.
4. The duration, on the other hand, might be more adjustable depending on the sort of player you are or want to be. Certainly, it is exceedingly unusual that youngsters or beginners will play at the byline away from the table tennis table. When you first start, many players like to play near the indoor table tennis table since it is easier to manage your play and improve as a player, therefore 22ft may not be essential.
Minimum Required Space to Play
We believe that the smallest room size you could get away with is 17-18ft. Anything less would drastically impair play and cause you to struggle with certain shots as you progress as a player. Of course, an 18-foot area will be cramped, and you won't be able to swing back on some shots or improve your byline play, but for youngsters, it will be enough to play at a hobby level without many skill shots.
We would not suggest acquiring an indoor table tennis table if your space is less than 17ft by 11ft unless you want to use your table tennis table mostly in a replay position on your own. A full-size table tennis table is 9ft long, and you'll need at least 3.5ft at each end of the table for a total of 9 + 5 + 5 = 18ft. A table's width is 5ft, and you'll need at least 3ft on each side, for a total of 5 + 3 + 3 = 11ft.
Recommended Room Size for two players
If you were making plans on playing a lot of pairs games on your table tennis table, if you had a large family, or if your friends came over frequently, you would be going to look at an ideal space of 24ft x 14ft. The bare minimum for doubles play is something along the lines of 19ft x 11ft, but this would be a tight squeeze and only recommended for younger players. The last thing you want is for youngsters playing doubles in a room that is too tiny for them to swing for the ball and wind up striking each other with their bats.
We would not advocate pair play for players until they have established their game and have some control over the ball and where they are swinging, since it may lead them to harm the table tennis table, the surrounding walls, or even each other!
Outdoor Table Tennis
1. If you're short on room indoors but have plenty of space outside, we offer a wonderful selection of outdoor table tennis tables, including the finest available in the UK today.
2. I realize there isn't a simple answer to the room space required for a full-size table tennis table because there are so many things to consider, but maybe this guide has given you something to think about before completing your purchase.
Table tennis with net
The table tennis net must be 15.25 cm tall throughout the whole width of the table's playing surface and be held by a cable-supported by two 15.25 cm tall supports. The supporting posts must be no more than 15.25 cm away from the table's edges, with the net's ends as near to the posts as feasible. Furthermore, the net's bottom should be as near to the playing area as feasible.
Conclusion
SZX table tennis table features a folding safety lock with left and right safety locks. When used by a single person, it may be locked on one side for training and locked on both sides to save space when not in use.