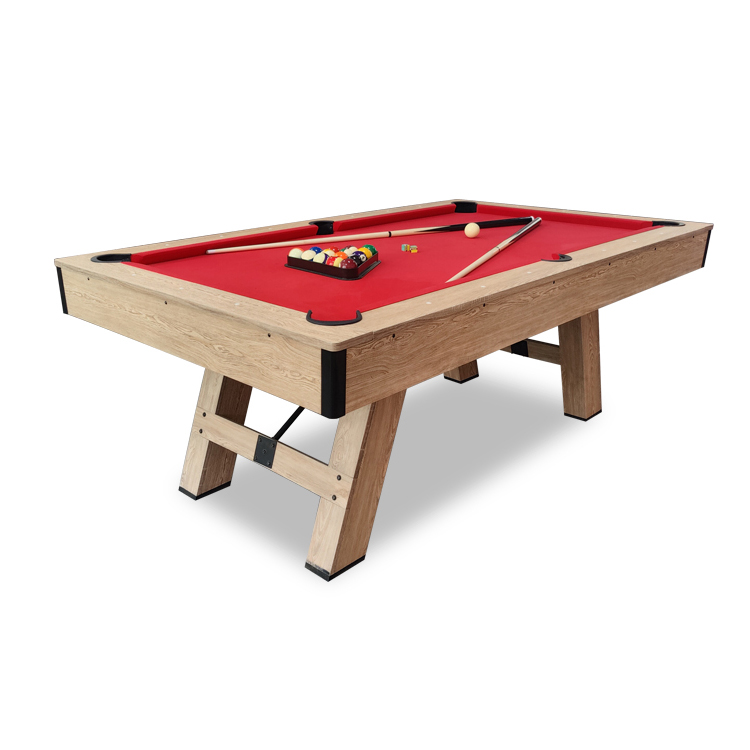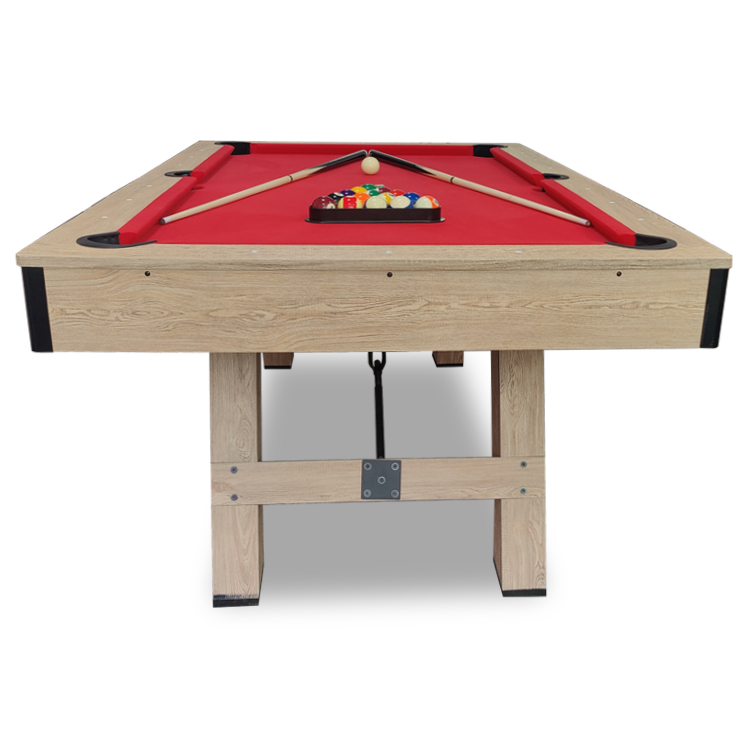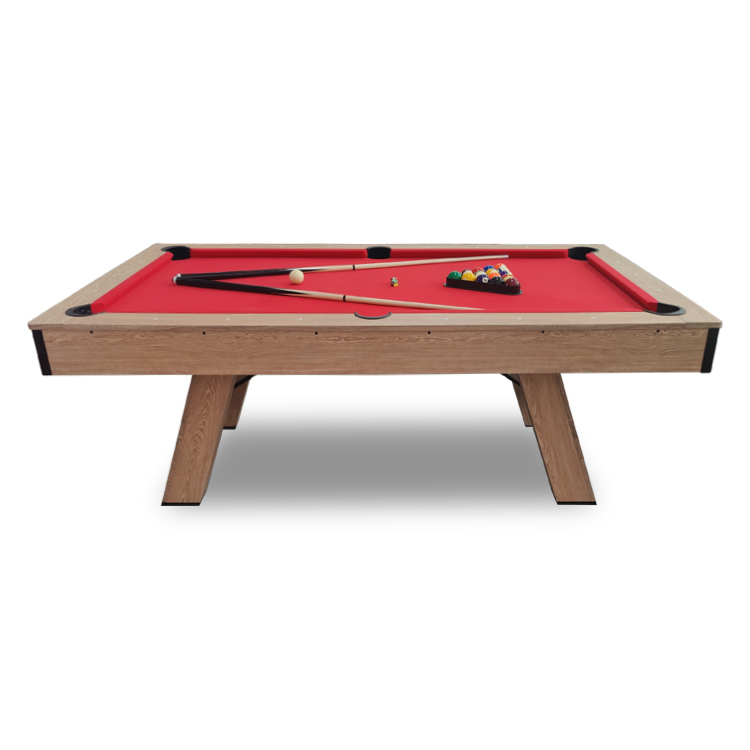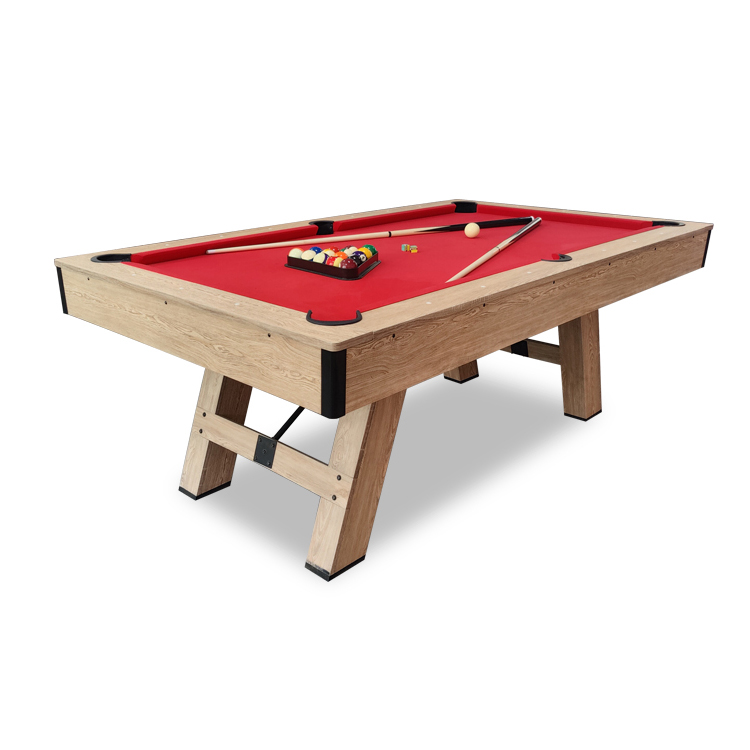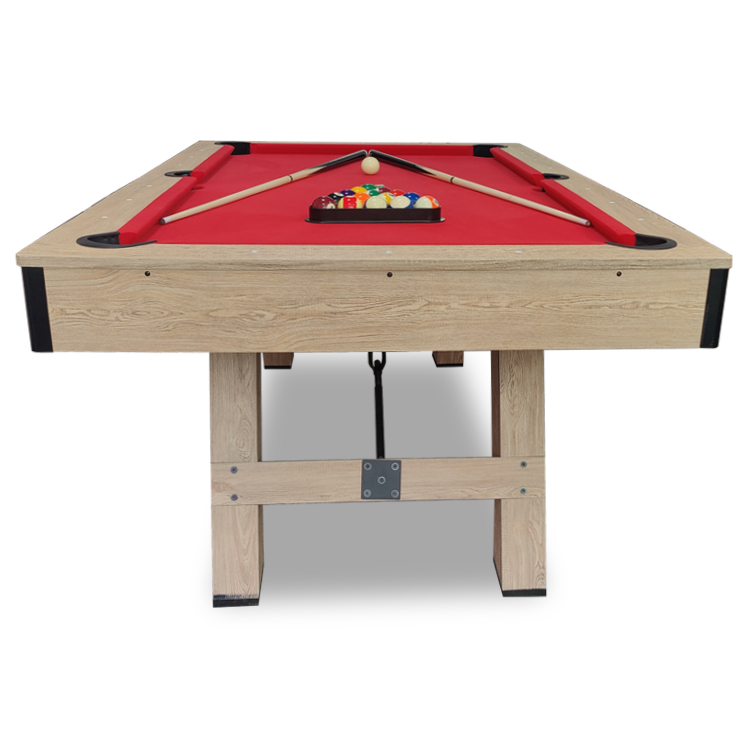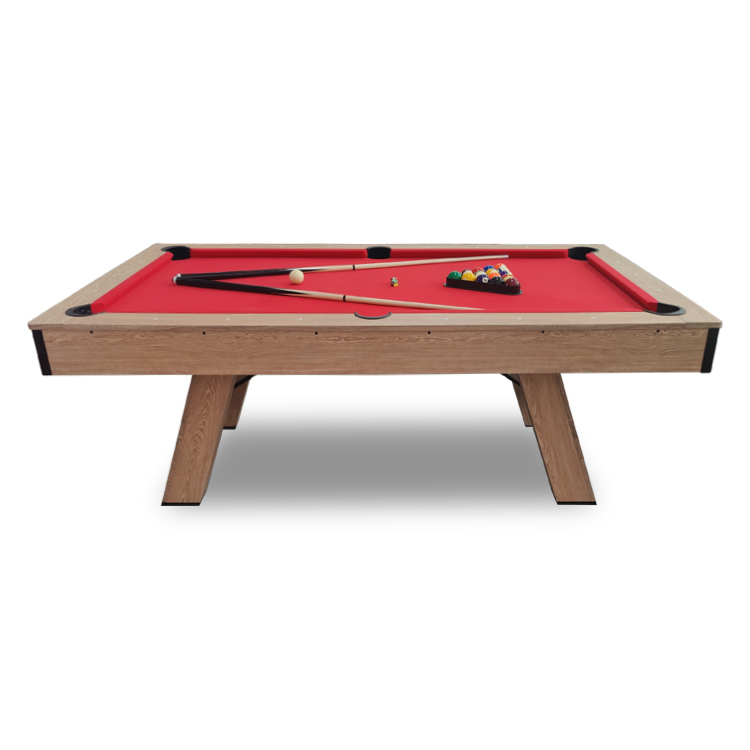 Table Detail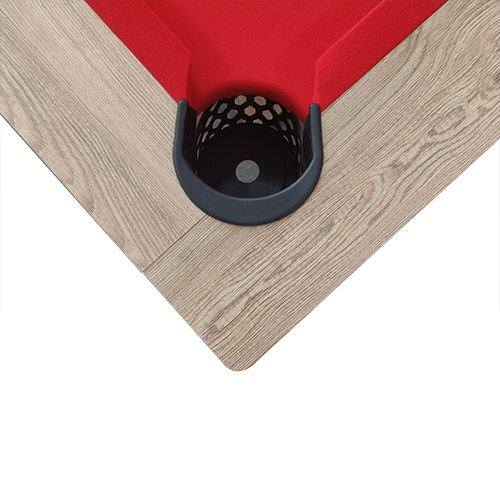 1. Apron corner
Billiard table is made of PVC laminated, which makes the table more natural atmosphere in color, and the net bag is made of leather.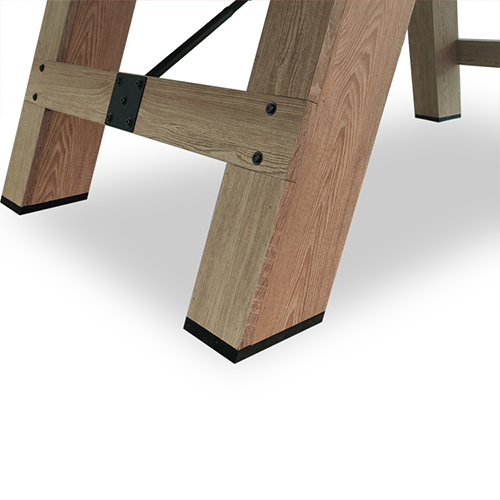 2. Tenon structure
Billiard table legs are more firm than traditional legs, it uses a wooden mortise structure. Together with two brackets to support the center of the table.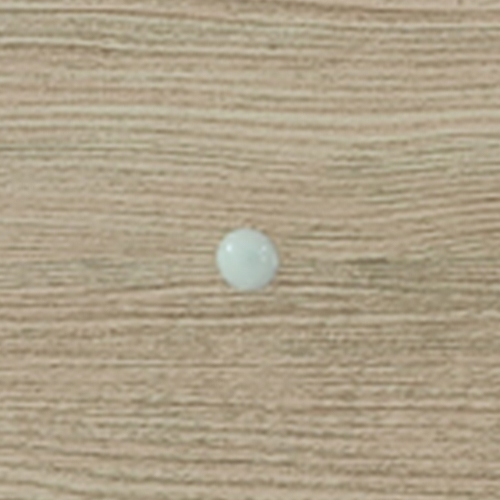 3. Wood grain
Billiard table body inlaid with white fixed points for beginners to learn billiards customers to provide easy to understand the direction of the ball also ensure the probability of scoring.
About This Item
WOOD GRAIN: Billiard table body inlaid with white fixed points for beginners to learn billiards customers to provide easy to understand the direction of the ball also ensure the probability of scoring.
DROP STYLE POCKET: This table has a slideway pocket mouth, which is durable, crisp and layered, making it very enjoyable in family, club and professional games.
EASY ASSEMBLY: After opening the package, the table is already in a semi-assembled state, and only the legs of the table are needed to complete the assembly of the product. It only takes two people 20 minutes to complete it, which is very simple.
PLAY FIELD: 18 mm MDF with One sided imitation cotton flannelette makes the play surface smoothly, the balls run clearly after been struck.
SUITABLE PLACES: This 7ft/8ft billiard table is perfect for home use and can be used in living rooms, garages, basements and out yards, as well as in bars, game rooms and other entertainment venues.
ACCESSORIES INCLUDES: Pool Cues, Pool Balls Billiard Set, Billiard Chalk, Billiard Triangle, Table Brush
Investing in a billiard pool table for your house is a wise decision. Billiards is one of the most demanding, enjoyable, and satisfying indoor sports. Nothing can beat the feeling of a well-struck cue ball. You must be wondering, should you buy this table? Yes, this is the best option if you want to spend time with your friends and family.
What is the billiard table?
Billiards originated in Northern Europe during the 15th century as a lawn game. The game was shifted inside to a wooden table with a simple border and a greenish fabric to represent grass. The Billiard table is a rectangular table used for cue sports. A billiard table is also known as a pool table.
All billiards games necessitate a table, cue sticks, and balls. The traditional mahogany pool table is still in use today. But now, tables are constructed with synthetic materials and woods. Pool tables are of four categories based on their size: bar, small, standard, and big.
Advantages of the billiard table:
Everybody enjoys shooting billiards, from the look of the billiard tables in a home to the sounds produced when people take the breaking shot.
There are some advantages of billiard tables:
Fitness Benefits:
Pool enables you to flex, extend, and lean in many positions. It can promote flexibility and strengthens muscles in numerous parts of the body. Like arms, wrists, hips, and even legs. It can also help you burn some calories when walking around the table. The average pool player burns approximately 180 calories per hour. Playing pool involves motions that cause the human body to strain itself and burn calories. By playing such games, you can easily make yourself fit and energetic.
Neurological Benefits:
Your children may request you to play, believing that it is just for pleasure. But, playing this game brain can perform functionally. Billiards increases mental abilities and develops critical thinking. A player's strategy relies heavily on focus and hand-eye coordination. Your mind stays alert and focused. Playing pool involves the use of logic.
Behavioral Benefits:
It's rare to see someone become furious during a game of pool. People prefer to adopt a calm attitude, like a chess game. Similarly, they learn self-patience by waiting for their rival to make their next move. Playing billiards can help youngsters develop problem-solving skills.
Social Benefits:
People typically gather around the pool table to have a good time. These social contacts help friends or strangers form connections. There are no age restrictions on who can handle the stick, which is the good thing about spending time with family. It allows children to spend time away from their screens while also providing elders with emotional relief.
What are the features to look for in a pool table?
Pool rooms became a popular spot for individuals to socialize and have a good time. But, purchasing a pool table is a difficult task. The following are some of the most important considerations to make when buying a pool table:
1. The cost
2. Size of a billiard table
3. Dimensions
4. Accessories and table construction
5. Cloth
6. Framing
7. Playing tools
8. legs, borders, and designs
Wooden billiard table pool table:
A wooden billiard table pool table has a playing surface made of MDF. MDF is known as medium-density fiberboard. Resin and reclaimed wood fibers can use to make MDF. It's compressed into heavy sheets that stay steady in all kinds of weather. MDF is a more cost-effective solution. The cost of everything we wish to buy in life is always a consideration. When it comes to pool tables, this is no exception. When saving money is a top priority, it's easy to see why many people select MDF.
1. Wooden pool tables play a significant role for those who want to play the game naturally.
2. Pool tables made of wood offer a natural appearance. They have a nice texture, which makes a game enjoyable to play. It also lets you better your skill because the ball does not jump quite so much.
3. These tables give your home a more elegant appearance with an attractive look.
4. Take your choice from several wooden tables if you want a table that will stand the test of time.
5. Hardwood cue sticks are with the tables, which add to the game by providing players more command over their shots.
Maintenance of the wooden billiard pool table:
To keep your pool table in good shape, make sure the wood doesn't rot or become damaged. Dusting railings and boarders with freshwater or non-corrosive furniture polish can use for wooden pool tables. It also ensures the safety and shines of your wooden billiard pool table from head to toe. Before cleaning with water, use a soft towel to wipe any dust or grime from the surface. Check your frames and legs for tarnish, discoloration, or water stains. By doing this, you can keep them looking new. It also helps in extending their longevity.
The specialty of SZX high quality 7ft 8ft wooden billiard table pool table:
SZX high quality 7ft 8ft wooden billiard table pool table provides you the best services and pleasure.
1. The billiard table is composed of PVC lamination, which gives it a more natural appearance.
2. The wooden mortise structure of billiard table legs makes them more stable than standard supports. It maintains the center of the table with the two brackets.
3. Some white fixed points wrap in a billiard table for newcomers. Due to this, it is easy to understand the game.   It can also ensure the probability of scoring.
Conclusion:
Billiards, pool, and snooker are three games that are all played on a fabric-covered table. The main distinctions are the table sizes and several balls played throughout the game. There is a large assortment of billiard tables available. If you're looking for a billiard table, SZX is the place to go. They provide high-quality products, outstanding customer service, and prompt delivery. You can buy a billiard pool table from SZX. The SZX high-quality 7ft 8ft wooden billiard table pool table provides you with the best and most pleasing services.