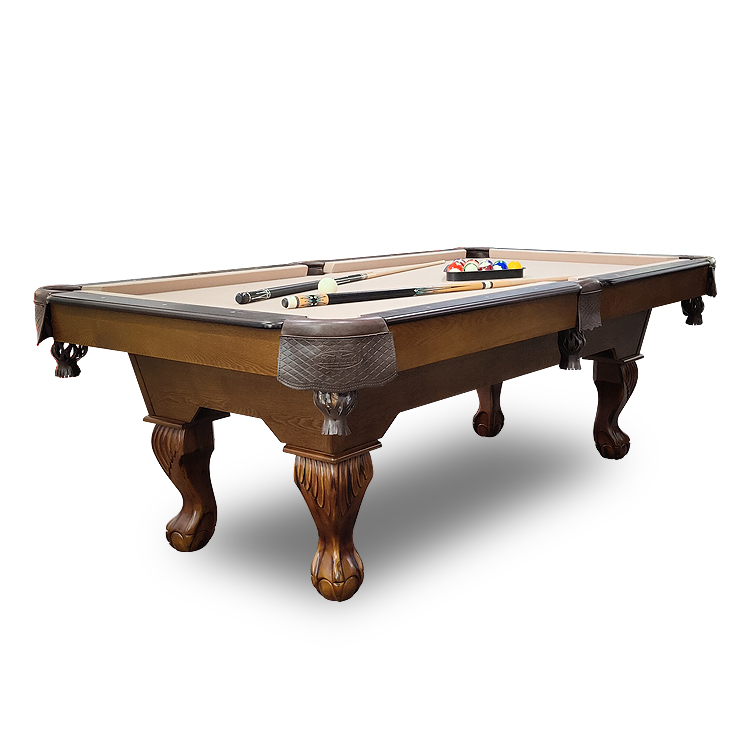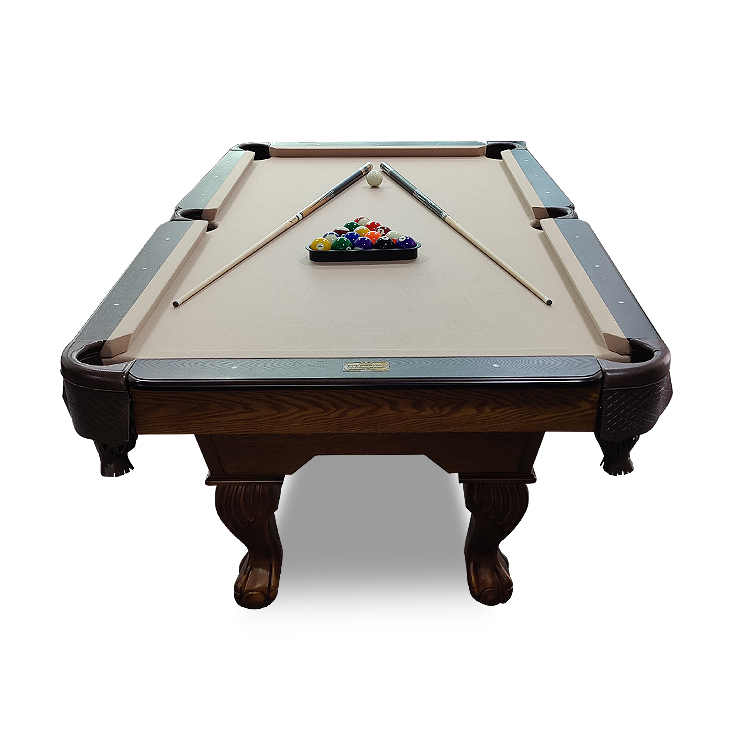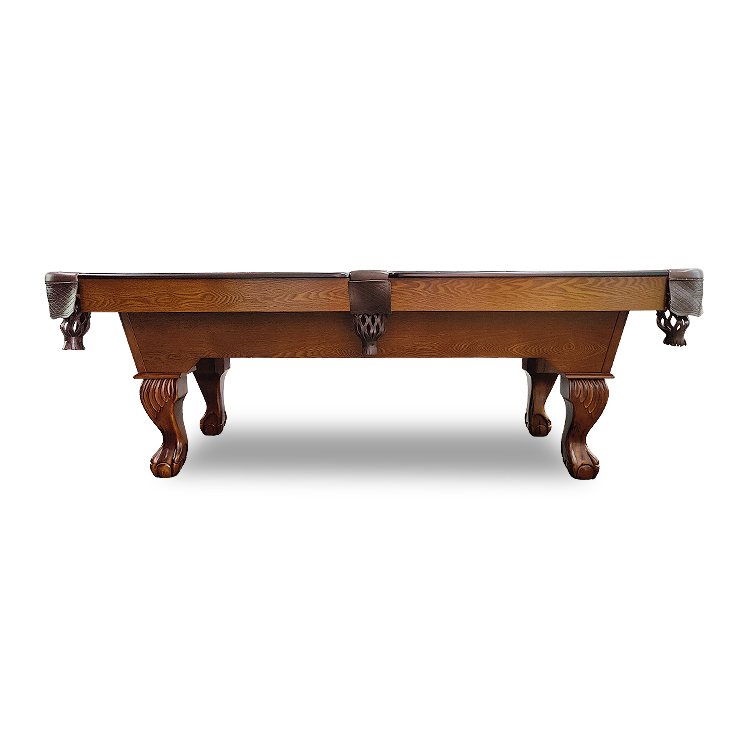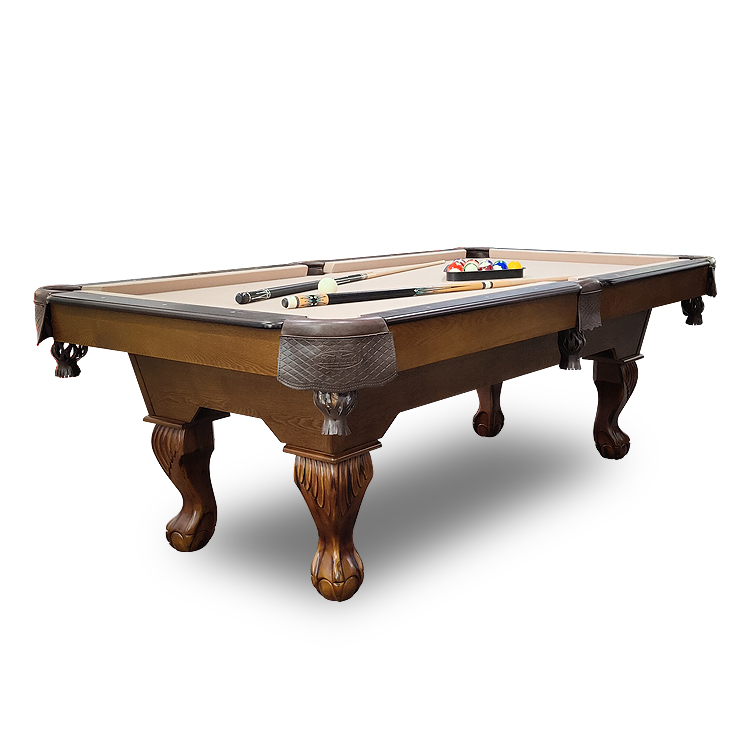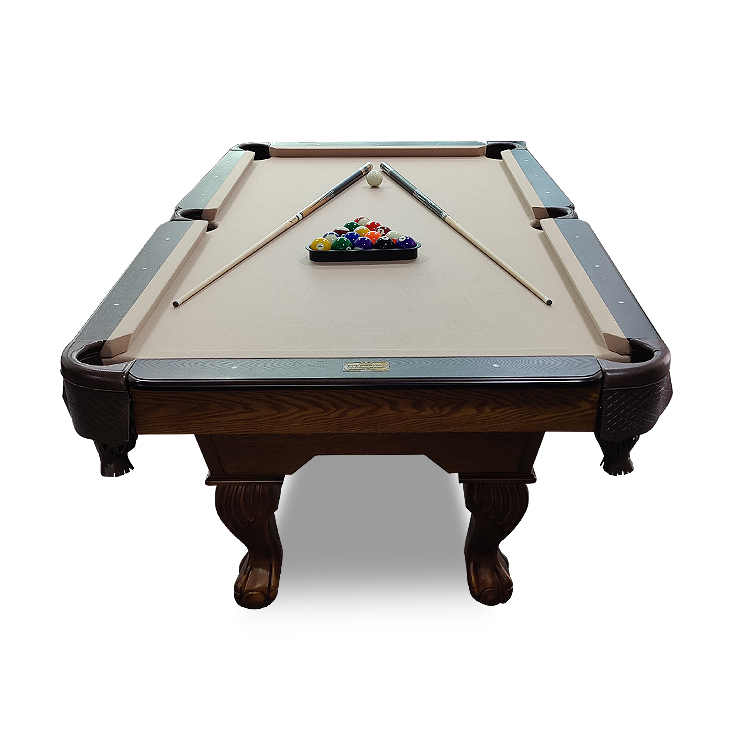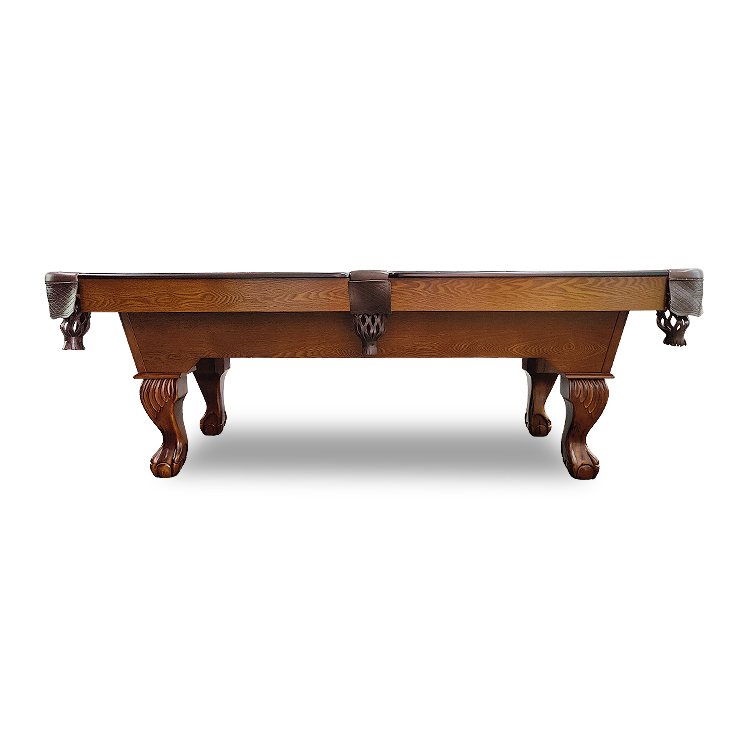 Table Detail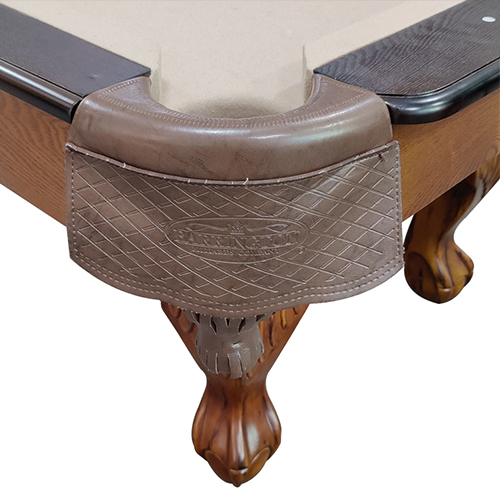 1. Leather Apron Corner
Leather mesh bag surface grain natural, smooth natural, feel good, beautiful color, can choose a wide variety of designs, with waterproof performance.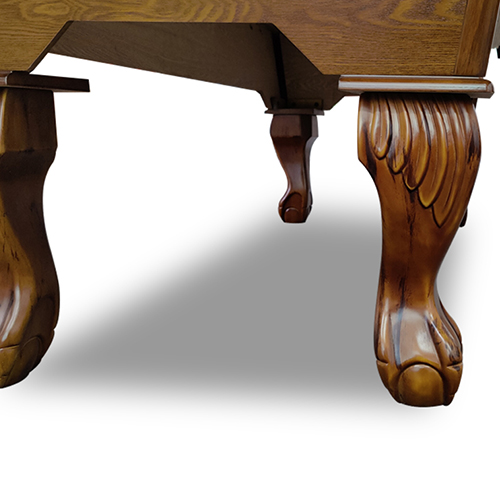 2. Solid Wood Carving
Solid wood billiard table legs have good visual characteristics, wood grain gives wood gorgeous and beautiful feeling. The bearing capacity of solid wood desk leg is also higher, won't worry about the situation of deformation and bending.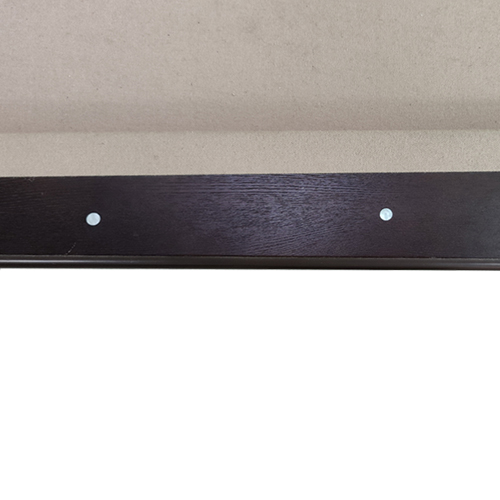 3. K66 Rubber
Billiard table body inlaid with white fixed points for beginners to learn billiards customers to provide easy to understand the direction of the ball also ensure the probability of scoring.
About This Item
EASY ASSEMBLY: After opening the package, the table is already in a semi-assembled state, and only the legs of the table are needed to complete the assembly of the product. It only takes two people 20 minutes to complete it, which is very simple.
PLAY FIELD: 18 mm MDF with One sided imitation cotton flannelette makes the play surface smoothly, the balls run clearly after been struck.
SUITABLE PLACES: This 7ft/8ft billiard table is perfect for home use and can be used in living rooms, garages, basements and out yards, as well as in bars, game rooms and other entertainment venues.
ACCESSORIES INCLUDES: Pool Cues, Pool Balls Billiard Set, Billiard Chalk, Billiard Triangle, Table Brush
TABLE LEGS MATERIAL: The legs of this pool table are made of solid wood. Solid wood has the characteristics of natural environmental protection and pollution-free, and the appearance is characterized by generous line texture. The products made of solid.
APPEARANCE: This product adopts the technique of engraving, pays attention to the technique of embedding tracing color, the pattern design is rich, the sculpture is exquisite, showing the profound Chinese national culture.
What is billiard?
The game of billiards, also known as a pool in bars, is based mainly on physical laws. Billiards is played on a felt-covered table with six pocket holes into which the ball is struck, and players hit the balls using a cue stick. The most famous billiards games are eight-ball. One player tries to push all solid balls while another player tries to knock in the stripes balls.  Billiards takes advantage of a few of physics' most basic principles. The game includes Newton's three principles and the concepts of interactions, velocity, energy, pressures, and resistance.
Billiard Table:
A billiard table, sometimes known as a billiards table, is a bounded table used for cue sports. Today, all billiards tables feature a smooth surface constructed of quarried slate and clothed. It is covered with vulcanized rubber cushions.
The match is run on a table that is identical in size to a snooker table (3569 mm x 1778 mm). Each player has their cue, which can be constructed of wood or fiberglass and is used to strike the balls. Chalk is the final piece of required equipment. Each player will chalk the end of their cues to ensure that the cue and the ball make solid contact.
Rules of Billiards:
1. All billiards tournaments can perform with three balls, one each of red, yellow, and white.
2. Both two players will have their cue balls. The white ball for one and the yellow ball for another.
3. Players stay at the table until they miss a scoring opportunity.
4. Following a foul, the opposing player can have all of the balls placed in their respective locations or leave the table as is.
5. The game's champion is the first person to reach the final point total, which was determined before the start of the game.
Benefits of Billiard table: 
A Great Way to Entertain Guests:
We all like having our beloved friends and family over for some rest. A pool table is an excellent way to amuse these visitors in your home.   A pool table provides fast enjoyment if you enjoy having company around for a leisurely gathering. Everyone appreciates a good game of pool because it is one of those games in which you do not need to be a professional to have fun!
You can improve your skills in preparation for future tournaments:
Having a pool table is one of the most productive and cost-effective ways to improve your billiard skills. You could play pool for the rest of your life.  Practice is the key to becoming a great pool player. You don't have to get ready, drive someplace, or overspend to get your practice on if you already own a table.
Fun for the whole family:
A pool table is an excellent present for the whole family. Playing a game of eight balls with your kids is a superb way to talk. It inspires in children a sense of accountability, patience, and the value of both winning and losing. It's also a fantastic technique to settle disagreements.
A Lifelong Investment:
Pool tables are a low-cost source of family fun. It's the ideal method to dress up a large area. A pool table is one of the most worthwhile expenditures you can make. There's no better time than now to invest in a fun game that will only benefit you and your family in the long run!
Great for Socialization:
Having a pool table at home allows the entire family to participate, which is beneficial for children's social skills and keeps them away from the television or iPad. It's also a fantastic way to bring together different generations or friendship groups for some friendly competition. Having your pool table at home is an excellent way to strengthen family bonds and bring everyone together.
Good for Your Health:
Playing pool can be beneficial to your physical and mental health! Playing pool can improve your core posture and stamina while also burning calories. There's also the added benefit of better hand-eye coordination, which is very beneficial for us senior citizens. The pool will engage your brain, improve your focus, and improve coordination. There's no denying that playing games and spending time with family and friends can help you feel better and help to calm down.
Improve Life Skills:
As we age, we may find that we use fewer of our skills, and as the adage goes, "if you don't use it, you lose it!" A game of pool can help you improve your numeracy, language, hand-eye coordination, and other skills. These activities may also teach us about healthy competition and teamwork, which are both valuable life skills. There's always time to improve these, and it's even more enjoyable to do so while playing a game you enjoy
Pool Table for Every Home:
Some of you may be considering getting a pool table and not sure how it would fit in your home. There are a large variety of pool tables on SZX.
SZX Beautiful Carved Wooden 89" Billiard Pool table provides you with comforts.
There are some features of the beautiful curved wooden billiard table:
1. The surface texture of the leather mesh bag is natural, smooth, and feels excellent. It comes in a range of colors and styles, and it is waterproof.
2. The visual attributes of solid wood billiard table legs are excellent.  Natural wood provides the wood with a magnificent and lovely appearance. Solid wood desk legs have a better bearing capacity, so you won't have to worry about distortion or bending.
Conclusion:
If you want to buy a pool table for your home, SZX offers the perfect selection for you! Pool tables are a financial and space commitment. Investing in a billiard table is excellent for the pool but can also be utilized for other purposes when you aren't playing pool is the most cost-effective and space-saving option. Pool tables with dining tops are suitable for various applications.