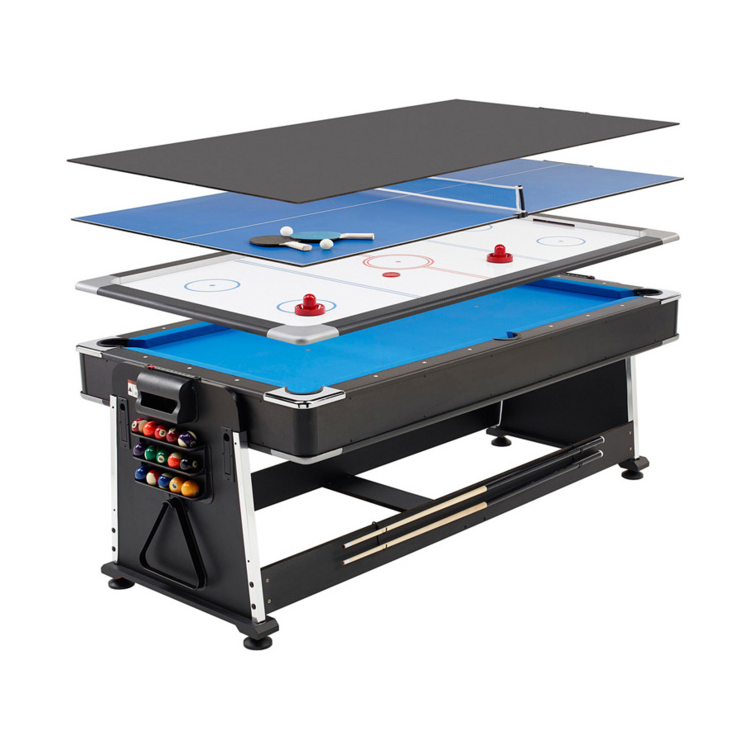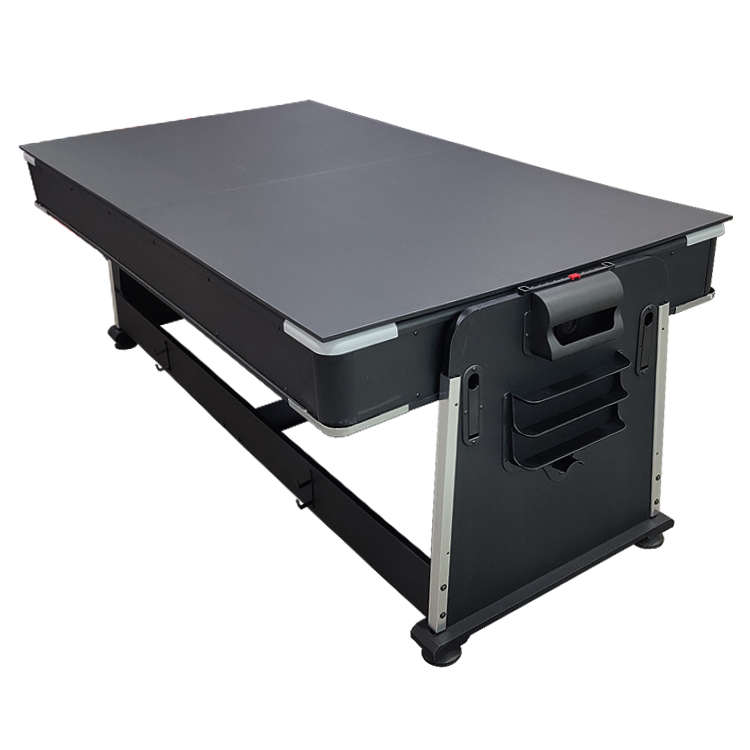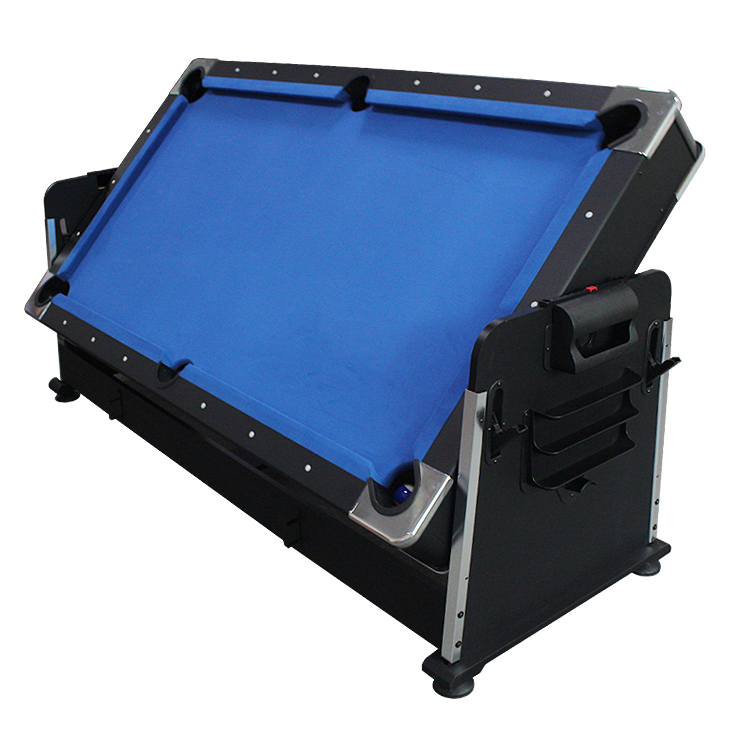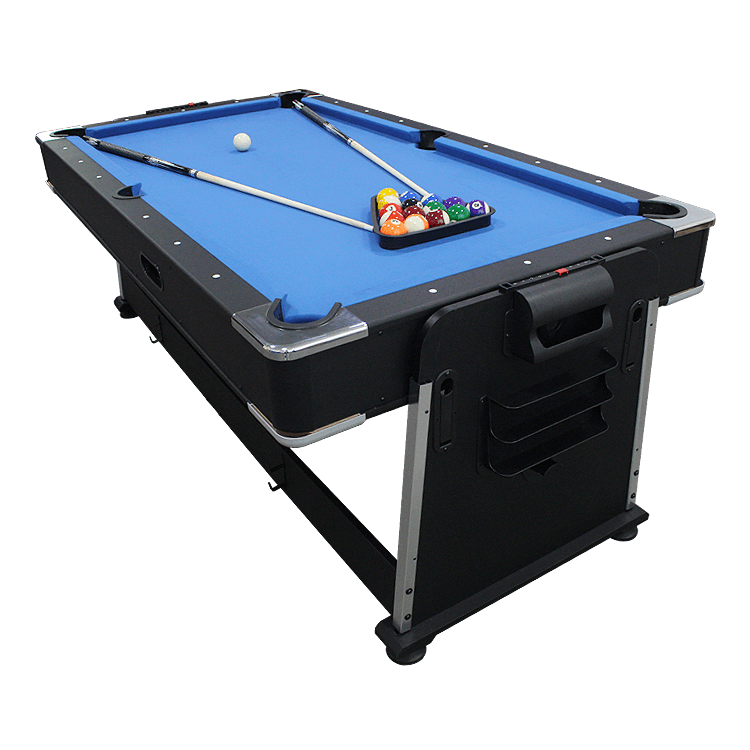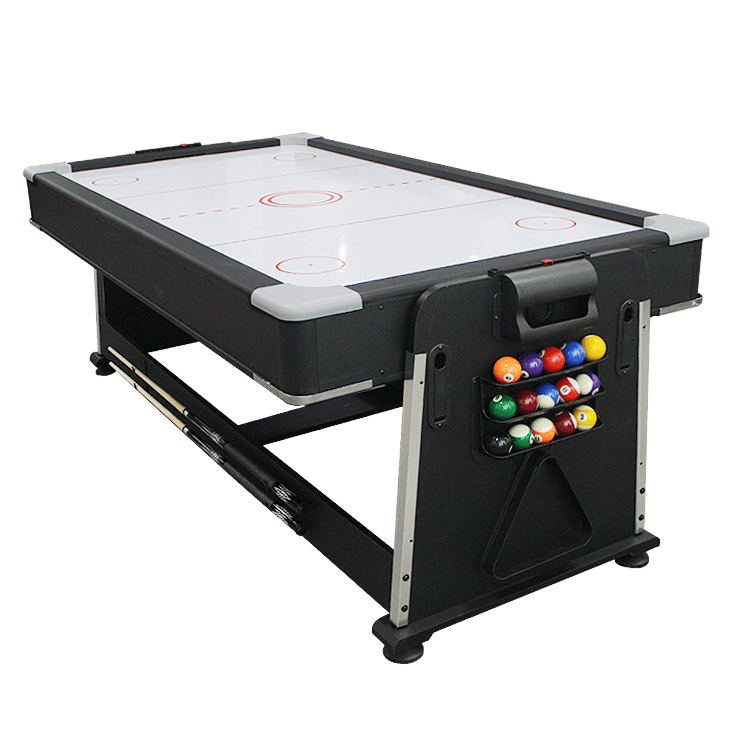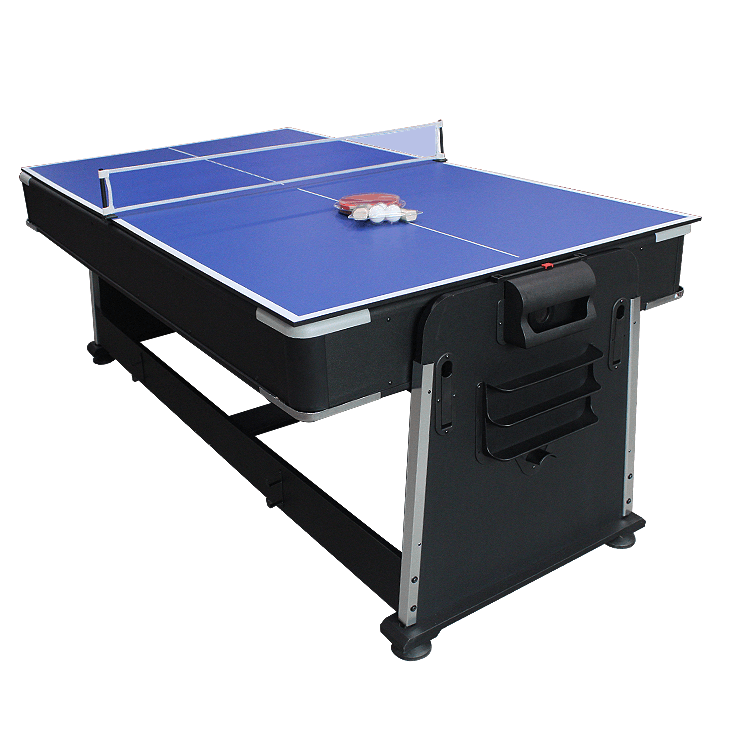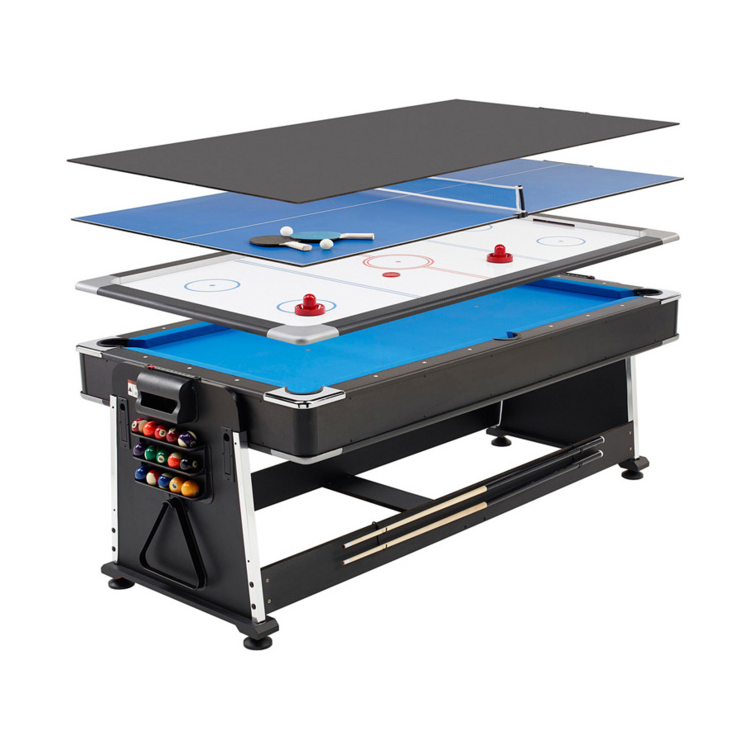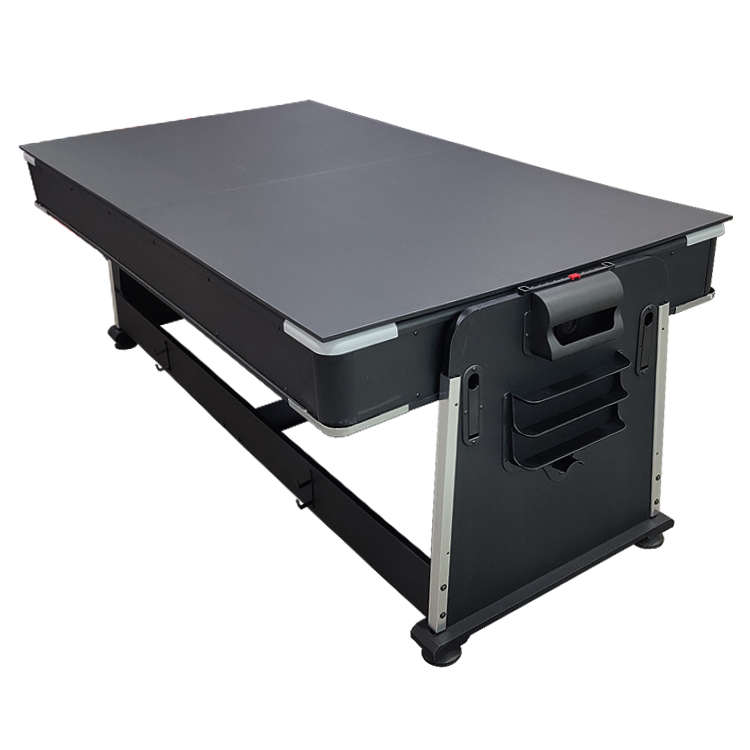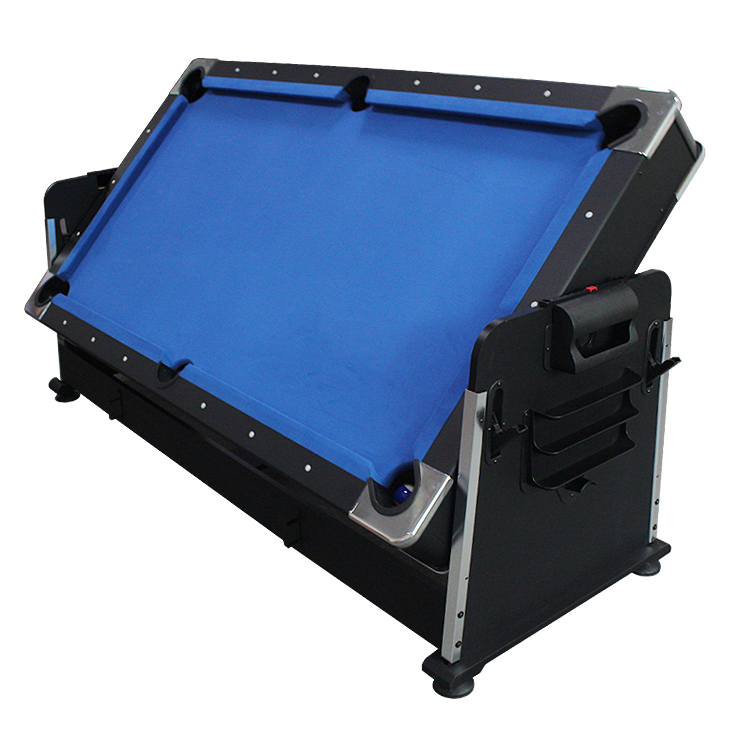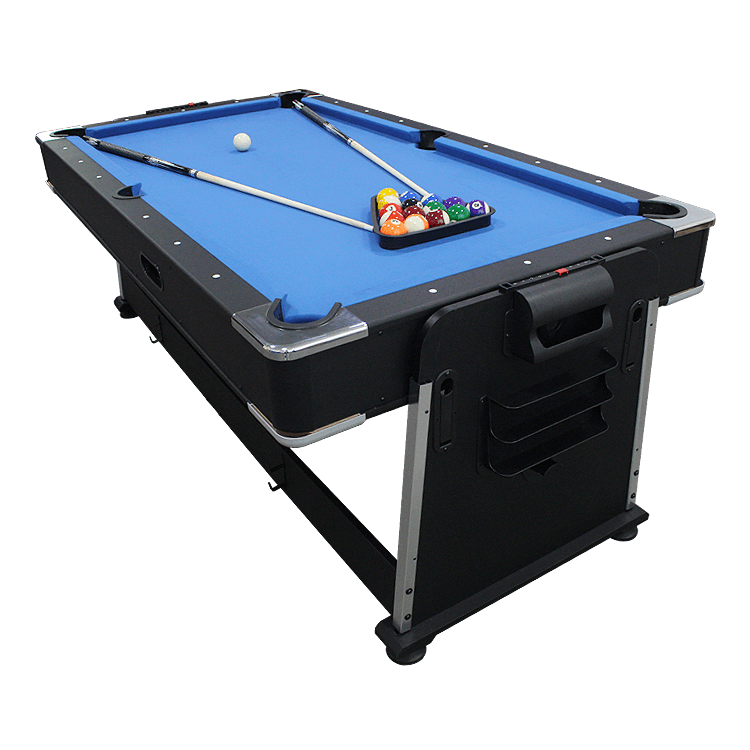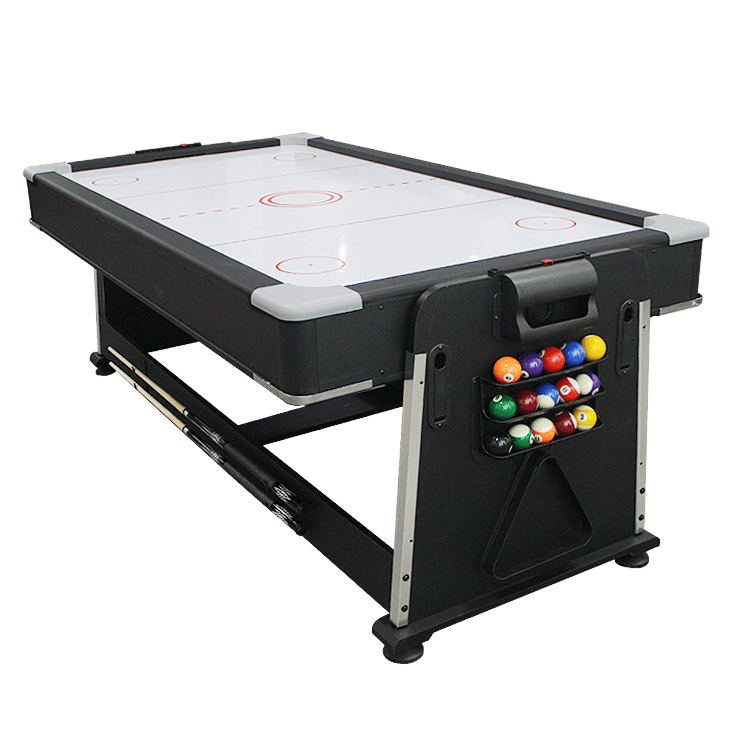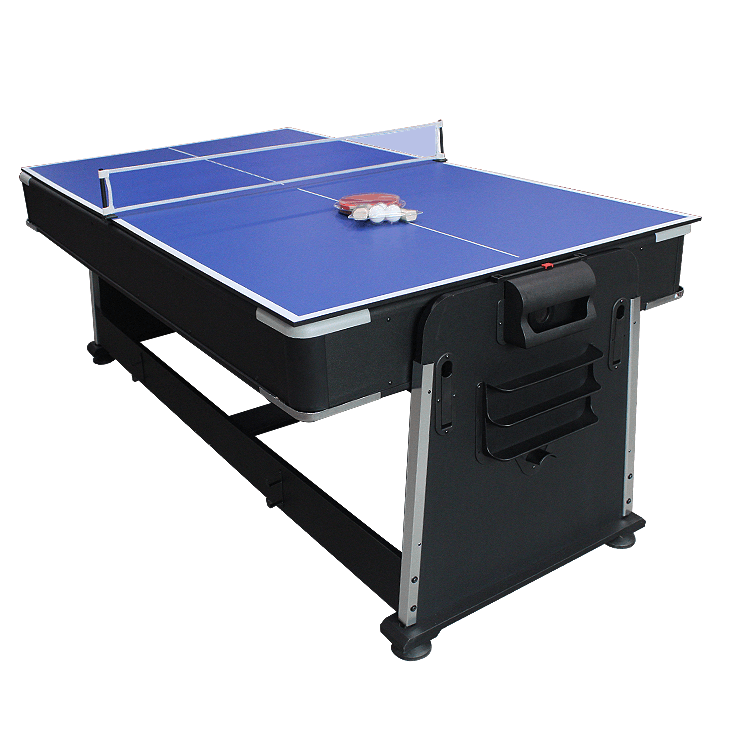 Home > Products > Billiard Table >
SZX 7ft 4 in 1 Multifunctional pool table with billiard air hockey table, dining table, table tennis table for adult on sales

Table Detail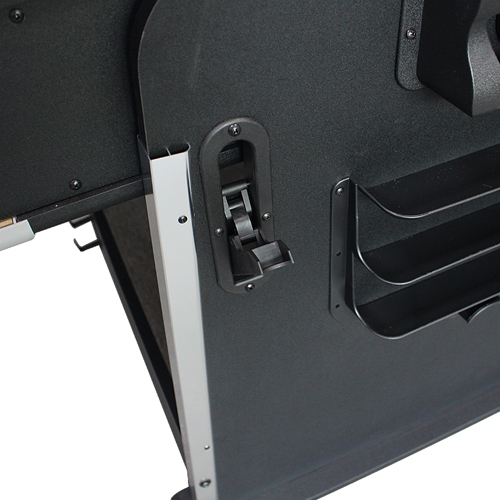 1. Lock
Billiard table uses the locking mode to change the desktop, which is convenient to use and easy to assemble.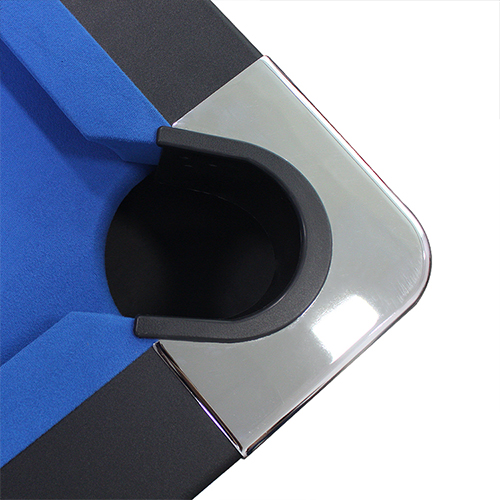 2. Apron corner
Billiard table uses a smooth surface with silver ABS apron corners to make the product stylish.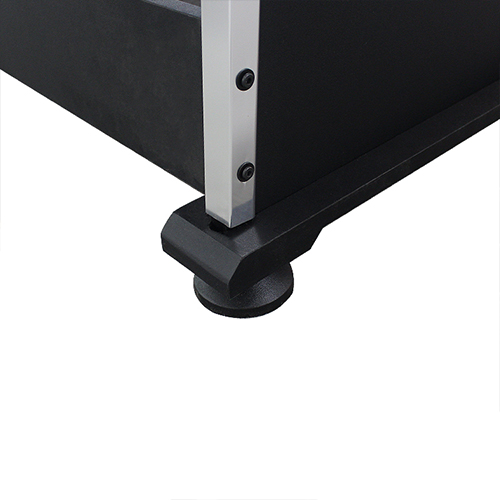 3. Adjustable table legs
Adjustable legs Pool tables have adjustable legs that are adaptable to all kinds of conditions not just smooth surfaces but uneven surfaces.
About This Item
ADJUST LEG LEVELERS: The leg level adjustment system makes the table adjustable in the case of uneven floors to suit your environmental needs to make the game as accurate and fair as possible.
FALL BAGS: This table has a slideway pocket mouth, which is durable, crisp and layered, making it very enjoyable in family, club and professional games.
EASY ASSEMBLY: After opening the package, the table is already in a semi-assembled state, and only the legs of the table are needed to complete the assembly of the product. It only takes two people 20 minutes to complete it, which is very simple.
PLAY FIELD: 18 mm MDF with One sided imitation cotton flannelette makes the play surface smoothly, the balls run clearly after been struck.
ACCESSORIES INCLUDES: Pool Cues, Pool Balls Billiard Set, Billiard Chalk, Billiard Triangle, Table Brush
SUITABLE PLACES: This 7 '4 in 1 pool table is perfect for family use, featuring a variety of entertainment items such as dining table, pool table, air table, table tennis, can be used in living room, garage, basement and outdoor yard, as well as a bar, game room and other entertainment venues.
Table tennis tables are the tables used to play billiards, which is a healthy game. Many individuals play a variety of games to be healthy and active. Billiards is a game that not only keeps you healthy but also sharpens your thinking because it necessitates the use of well-established tactics and experience. As a result, owning a pool table in your home may provide you with a number of physiological and mental advantages.
We adore multi-functional gadgets that can double, treble, or even quadruple the enjoyment. If the multi-functional object is furniture, you get bonus points. If you enjoy billiards, tennis, air hockey, and entertaining guests, the SZX Multifunction 4 in 1 pool table is ideal. Simply remove the top panels of the dining table to reveal a billiards table, an air hockey table, and a pool table. They are ideally suited for contemporary homes since they are both modern and attractive. The tables are made of seasoned wood, and the billiards are precision-crafted using numerical control gear.
What Is 4 In 1 Pool Table?
The 4 in 1 pool table is a type of pool table that has not one, but four tabletops that may be used to play different games. Because the tabletops are changeable, you can vary the game by changing the tabletop. Billiards, air hockey, foosball, table tennis, and table tennis are the most popular games. A dining table may also be used as a fourth tabletop.
Why You Should Buy 4 In 1 Pool Table?
It's useful if you live in a tiny apartment and need to preserve room. You will save money and effort by simply purchasing one table rather than four different tables. The 4 in 1 pool table is especially useful for children. They enjoy playing a variety of games, so this table will be ideal for them.
Ten Common Misconceptions in the Rules of Pool
1. Breaking Off
The break shot is fair under international rules if four object balls strike a cushion, or an object ball is holed. Two balls must come back past the center pockets, or a ball must be holed, according to BAPTO regulations. A foul break in either set of rules resulting in the balls being re-racked and the opponent receiving two shots. If the black is holed from the break, the balls are re-racked and then the same player breaks without penalty.
2. Foul Strokes
A foul in World rules awards an opponent two shots and allows them to play the cue ball from any place behind the baulk line. Because the two shots "carry over," if a player pots a ball with his or her initial stroke, he or she still has two more shots. In addition to an additional visit, BAPTO regulations enable a player to legally play any ball by placing the cue ball in the "D." The extra visit, however, does not "carry over," thus a ball potted on the initial visit is the only one left.
3. Choice of Colors
A ball or balls caught from the break allow a player to designate color in World rules. However, for the player to be "on" that color, a ball of that color must be potted. If no balls are potted from the break, the table is left "open" until a ball is potted, at which point the player is "on" that color. After a fair break, the player nominates his or her color, independent of the balls potted, and is thereafter "on" that color, according to BAPTO regulations.
4. Definition of a Legal Shot
The cue ball must simply strike a ball "on" according to BAPTO regulations, which is also the case under World rules, albeit a ball must additionally contact a cushion or be legally potted. The only exception is when a player is snookered, in which case striking a ball "on" is a legal stroke.
5. Deliberate Fouls
Deliberate foul strokes are permitted under World rules, and players frequently employ them to remove a pocket that has been clogged by an opponent's ball. However, according to BAPTO regulations, intentionally playing an opposition's ball results in a frame loss.
6. Shooting Backwards
There are additional differences in how "shooting backwards is handled. A player may not strike a ball on or behind the baulk line without first striking another ball or cushion; a player may not shoot back from the baulk line but may shoot at balls behind the line if the cue ball is moving forward; or a player may simply be permitted to fire backwards.
Can you play billiards, tennis, and dinner on the same table?
On the same table, you may effortlessly move from playing billiards or pool to eating supper. This is a feature provided by the SZX multifunction 4 in 1 pool table. They sell high-quality goods at affordable pricing.
Conclusion
You will also receive a few accessories with the SXZ multifunction 4 in 1 table 7ft. The 4 in 1 pool table balls, four cue sticks, brushes, strikes, triangle, net, pucks, and chalk are all included. All you need to play on this table is that which can be converted into table tennis table. For the first time, it is also suggested that you hire a professional to install the table for you. After that, in a matter of seconds, you may move between the dining table, air hockey table, table tennis, and pool table on your own. So, what are you waiting for? Take advantage of this lovely table at a cheap price. It will improve the aesthetics of your living area.