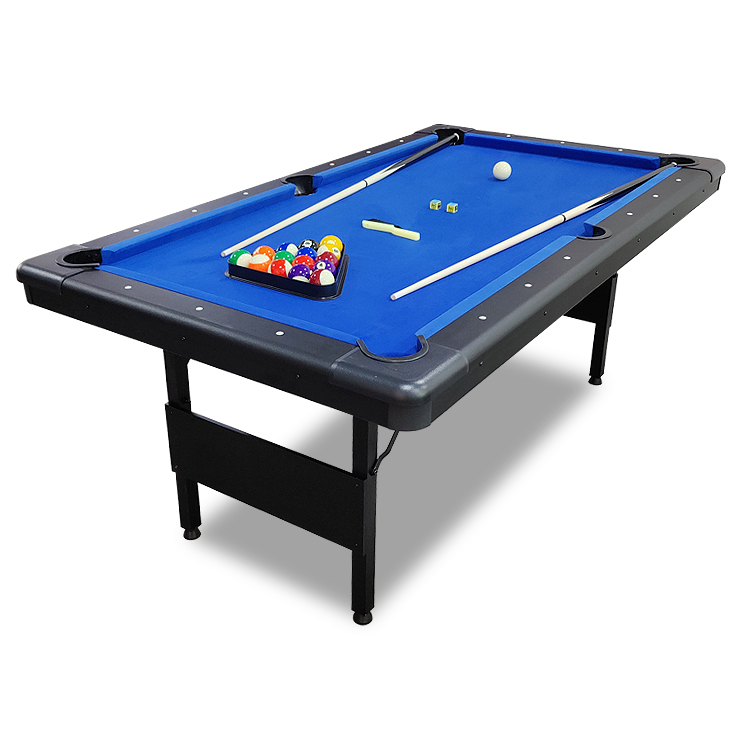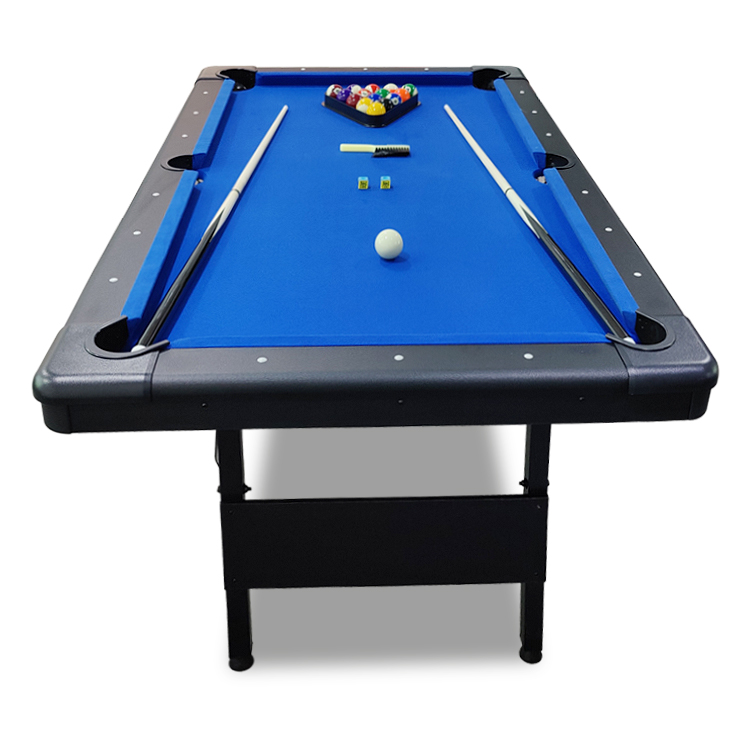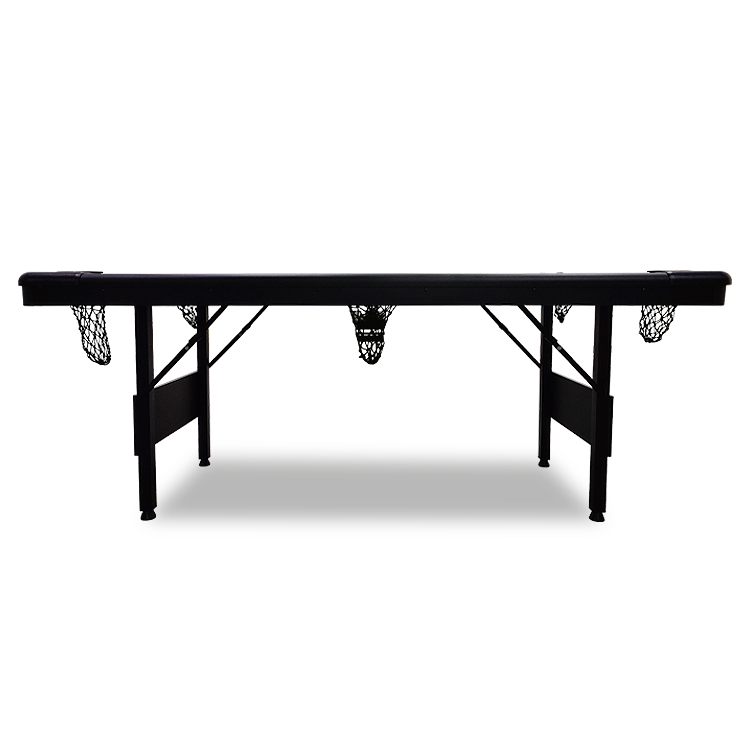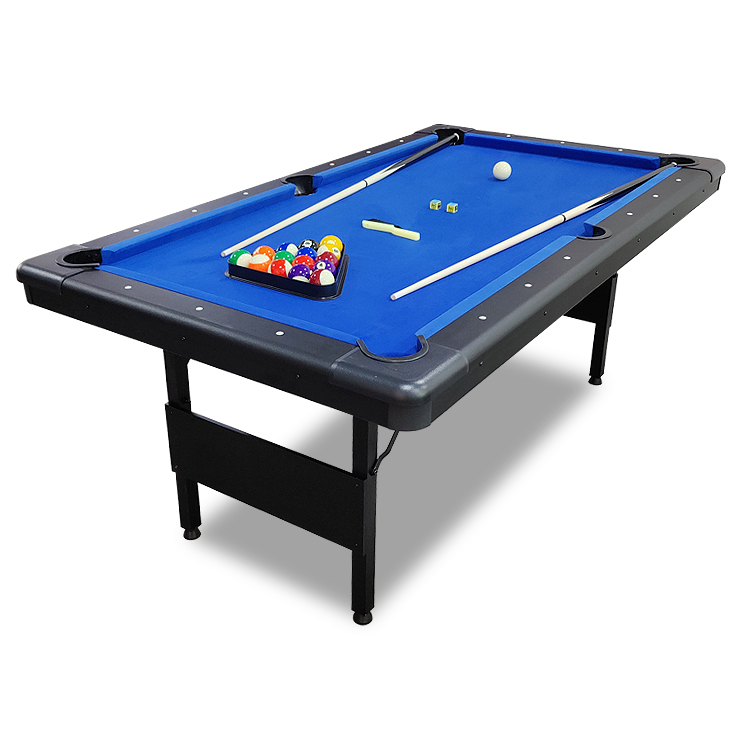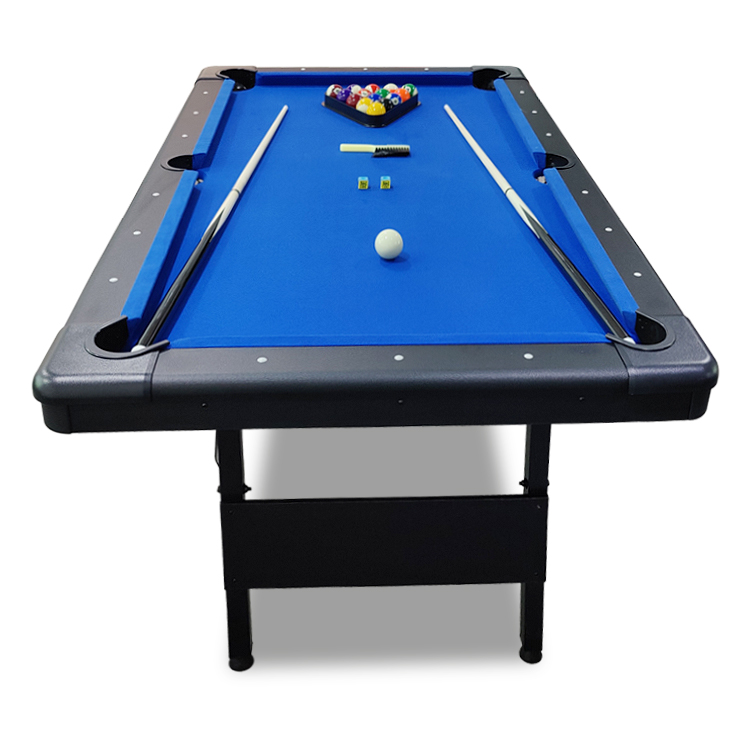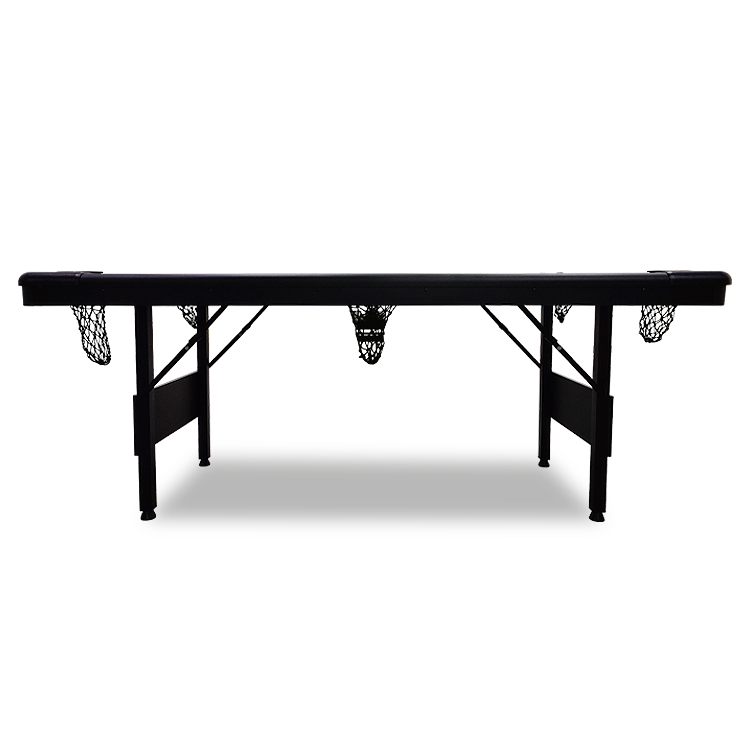 Portable Pool Table Details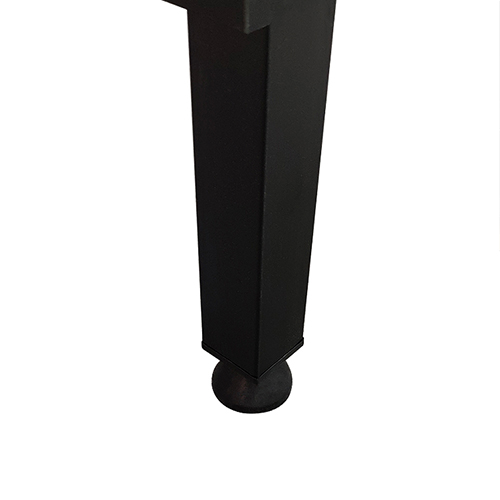 1. Freely adjustable leg
This amazing portable pool table comes with freely adjustable legs for height adjustment and balancing the table above uneven floor.
Once can balance the pool table without affecting the horizontal rolling of the ball.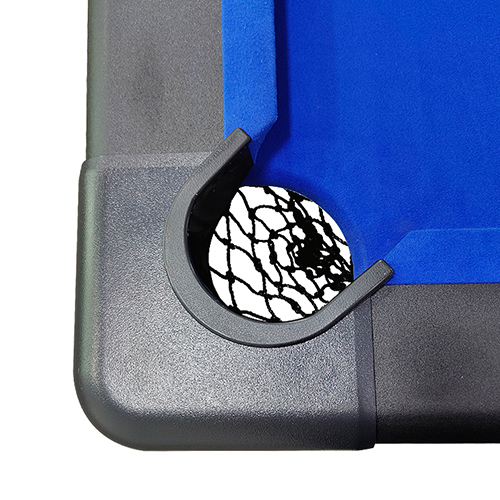 2. Billard net pocket with drop style
We have kept the Billiard net bag of woven. It is pretty much duarable and soft to easily pull-out ball.
The ball net pocket bag can also be adjusted according your storage demands.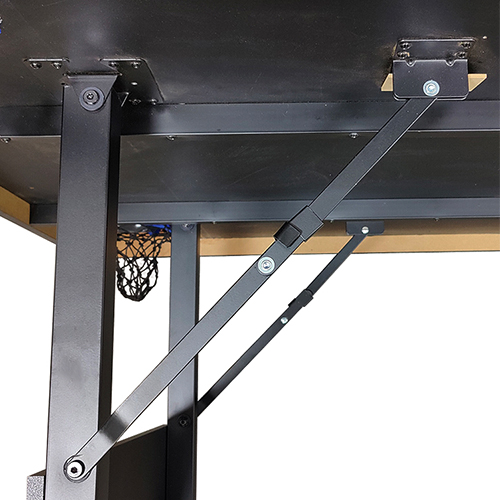 3. Foldable metal device
This portable pool Billiard table iron-steel painted foldable legs. It is strong, and stiff that improves the firmness of the iron legs.
We have coated a layer of corrosion resistant special coating on all the iron legs and frames for long-life span.
About This Item:
Introducing a better version of ordinary pool table (sold online) by adding multiple features and enhanced built quality that you can't find online in this price. Presenting the 7ft portable pool table with foldable legs, height and balance adjustment and moreover, a woven billard net bag with adjustable storage!
This 6ft and 7ft portable pool table can be used on demand either indoor or outdoor. While it can be folded to store it. Whether you are a billard pool game lover, you will get a professional touch from the ambiance of high quality pool table.
Surprisingly, we have used the firm iron foldable legs to resist wobbly in its legs. So, you can play side by side game, and one can leave its body weigth on the table while playing. Because it won't move or wobble while playing. Therefore, SZX is known for its professional manufacturing!
Key Features Of Billard Pool Table:
ADJUSTABLE LEG LEVELERS: The leg level adjustment system makes the table adjustable in the case of uneven floors to suit your environmental needs to make the game as accurate and fair as possible.
RIGID FOLDING FEATURE: The pool table structure has iron pipes and painted folding legs. It improves the firmness of the iron legs, and the special coating can effectively resist the corrosion. It is easy to fold to reduce the space area, and easy to use for leisure and entertainment.
WOBBLE FREE STRUCTURE: The structure is stiff and have been engineered to resist any wooble that can cause unbalancing, or unfair game.
EASY ASSEMBLY: After opening the package, the table is already in a semi-assembled state, and only the legs of the table are needed to complete the assembly of the product. In addition, it only takes two people around 20 minutes to complete it, which is very simple and directed in the manul.
SUITABLE PLACES: This 6ft/7ft/8ft portable pool billiard table is perfect for indoor or outdoor purpose. It can be used in living rooms, garages, basements and out yards, as well as in bars, game rooms and other entertainment venues.
ACCESSORIES INCLUDES: Pool Cues, Pool Balls Billiard Set, Billiard Chalk, Billiard Triangle, Table Brush
History about Billiards (Cue Supports): 
Cue games have been referred to as billiard in history. A game in which a player uses a cue stick to hit or strike a billiard ball while moving it around a billiard table. Before the invention of the cue stick, people used to play with mace. A billiard table is a bordered table with a level surface covered in cloth and rubber cushions. There are six pockets in a specific cue sport like pool, one on each edge of the table and the other two on the sides. King and the common folk, politicians, psychiatric patients, women, businessmen, and hustlers participated in the game.
Billiard Table:
Railing on billiard/pool tables is flat. The primary use of the railing is to keep the balls from falling off. Some low-cost pool tables use synthesized slate or plastic honeycomb sheets. Natural slate is the preferred playing surface approved by the BCA. Because of its high density, with a typical table weight of 450 lb. (200 kg) or more. This mass aids in the stability of the table during play.
Wood is another significant component of pool tables. The structural framework of the table is made up of poplar (tulipwood). This wood provides outstanding self-healing qualities that retain bolts tightly and heals well when there are no bolts.
Whether you consider pool games as a sport, a passion, or a hobby. You can't dispute that it has numerous advantages. Billiard games are beneficial to both the body and the mind.
Health Benefits of Billiards games:
Slows aging:
Beer and billiards have become a popular way for men to socialize.   As per a previous study from the University of Copenhagen, drinking beer while playing pool with companions can help keep older men energetic by allowing them to switch between strenuous and passive activities during the game. The billiard game can help slow down the aging process by giving the elderly a fun exercise that keeps their muscles active.
Better Hand-Eye Coordination:
Most games demand impressive hand-eye coordination to win. Coordination of hand and eye need for the small-time frame in which players perform numerous tasks simultaneously to play their shot. Deciding which target ball to try, aiming for it, determining where to strike the cue ball, and manipulating the Power bar are among them. You won't be able to perform the excellent shot in billiard games unless your eyesight and movements are in the proper position.
An Excellent Way to Relax & Relieve Stress:
Games are the best way to reduce stress. The fascinating and captivating billiard tables draw millions of players from all around the world.   When playing billiard games, players might lose track of time and become completely immersed in the game. Billiard games allow them to disconnect from their challenging and stressful lives. Billiard games are one of the best methods to relax and utilize your spare time.
Helps build control:
People who play cue games like pool are less likely to make mistakes in a disaster. Participants can communicate logically and calmly while playing this game. Billiard games allow them to analyze the most meaningful information and details and encourage them to act without becoming emotional.
Burns calories:
A game of pool can provide a surprising amount of beneficial walking. A standard 2-hour 8-ball or 9-ball session can provide 100 laps around the table's circumference, which is roughly equivalent to walking about three-quarters of a mile. Although playing pool does not involve much physical effort or physical power. But the average pool player burns roughly 200 calories per hour.
5 Tips Which Will Help You Focus on Your Pool Game:
You may struggle to target and shoot the ball if you are not focused. There are seven simple methods to help you focus when it's time to play.
Develop a pre-shot ritual:
It will help you enhance your game if you have a pre-shot practice. A pre-shot training is a set of actions you perform before getting a shot. When followed consistently, the practice will become a habit. It aids in your game improvement.
Before each shot, take a few deep breaths:
When you're ready to play, take some deep breaths and sit down at the table. It will help you relax your nerves and focus your attention on the task at hand.
Rehydrate during the game:
Get up from the table now and again and take a drink of water. Long periods of pool games can dehydrate you. You can also lose your focus. Whenever you're playing, keep a glass or bottle of water nearby.
Concentrate on the shot you want to take:
When you're going to take a shot, you should also practice consciously focusing. Consider the hole into which you want the ball to fall. Apart from that, consider how hard you want to hit the ball.
Distract yourself from your surroundings:
During a game, you should concentrate on the board and the game. Avoid glancing at the TV, other people watching the match, or getting lured into any nearby distractions.
There are many varieties of pool tables that can help you in many ways. Pool tables are in many styles and designs. The portable pool table of SZX provides you with the best services. You can buy an SZX portable pool table if you want a useful table.
Buy a billiard table portable pool table:
Potable pool tables have some fantastic features such as:
1. You may change the height above an uneven ground to achieve the illusion of a tabletop level, without influencing the horizontal sliding of the ball.  Thanks to changeable feet.
2. The ball intake on the billiard table net bag can modify according to need. It is constructed of a woven net, which is more lasting.
3. Iron pipes and painted foldable legs embellish this billiard table. It increases the iron leg's stiffness, the surface coating effectively slows the iron leg's corrosion, and the usage of folding reduces the family area's footprint.
Conclusion:
Billiard, pool, and snooker are three separate games that are all played on a fabric-covered table. The main distinctions are the table sizes and the number of balls played throughout the game. If you're looking for a billiard table, SZX is the place to go. There are so many other designs and styles too on the SZX websites.