Do you wish to learn more about the mini billiards table?
There is a solution if you love to play billiards but lack the necessary room. Even in small places, SZX mini-billiard table can accommodate full-sized fun. You get all the nuances of a regular-sized pool table without the high mini billiard cost and inconvenience with smooth, tapered cues and small balls.
It is the ideal gift for children, teenagers, and anyone who lacks space for a full-sized table because of the table's robust timber legs and structure, which offer maximum support.
You may carry it everywhere you go because it is lightweight and strong. Its classic appearance is provided by natural wood, and any home's background can be hidden by its neutral tone. The main pros of the mini billiard table cost are affordable. Now you can buy and fit it everywhere in the room.
A mini billiard table has the following benefits:
A mini pool table is a game that both adults and kids can enjoy. Additionally, it serves as a channel of communication for kids and parents. Children's cognitive abilities can also be improved, as well as their ability to coordinate their eyes, hands, and brain.
Because the little pool table is 8.5 inches high, it effectively ensures the safety of young players. Adults can even play on any table with it. Both adults and children will enjoy playing on this pool table.
The table is already partially assembled when the package is opened, and the only component that needs to be added to finish the assembly of the item is the table's legs. It can be completed in just two people's 20 minutes which is very simple.
One-sided imitation cotton flannelette creates a smooth playing field; after a ball is struck, it runs cleanly.
This 3-foot mini pool table is ideal for home usage and may be utilized in living rooms, garages, basements, and outdoor spaces, as well as in bars, game rooms, and other entertainment venues.
Billiard Set, Billiard Chalk, Billiard Triangle, Table Brush, Pool Cues, Pool Balls, and Billiard Balls.
ABS apron corners in black:
The pool table has a contemporary surface and black ABS apron corners. Easy to install, looks extremely bright and light, and enhances the beauty and modernity of the table.
The mesh bag for the pool table is composed of cotton and linen, which makes it more durable, and the ball may be changed as needed. Because the small pool table is 8.5 inches high, it efficiently ensures the safety of young players. Adults may also play on it by setting it up on any table.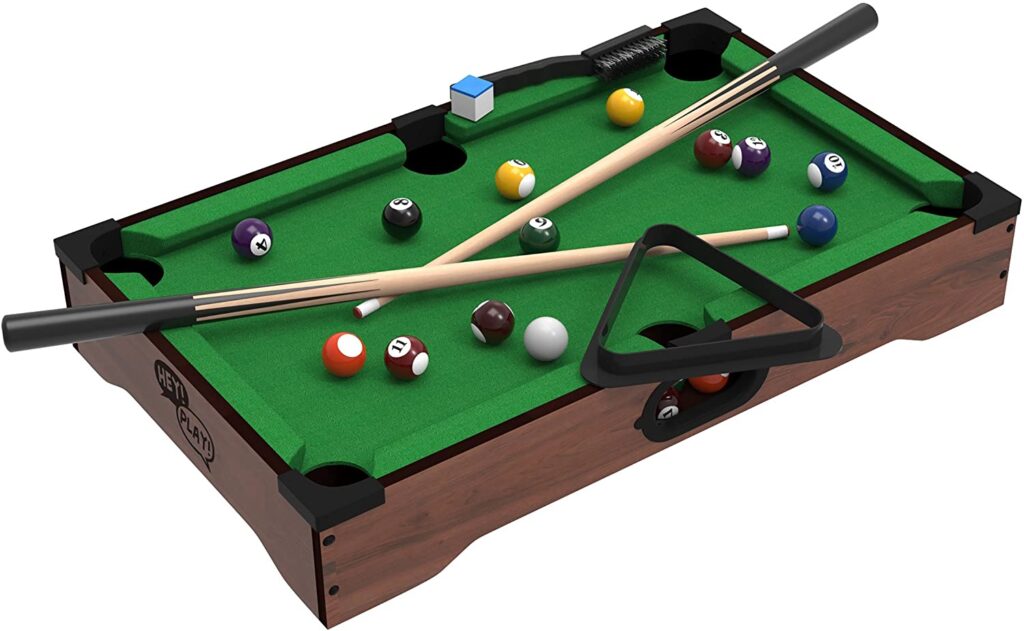 The cost of a mini billiard table:
Not every household can afford to have a full-size pool table. Some folks do not have the space in their residence or apartment to fit a seven or 8-foot pool table. Smaller pool tables are also available; however, most people believe full-size pool tables are the best. So, is it wise to spend money on mini billiard tables? On the other hand, because of their low mini billiard table cost and portability, mini pool tables are an excellent substitute for many people.
If you don't want your new game to take up a lot of space in your home, you could choose to purchase a smaller edition. It will be simple to learn how to play, and you'll get a particular cue for little pool tables. You can bring the whole family along and play it anyplace. This mini billiard table for kids' games is $30.00-$90.00.
Things to consider when buying a mini billiard table:
There are a few things you should be aware of before making a final decision to buy a pool table. Most of us will quickly scan the details before making a purchase, and occasionally we'll even read customer reviews. The product's quality is one thing that we all need to keep in mind. Knowing something isn't up to your pleasure or expectations before buying that specific good is the worst feeling. Consider some information that might aid in your decision-making before going through the purchasing procedure for any pool table.
For any buyer, the mini billiard table cost is one of the most crucial factors. A pool table's price can affect whether you decide to purchase it in the first place and what features and specifications it possesses. For instance, if you want a high-performance pool table but don't want to spend a lot of money, you may go for a less expensive one that lacks all the features. If your budget permits, you might wish to choose a more expensive option with superior performance and features.
Performance of the Product:
It would be best to consider how well a tiny billiard table serves its purpose or function before deciding how much money you wish to spend. It will establish whether it is worthwhile to purchase if you need anything that does its job well. You ought to be able to locate a product that does the job you require it to complete well. If not, you will have wasted your money on a useless item that cannot utilize for what it was meant for. This is why it's crucial to think about how well things work because this will enable you to decide whether they're worth investing in.
The durability of the product:
Durability is a crucial consideration when purchasing a new tiny pool table. You need to consider how durable the pool table is if you want something that will be comfy and last for years. A high-quality, long-lasting tiny pool table typically costs more than a low-quality one, but it will be considerably more comfortable and last much longer. Investing in a high-quality item is necessary if you want something that will serve you for many years.
Conclusion:
Mini billiard tables are an excellent choice for people on a budget. Small pool tables can be purchased for as little as a few hundred dollars, compared to full-size tables, which can cost thousands of dollars. And that is at the top of the range. SZX has been producing top-quality pool tables for years and delivers high-grade mini billiard tables at affordable prices. You can purchase our pool tables through our online store, which we have established. Our little pool table will surprise visitors with its timeless design and premium components. You won't ever get bored. Obtain a mini pool table right away!