What does dartboard mean?
The target in a darts game is a circular piece of wood or cork. Numerous patterns, such as overlapping rings or a central circle with rays, can be used to embellish it.
Everyone, regardless of age or gender, enjoys the game of darts. While some individuals play dartboard for fun, others take it quite seriously. However, you may choose from a vast selection of games to play. Some are intended for less skilled people, while others need a high degree of proficiency to play.
What does dartboard with surround mean?
A dartboard with surround, also known as a wall protector, already conveys much about it. Dartboard surrounds may be found in various forms, but the two that you are most likely to see are round and rectangular. Other types are shaped like squares or even octagons. The purpose of these dart attachments is to shield walls from wayward darts.
Now and again, even the most skilled player misses the mark. A dartboard surround is intended to offer a fix for darts that go astray and strike the wall, leaving unattractive markings. The purpose of employing a surround is to ensure that errant darts land on this item rather than a wall. The surface of the surround will deflect and hold the darts.
In what way may a dartboard surround be functional?
Once fitted, the surround offers a larger coverage area, allowing you to play your preferred game without worrying that your walls will be damaged. Dartboard surrounds that fit snugly won't hinder your game in the slightest; most of them will increase board stability so that you may play without wobbling.
In addition to acting as a barrier between your wall and the darts, these wall protectors also serve as an extension of your dartboard since they let the darts stick to their surface like your dartboard. Because they don't land on your floor, where they could create scuffs and markings, darts that don't bounce out is a great asset. Furthermore, the surround's capacity to stop bounce-outs assures that adjacent play-area item won't be harmed and, most crucially, that no players or spectators will be wounded.
Your dartboard and complete play area will have a brand new, more professional appearance when you attach a dartboard surround, which will only take a few minutes. Any dartboard becomes more formidable and able to resist even the most challenging throws when this accessory is attached.
In addition to all these benefits, it's important to note that these wall protectors are relatively reasonable, so you don't have to worry about spending too much.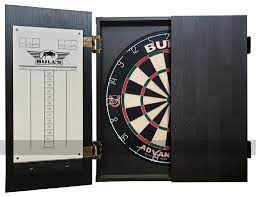 How do you need a dartboard surround?
A dartboard with surround is necessary for several reasons. The first benefit is that it presents itself better and more expertly than simply having a dartboard. The height adds to the dartboard is the second factor. Despite being sufficiently durable, if you play with your darts on the ground, they might topple over. You are safeguarded from such an incident by having a dartboard surround.
Why would you then play darts?
It costs nothing to play games:
Darts is an excellent sport. Once you have your dart board, bureau, and darts, you'll be ready to play dash without any tension for a very long time. You may play for as long as you'd like without having to pay any money or sign up for a fortnightly membership; stroll up to the site.
It would be ideal if there were a wager on the table when you invited your best friends around for a game of darts. Organize a darts competition for Friday night. A great family activity is playing darts since you can teach your kids how to play and help them develop their abilities. Develop your skills:
Playing darts may aid in developing mental and physical skills like attention, logical reasoning, and logical thinking, among others.
Everyone is invited to take part:
Everyone may appreciate the excellent performing art of darts. You may also alternate 100 persons. The ideal number of players for a darts game is one to four, although you may employ more if necessary.
Anyone who enjoys shooting recognizes that it can be a very effective stress reliever. However, a few exercises may target problems as fast and effectively as darts. The majority of their worries seem to fade away once they start sprinting.
How to Determine Darts' Surround Measurements?
You don't have to take measurements of your darts' surroundings everywhere. Only the central area, where your darts will be placed, may be measured. You may quickly measure it for yourself using a tape measure or ruler.
The Importance of a dashboard with surround:
Although the surround has some strong self-healing technology, its reversible means that it will stay in good shape for a long time with routine moving from back to front.
It has the best ratings, and most reviews of any dartboard surround on the market, which attests to its superior quality and cost-effectiveness.
While it's not the most affordable alternative available, this is likely the best option if you require a cheap and good-value item.
Conclusion:
Therefore, these are the dartboard surround measurements that you need to be aware of. Dartboard with surround is simple to locate and frequently inexpensive. When purchasing a dart board surround, you must think about where you will hang it. The SZX dartboard surround has the superb build quality and seems to be a very durable product. After that, you are good to go. Double Star has established itself as one of the top producers of athletic goods globally because of creative R&D, well-equipped manufacturing lines, and strong management. Double Star will continue offering clients "excellent quality, finest service, and rapid shipping worldwide."