What Was The Inspiration For The Foosball Table?
The foosball table, also known as a table soccer table or babyfoot table, was inspired by the game of soccer (also known as football in many countries). The first foosball tables were invented in the early 20th century as a way for people to play a miniature version of soccer in a tabletop format. The game quickly gained popularity and has been played in homes, businesses, and other settings around the world.
The exact origins of the foosball table are disputed, with multiple inventors claiming to have created the first table. The most widely accepted story is that the foosball table was invented by a group of Englishmen in 1922. However, other inventors, including Harold Searles Thornton in the UK and Lucien Rosengart in France, have also been credited with the invention of the foosball table.
Regardless of its exact origins, the foosball table has become a popular recreational activity for people of all ages, with organized tournaments and leagues being held around the world.
Now you can find many types of foosball in the market, they have different sizes, and functions. Here are some five-foot football tables recommended for you. They are high-quality tables produced and sold by SZX.
A Five-Foot Football Table Can Be Suitable For Both Business And Home Use:
This five-foot football table has a 54"×29"×32" (137×74×81cm) large "soccer field", which can be used for commercial purposes (such as your school, bar, etc.), and can also be placed in your home Recreation Room.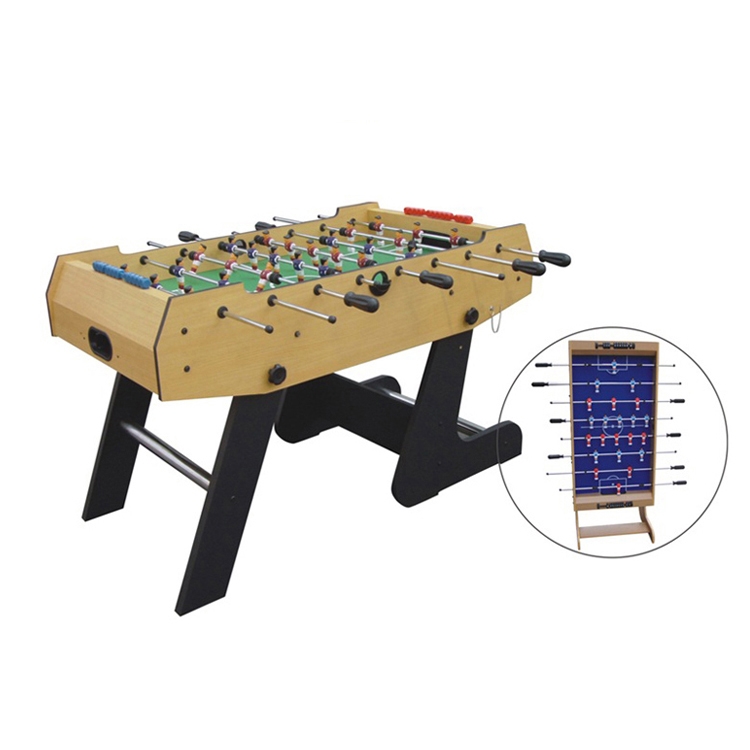 This table has 8 pieces of chrome-plated hollow steel rods and 2 pieces of red and blue plastic scorers. These sections allow you to easily participate in the game. You also don't have to worry about its quality. Because its "soccer field" area is 9mm MDF with PVC laminated. This thickness, if maintained properly, can even be used for more than 10 years.
A five-foot football table can be suitable for both business and home use, depending on the intended use and available space.
In a business setting, a five-foot football table could be a good size for use in a break room or other recreational area, as it is compact enough to fit in a relatively small space. It could also be a good size for use in a restaurant or bar as a source of entertainment for customers.
In a home setting, a five-foot football table could be a good size for use in a basement, game room, or other dedicated recreational space. It could also be a good choice for families with children or for individuals who are looking for a smaller, more portable football table.
Ultimately, the suitability of a five-foot football table for business or home use will depend on the specific needs and preferences of the user. It is always a good idea to consider the available space and intended use when choosing a football table.
You Can Play A Team Game Or Play Alone In A Five-Foot Football Table:
In a game of foosball, the objective is to score goals by shooting the ball into the opponent's goal. A goal is scored when the ball passes completely over the goal line between the posts and under the crossbar. The team with the most goals at the end of the game wins.
This five-foot football table has enough spacious size and space, suitable for you to play team games or you can enjoy the fun of foosball by yourself.
How Many Players Can Play On A Five-Foot Football Table At Once?
It is generally possible for two to four players to play on a five-foot football table at once. Most foosball tables are designed for two or four players, with each player controlling a row of figures on the table.
And this table will give you three balls. You can use these matching balls for team games and it will be a lot of fun.
It is important to consider the number of players when choosing a foosball table, as tables that are designed for fewer players may not provide enough space for additional players to play comfortably. In general, a five-foot football table is a good size for two to four players, depending on the specific needs and preferences of the users.
Is It Possible To Play Foosball Alone?
Yes, it is possible to play foosball alone. Some people practice their skills by playing against a wall or by setting up targets to aim for. It is also possible to play foosball solo by controlling both teams and attempting to score goals against yourself.
You Can Create Happy Memories With This Five-Foot Football Table:
For people with different applications, the benefits of this table are different. For commercial use, this five-foot football table has great commercial value:
Sturdy and easy to adjust:
It's sturdy enough to withstand constant use by customers or employees. It also comes with 4 foldable table legs. This is a handy design if you want to adjust the height.
Durable and good-looking:
The durable laminate top ensures that it won't chip or scratch easily over time. It can also be wiped down without affecting its performance over time.
In addition, this table has a very beautiful shape design. The table has a smooth shape, and every player on the table has a brightly colored jersey. You can also DIY designs on each table to make them look more stylish!
Reliable:
The legs are reinforced with metal frames that make them stable enough to withstand constant play without wobbling or shaking significantly under pressure from players leaning against them while they're shooting at the goalposts.
For those who buy tables to create fond memories, such a five-foot football table will become a wonderful piece of the memory puzzle. The game is very popular and many people have already found out how fun it is to play.