It is very difficult to find the best one among many air hockey table manufacturers. However, there are a few ways to help you make a more informed choice. If you are interested, please read on!
What Is An Air Hockey Table? The Role of Air Hockey Tables in Business:
An air hockey table is a table that has a smooth surface with small holes in it for airflow. Players use hollow pucks on the table and use their hands to push them across the surface.
The goal of the game is to score as many points as possible. As players hit their pucks around, they must also avoid getting hit by their opponent's pucks too much, or they'll be penalized with a loss of points.
The role of the air hockey table:
Air hockey tables are a popular form of entertainment found in a variety of businesses, from arcades and sports bars to family entertainment centers.
These tables provide a fast-paced and engaging gaming experience that can attract customers and keep them entertained for longer periods of time.
By investing in a high-quality air hockey table from a reputable manufacturer, businesses can enhance their customers' experience and boost their bottom line.
Factors To Consider When Choosing An Air Hockey Table Manufacturer:
When you're buying an air hockey table, it's important to choose a manufacturer that has experience with the product and can produce high-quality tables. Here are some factors to consider:
A. Quality and Durability:
The quality and durability of an air hockey table are crucial factors to consider when selecting a manufacturer. High-quality tables will provide a better gaming experience and will be more likely to withstand the wear and tear of constant use in a commercial setting.
B. Design and Aesthetics:
The design and aesthetics of an air hockey table can have a significant impact on a business's overall atmosphere. An attractive and well-designed table can draw customers in and create a visually appealing gaming area.
C. Customization Options:
Some air hockey table manufacturers offer customization options, such as branded designs, custom colors, or unique features. These options can help businesses create a personalized gaming experience that caters to their target audience.
D. Pricing and Value:
When choosing an air hockey table manufacturer, it's important to consider the overall value of the product. This includes not only the initial cost of the table but also factors such as warranty coverage, maintenance requirements, and potential resale value.
Top Air Hockey Table Manufacturers In The Industry:
Finding the right air hockey table manufacturer can be a challenging task with so many options available. One manufacturer that stands out from the competition is SZX.
About SZX:
With more than 300 skilled workers and assembly lines built with the latest production equipment, SZX boasts an average monthly output of several million dollars.
SZX's products are mainly sold in the United States, Germany, France, the UK, and Australia. And customers from all over the world have praised their quality.
Certifications and Quality Assurance
SZX's commitment to quality is evidenced by its ISO9001 and BSCI certifications, which attest to the rigorous quality and safety standards they uphold.
Additionally, SZX products have passed the stringent inspections of major retailers such as Argos, Sears, and Walmart.
Unique Features of SZX Air Hockey Tables
SZX air hockey tables are known for their quality and durability, ensuring that they can withstand the rigors of commercial use.
Their visually appealing design and aesthetics make them an attractive addition to any gaming area, while customization options allow businesses to create a unique and personalized gaming experience for their customers.
Better-Quality Air Hockey Tables From SZX:
Here is a hot new product from SZX: SZX-AH11 White glossy 7ft air hockey table. As a leading air hockey table manufacturer, SZX is proud to present the SZX-AH11 White Glossy 7ft Air Hockey Table. This state-of-the-art product boasts a variety of features and benefits that set it apart from the competition.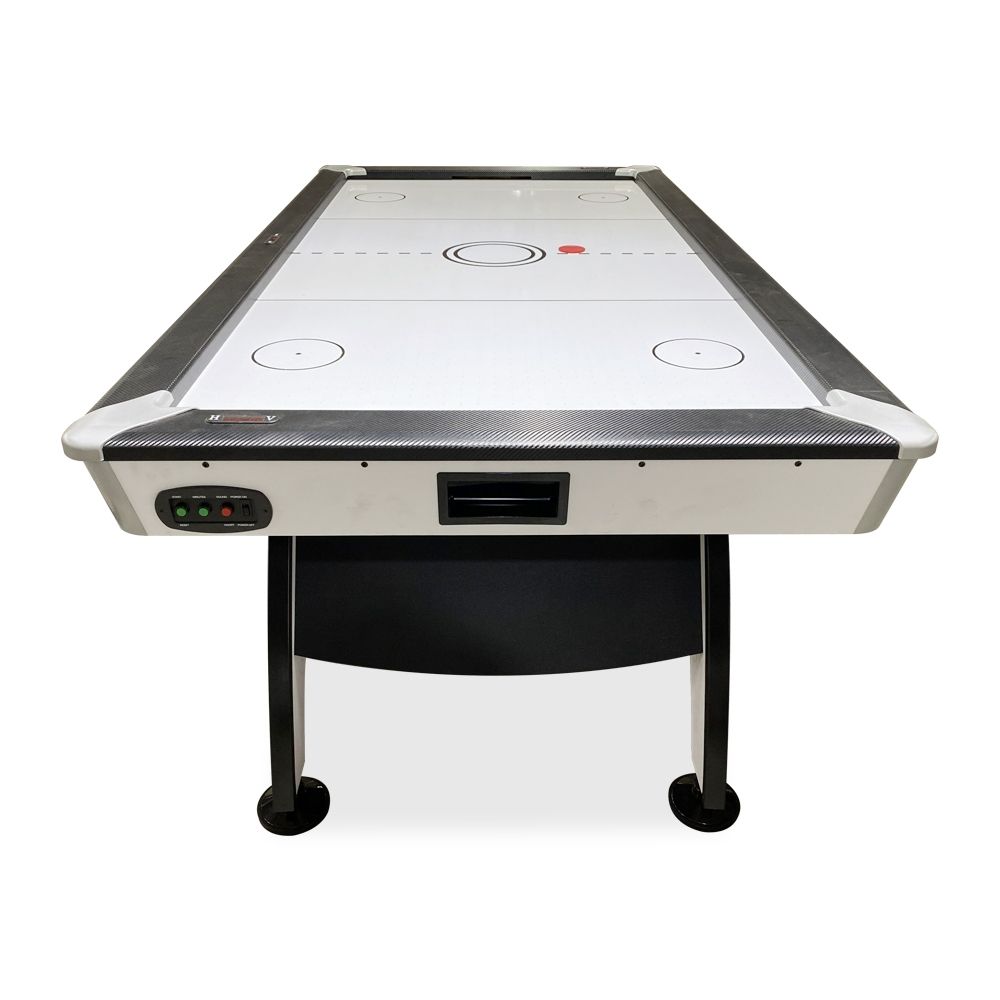 Table Size and Play Field:
Measuring 84" x 44" x 32" (213.4 x 111.8 x 81.3 cm), the SZX-AH11 offers a spacious playing surface to accommodate intense and thrilling games. The playfield is covered in white bright surface PVC leather, ensuring a smooth and fast-paced gameplay experience.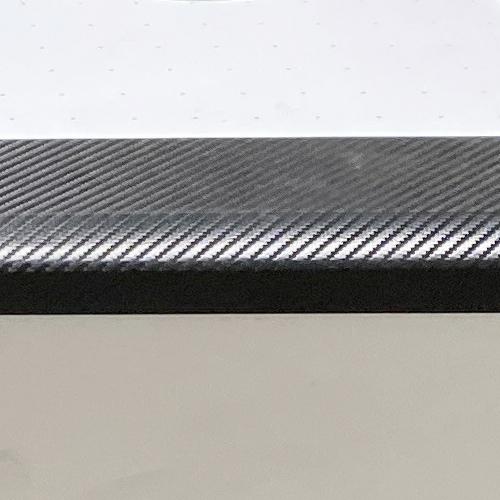 Distinctive Top Side Design:
The top side of the SZX-AH11 features a curved surface with black serpentine skin, adding a touch of sophistication and luxury to the table's appearance. This eye-catching design is sure to draw the attention of customers and enhance the overall gaming area.
Convenient Control Switch Placement:
The control switch is strategically embedded in the lower left side of the short frame, providing easy access for players without disrupting the game's flow.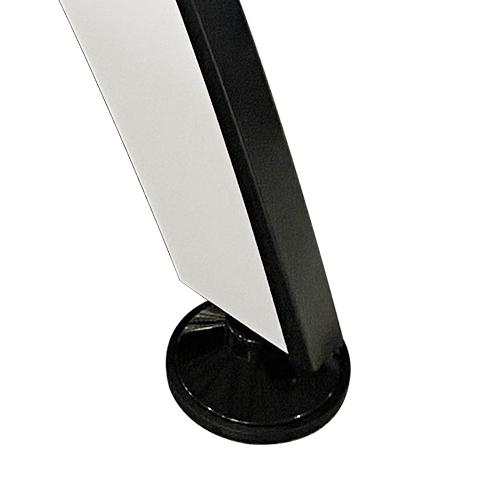 Stylish and Durable Legs:
The legs of the SZX-AH11 are covered in white leather on both sides and feature a black border on the inside, offering a sleek and modern look. In addition to their aesthetic appeal, the legs are built to withstand the rigors of commercial use.
Adjustable Leg Levelers
The SZX-AH11 features adjustable leg levelers, ensuring a perfectly level playing surface even on uneven floors. This system allows for accurate and fair gameplay, regardless of the environment.
Embedded Electronic Scoring and Switching
The SZX-AH11 is equipped with an embedded electronic scoring system, offering a more convenient and accurate scoring method compared to manual scorekeepers.
Players can focus on the game without having to manually track scores, as the electronic system automatically displays the score on the screen. This feature is also waterproof and resistant to damage, ensuring long-lasting reliability.
Tips For Making An Informed Decision:
Research different manufacturers and their product offerings.
Consider factors such as quality, design, customization options, and pricing.
Read customer reviews and testimonials to gauge the reputation and reliability of the manufacturer.
Evaluate warranty coverage and customer support services.
Test out the air hockey table, if possible, to assess its performance and gameplay.
Final words: Invest in the Right Manufacturer for Your Business
In conclusion, selecting the right air hockey table manufacturer is crucial for businesses looking to enhance their customers' gaming experience and boost their bottom line.
By considering factors such as quality, design, customization options, and pricing, businesses can make an informed decision and invest in a reliable and reputable manufacturer like SZX.