Do you know what is a 4 in 1 Multi Game Table? This is a game table with great innovation, entertainment value, and commercial value. On this table, you can play billiards, ping pong, or even air hockey!
After the game, you can even flip the table over to make it a dining table and eat on it! It's really fun and very versatile, right? If you are interested, please read on!
Introduction To The SZX 4 in 1 Multi Game Table:
This powerful and versatile 4 in 1 Multi Game Table is developed and produced by SZX, a professional sports equipment manufacturer. It makes the limited space more interesting, but also brings more possibilities.
Elegant Design and Durable Material:
SZX's 4 in 1 Multi Game Table is a versatile and attractive gaming solution designed to cater to different gaming needs.
The table measures 80.2" x 43.9" x 32" (2035 x 1115 x 810 mm) and is made from medium-density fiberboard (MDF), ensuring durability and stability.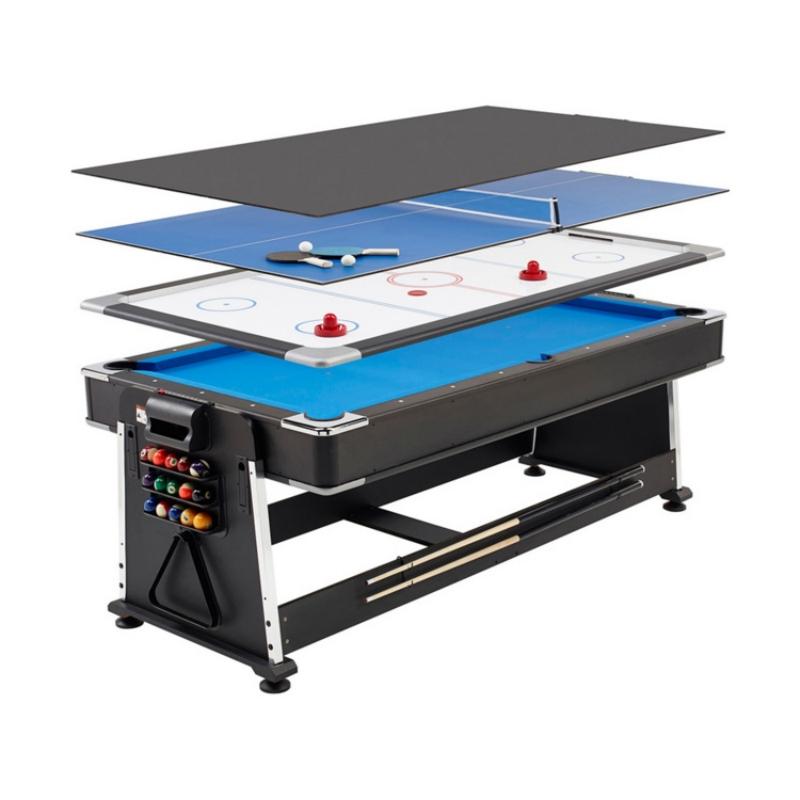 The table is available in various colors such as black, dark walnut, and custom options for the frame, blue, green, red, and custom choices for the pool table cloth, and blue, green, and custom selections for the ping pong table surface.
Customizable and Comprehensive Accessories:
The 4 in 1 Multi Game Table comes with a range of accessories for each gaming option, including pool cues, billiard balls, a triangle, chalk, and a brush for the pool table; ping pong balls, paddles, and a net set for the ping pong table; and pucks and strikers for the air hockey table.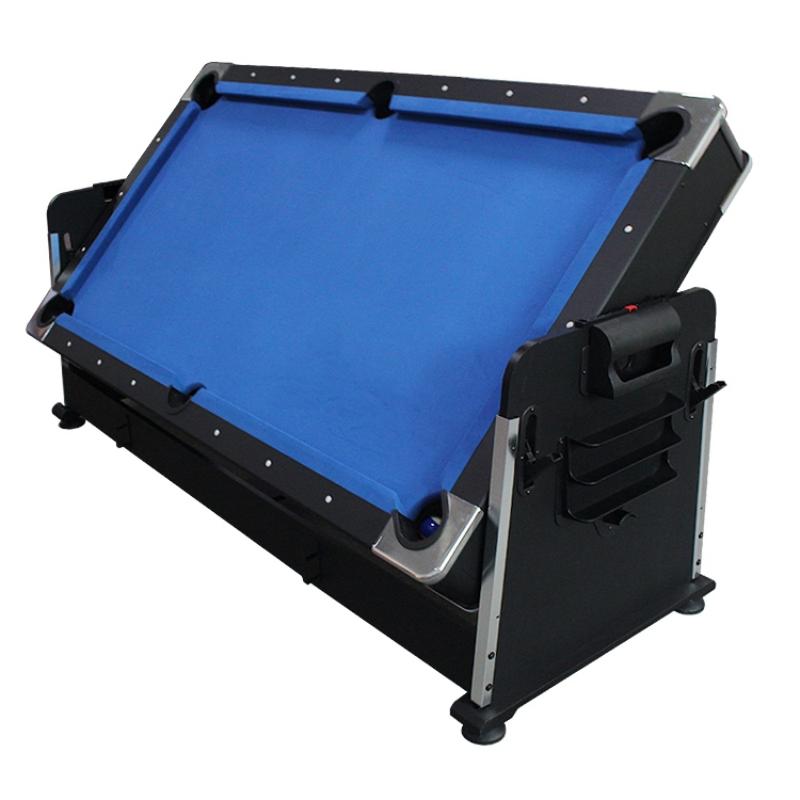 Convenient Locking Mechanism:
The table features a locking mechanism that makes changing the desktop easy and hassle-free. This innovative feature ensures quick assembly and disassembly, allowing businesses to cater to their customers' gaming preferences seamlessly.
Stylish Apron Corner:
The billiard table showcases a smooth surface with silver ABS apron corners, adding a touch of elegance and style to the product.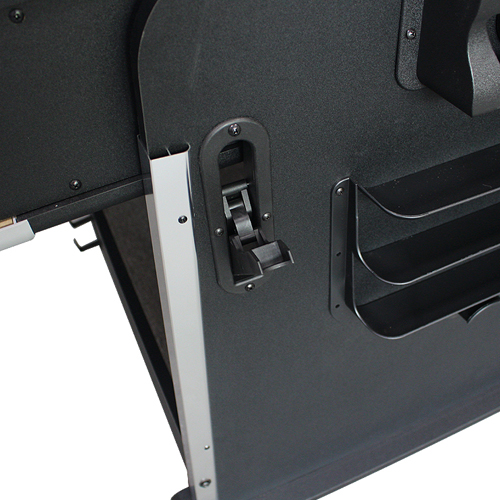 Adjustable Table Legs for Versatility:
The 4 in 1 Multi Game Table comes with adjustable legs, making it suitable for various surfaces, including uneven ones. This adaptability ensures an enjoyable gaming experience regardless of the floor conditions.
Overview Of The Four Gaming Options: Pool, Ping Pong, Air Hockey, And Dining:
Here is a brief review of the various "identities" of this table for you:
Pool Table: A Classic Favorite
The pool table option offers a traditional gaming experience for customers who enjoy billiards. The high-quality cloth and accessories included ensure a smooth and enjoyable game.
Ping Pong Table: Fast-Paced Fun
With the ping pong table surface, customers can engage in an exciting and competitive game of table tennis. The table comes with all the necessary equipment for a thrilling match.
Air Hockey Table: High-Energy Entertainment
The air hockey table offers a unique, fast-paced gaming experience that customers of all ages can enjoy. The included pucks and strikers enable an action-packed game that is sure to entertain.
Dining Table: A Practical Solution
The dining table functionality provides businesses with a practical solution for serving food and beverages to their customers. This added utility makes the 4 in 1 Multi Game Table a truly versatile investment.
Benefits Of A Multi-Game Table For Businesses:
Space Optimization and Versatility:
A 4 in 1 Multi Game Table is an excellent investment for businesses, as it allows them to offer multiple gaming options within a limited space.
The table's ability to transform between the pool, ping pong, air hockey, and dining functions provides businesses with the flexibility to cater to different customers and maximize their entertainment options.
Customer Attraction and Retention:
The variety of gaming options available with the 4 in 1 Multi Game Table helps businesses attract a diverse clientele and keep them engaged for longer periods.
The more time customers spend at the establishment, the more likely they are to make additional purchases, ultimately boosting business revenue.
Space-Saving And Cost-Effective Aspects Of The 4 in 1 Multi Game Table:
Maximized Functionality in a Compact Design:
The 4 in 1 Multi Game Table combines four different gaming options into a single, space-saving solution. This efficient design allows businesses to make the most of their available space without compromising on entertainment options.
By offering multiple gaming experiences, businesses can cater to a broader audience while saving on costs associated with purchasing separate tables for each game.
Cost-Effectiveness for Business Owners:
Investing in a 4 in 1 Multi Game Table is a cost-effective decision for businesses, as it eliminates the need to purchase individual tables for each game.
Additionally, the table's dining function allows businesses to maximize their revenue potential by providing a space for customers to enjoy food and beverages while they play.
Tips For Optimizing The Use Of The 4 in 1 Multi Game Table:
Regular Maintenance for Longevity:
To ensure the 4 in 1 Multi Game Table remains in optimal condition, businesses should perform regular maintenance, such as cleaning the surfaces, tightening any loose screws, and inspecting the table for wear and tear.
Creative Layout for Enhanced Customer Experience:
To make the most of the 4 in 1 Multi Game Table's versatility, businesses can experiment with different layouts and designs for their gaming area, creating an attractive and inviting space for customers.
Promotions and Events to Boost Revenue:
Businesses can organize special promotions and events, such as game nights or tournaments, to attract more customers and increase revenue. By offering unique experiences, businesses can create buzz and generate interest in their establishment.
Conclusion And Purchasing Recommendations:
The Ultimate Gaming Solution for Businesses:
The SZX 4 in 1 Multi Game Table is an excellent investment for businesses looking to offer a diverse range of gaming options to their customers. Its space-saving design, cost-effectiveness, and versatility make it the ideal choice for establishments looking to maximize their entertainment options and boost revenue.
Make the Smart Choice for Your Business:
Considering the many advantages and benefits associated with the 4 in 1 Multi Game Table, we highly recommend businesses invest in this multi-functional and versatile gaming solution.
By offering a broad range of gaming experiences within a compact design, businesses can cater to a diverse clientele and increase their revenue potential.
Final words:
In conclusion, the 4 in 1 Multi Game Table is a wise investment for businesses seeking to maximize their space, entertainment options, and revenue. This comprehensive and versatile gaming solution is perfect for establishments looking to enhance their customer experience and cater to a diverse audience.