Table Detail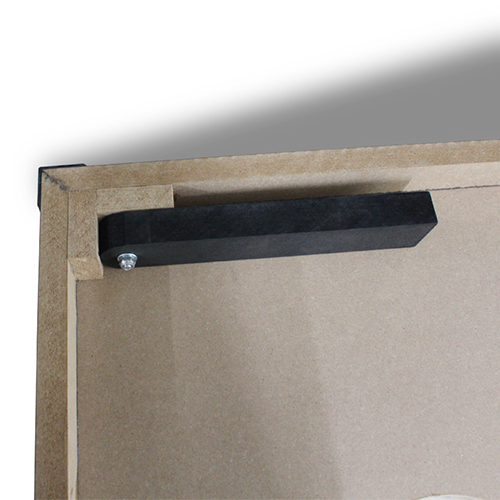 1. FOLDABLE & PORTABLE
Each cornhole board is designed with foldable. legs secured with Galvanized Bolts and adhesive strap, you can fold the legs, align two plates and merge them together. Just simply set it up in minutes to play. Very convenient and portable, you can take it anywhere you like.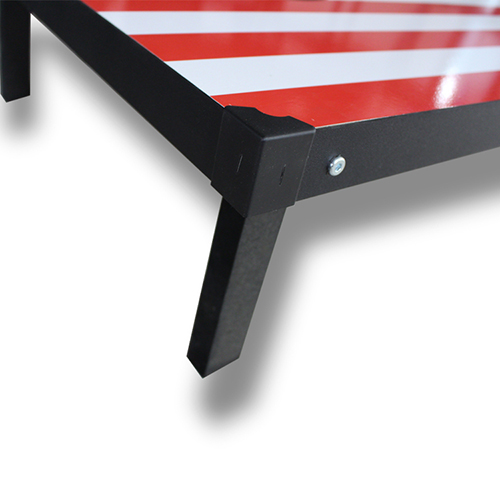 2. SMOOTH EDGE DESIGN
The smooth finish and customizable flag pattern make the whole board look beautiful. Beach sand and yard dirt clean off quite easily with a cloth.
3. PREMIUM BEAN BAGS
Includes 8 regulation 16 ounces all weather bags (4 red plus 4 blue) with a heavy-duty tote bag for easy portability and neat storage.
About This Item
PATRIOTIC DESIGN: This cornhole set has a vintage American Flag printed on it and is designed to look like steel framed barnwood planks.
PREMIUM MDF WOOD: Professional Portable Waterproof Family Outdoor Backyard Toss Game with MDF surfaces, varnished with American Flag graphics. 3'X2' MDF wood Cornhole game set legs features professional-grade fasteners, and they easily hide away in the frame. The mini wood panel is more suitable for carrying. Using advanced lightweight MDF wood. No no need to worry about quality issues (Not the kind of cheap wood).
STURDY WOOD CONSTRUCTION & DURABLE QUALITY: The cornhole boards are made of premium Pine Wood in frames and finely sanded smooth poplar wood multi-layer plywood, which are extra durable for long time use. Our designers focus on the details and refines every elements to build great cornhole board games set. Handcrafted wooden
frames, durable legs, water-resistant bean bags and corner joints have passed the highest quality standards.
FUNOUTDOOR & INDOOR GAME: This Corn Toss Boards Yard Game can be enjoyed by people of all age. Great outdoor game set for whole family to play in the backyard, having hours of fun with friend, group building activity etc. Ideal for family gathering, birthday parties, weddings, friends reunion, office party, holiday weekends. Gather your Family and Friends for such Classic Competitive Cornhole Outdoor Game in camping, picnic, backyard parties, BBQ's, beach, cookouts, campsites and more.
The bean bag throws and cornhole games are two of the most enjoyable lawn games ever devised. Most of the details in these games are similar. In truth, many people believe both games to be the same, except for the name. You should consider playing them with your friends, family, and even coworkers if you want to have a nice time. They provide several advantages to the gamers. These advantages include the fact that they are both simple to play and do not need physical strength, that the game sets are accessible and inexpensive, and that they can be played at practically any time of day and in a variety of locations.
When playing them, you should be aware of the following details:
Required Materials:
1. All you'll need are two inclined boards and eight cornhole or bean bag Platforms are often built of wood and have a hole in them. The bags, which are made of cloth or any other sort of fabric and carry corn pellets within, are made of cloth or any other type of fabric.
2. All-weather cornhole bags are often used for durability, but they are not essential. You can create the full set on your own if you know a little carpentry and have some pieces of wood, fabric, and dried corn on hand. If not, you may simply order them online or from your local game store.
Gameplay:
1. The two boards are thirty feet apart, and opposing players take turns hurling one set of bean bags at the opposite board. Each set consists of four bean bags. The player is either in front of or behind the board.
2. The players' objective would be to fire the bags into the hole or at the very least have them beside the hole and on top of the board. The game is won by whoever scores 21 points first. Two people or two teams can compete in this game.
Scoring:
1. If a bag is tossed and it lands in the hole, the player receives two points. A point is granted to the player if the bag does not fall into the hole but remains on top of the board.
2. Different scoring methods have been included with the game throughout the years. If the bag does not drop into the hole and does not stay on top of the board, no point is awarded. In certain scoring systems, the difference between opposing players' scores is the total number of points granted to the person who scored better that round.
Techniques
The first thing to remember is that there is no one-size-fits-all approach to toss cornhole bags. Many cornhole players will develop their own natural method for tossing their bean bags, much as pitchers, quarterbacks, and basketball sharpshooters all have their own distinct styles of throwing and shooting.
Cornhole bag grips
Here are a few different toss cornhole bag grips to choose from:
To create spin, some individuals grab the bean bags with their finger wrapped around the bag's corner.
Others choose to "scissor" the corner of the bean bag, splitting it between their index and middle fingers.
There's even a method of keeping the bean bag flat by pulling back on the "skin" with your thumb on the back of the bag and tossing it that way.
I propose placing your thumb on top of the bean bag while attempting to hold about half of the contents of the bean bag for novices just getting a handle on the game.
Benefits of Playing Cornhole for elderly people
Vision, depth perception, balance, and coordination can all deteriorate as we become older. Clients who work in retirement communities' comment about how much their cornhole set is enjoyed by the older residents.
1. Leg strength and mobility
Seniors can benefit from the mechanics of how a cornhole bag is tossed. Seniors are advised to walk heel-toe to promote mobility and leg strength, which is exactly what one must do when tossing a cornhole bag.
2. Hip mobility and balance
Seniors should also balance on or shift their weight from one leg to the other. When tossing a cornhole bag, it is customary to take a long stride from one leg to the next. This action is beneficial for both balance and hip mobility.
3. Vision and Depth Perception
Depth perception generally deteriorates as people age. This can be attributed to a variety of factors, including advanced age, ocular injuries, or misuse of one eye. Patching is a frequent technique for aiding depth perception when one eye is stronger than the other. This is when the person covers the stronger eye with a patch to exercise the weaker eye. This treatment, when combined with a game like cornhole, in which players must aim for the board or the hole, can be an enjoyable and successful therapy.
Conclusion
Playing bean bag throw is a healthful pastime. So, you're looking for a place to buy a bean bag toss table? It's critical that you get high-quality cornhole bean bags. This is the portion of the set that suffers the most abuse. If you buy a set of inexpensive cornhole bags that are of low quality, you will have to buy cornhole bags again before long. SZX offers high-quality cornhole bags as well as a long-lasting beanbag throw table. Keep in mind that the most critical factor is the quality of the cornhole bean bags.