Table Detail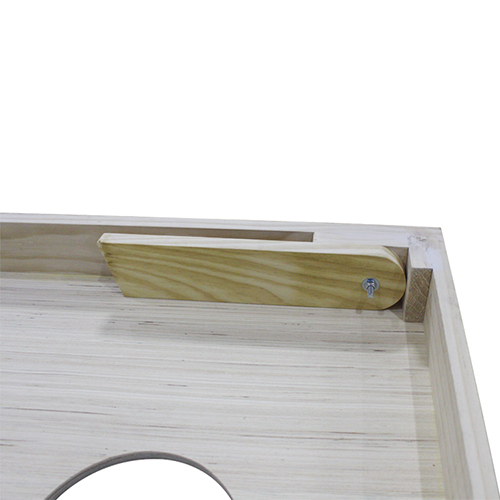 1. FOLDABLE & PORTABLE
Each cornhole board is designed with foldable. legs secured with Galvanized Bolts and adhesive strap, you can fold the legs, align two plates and merge them together. Just simply set it up in minutes to play. Very convenient and portable, you can take it anywhere you like.
2. SMOOTH EDGE DESIGN
The smooth finish and customizable flag pattern make the whole board look beautiful. Beach sand and yard dirt clean off quite easily with a cloth.
3. MAIL-ORDER PACKAGING
Do not worry about our packaging, mail order packaging suitable for Amazon, supermarket, wholesale, retail.
About This Item
CLASSIC TAILGATING CORNHOLE SET: Our Cornhole Outdoor Game Set comes with 2 tailgate size foldable cornhole boards (4*2Feet/3*2Feet), 8 all-weather regulation size cornhole bean bags, 1 durable carrying storage bags and 1 easy to learn Game Guideline,including everything you need.
STURDY WOOD CONSTRUCTION & DURABLE QUALITY: The cornhole boards are made of premium Pine Wood in frames and finely sanded smooth poplar wood multi-layer plywood, which are extra durable for long time use. Our designers focus on the details and refines every elements to build great cornhole board games set. Handcrafted wooden
frames, durable legs, water-resistant bean bags and corner joints have passed the highest quality standards.
FUNOUTDOOR & INDOOR GAME: This Corn Toss Boards Yard Game can be enjoyed by people of all age. Great outdoor game set for whole family to play in the backyard, having hours of fun with friend, group building activity etc. Ideal for family gathering, birthday parties, weddings, friends reunion, office party, holiday weekends. Gather your Family and Friends for such Classic Competitive Cornhole Outdoor Game in camping, picnic, backyard parties, BBQ's, beach, cookouts, campsites and more.
Corn hole is a fun game, but owning your own personalized set is much better. Cornhole is a simple yet engaging game that is suitable for any occasion. Anyone, from the youngest child to the oldest grandfather, is welcome to participate. It's simple to set up, so you'll be able to begin playing right away. However, you cannot play the game without the need for a cornhole set.
The number of manufacturers and firms producing cornhole boards and goods is increasing as the attractiveness of the cornhole game develops. Whether you just want to play the game in your garden or want to compete in big tournaments, you need to acquire the best cornhole equipment for you. We will do this by assisting you in selecting the ideal cornhole kit. The majority of cornhole kits will include cornhole boards and bags.
Whenever you buy cornhole boards, there are a few things to think about. It's also worth noting that certain cornhole setups are superior to others. This buyer's guide would provide you with all of the data you need to select the best cornhole system for you as well as your needs.
What should you think about when purchasing cornhole sets?
1. Think about your skill level.
It's critical to assess your skill level before considering things like panel material and size.
2. Beginners
If you only play cornhole with your family for pleasure, or if you've tried it out at a party but now want to purchase one for yourself, you're a beginner. You shouldn't need to spend lots of money on a cornhole set that you won't use very often in this scenario.
3. Medium
The typical cornhole player is better than moderate corn holders. If you're a middling player looking to improve your game, you should buy from SZX.
4. Professional
Professional corn holders are indeed the game's biggest fans, and they're likely to know all there is to learn about the game, from the many cornhole slang words to the whole backstory. They may have even participated (and won) in a few tournament games, with ambitions to participate in more in the future. If you consider yourself a professional, investing a great deal of money on the greatest cornhole equipment is well worth it.
5. Size
When you're an expert and want to play this game seriously, you'll need an official cornhole board that is 24" by 48" in size. In addition, the legal bean bag throw must be six inches wide and packed with corn. The ACA recommends these measurements.
If you're just having a good time, we recommend sticking to the tailgate size boards. These may be any size, but most are roughly 24′′ by 36′′ in size. These smaller boards may be used on a smaller field and are more suited to younger players.
1. Material
Another critical factor to consider is the material because it can significantly affect your gameplay. Although modern Cornhole boards are available in plastic and metal, it is always best to buy traditional wooden boards. And if you're a professional who wants to compete in the league, you will need to buy Cornhole boards made from plywood because it is the only material the ACA approves. The cornhole bags consist of duck cloth material on one side and microfiber on the other side.
2. Surface
The texture of the board surface is also extremely important- it should be smooth and sanded correctly. Otherwise, the bean bags may bounce and slide on the surface, negatively impacting the gameplay experience.
What are regulation-size cornhole boards?
1. Board tops must measure 4 feet in length and 2 feet in width.
2. Board tops must be made of at least ½" thick plywood.
3. The hole in the board top must be six inches in diameter and be centered nine inches from the top and 12 inches from each side of the board top edges.
4. The front of the cornhole board must be 2-1/2" inches from bottom to top and be at near a 90-degree angle to the board face.
5. The back of the cornhole board must be 12 inches from the ground to the highest point of the board and be at a 90-degree angle to the board face.
6. The cornhole board playing surface must be finished and/or sanded to a very smooth texture, and there must not be any imperfections in the board that would disrupt play.
How did we pick the best cornhole sets?
To provide our readers with the most precise and accurate information, we spoke with experts about their favorite bags, reviewed the most successful bag brands, and managed to pick out the top cornhole sets. When making the final placement, we have considered the following factors:
1. Brand
2. Quality
3. Material
4. Rice range
5. Warranty
6. customer reviews
Every product on SZX is individually tested so that you won't have to waste your time and do further research. You would be fully satisfied over here. They provide the most durable high-quality products at a reasonable price, and they provide on-time delivery.
Conclusion
No cornhole set's best for each player; some of them may be perfect for beginners but not for an intermediate player trying to advance their cornhole technique. So, the essential rule is to consider your personal needs and preferences before choosing a set. After examining all these factors, you can check out our list of the best cornhole sets for some buying inspiration. If you want professional-quality cornhole boards for your cornhole game, SZX has the best quality Cornhole Boards Set Includes Carrying Case and Bean Bag.