Introducing the dart board game:
One of the most well-liked games in the entire globe is the dartboard game. They may be excellent for a romantic evening with your lover or a wild party with your closest friends because they have a low learning curve and a wide variety of games. The dartboard must fit within this cabinet, which must also be elegant-looking.
It's easy for everyone to play the fantastic game of dart board maker. The game of darts doesn't care about your age, body type, size, physical capability, or athletic ability to be competitive. Just being able to aim a pointed object at a circular object and hope it lands in the desired location.
What are the merits of a dart board cabinet?
Dartboard cabinets have much more going on than the eye can see and look amazing on any wall in a house or bar. Once you have a cabinet, you won't want to return to have any because they serve various purposes. The benefits of purchasing a dartboard cabinet are as follows.
Possess a more professional appearance:
If you're really into this game, there's no need to be modest about having a dartboard cabinet. You may demonstrate your dedication to darts in the most definitive way by installing a dartboard cabinet in your living or game room. Even though this item won't necessarily make you a better player, it will definitely wow all of your friends and increase your sense of hobby pride. Even better effects can be obtained if a cabinet is used to design your pub or bar. You are unlikely to overlook a dartboard cabinet, so you want to make a statement. Your goal is to let visitors know they may play darts at your establishment and feel encouraged to do so.
Defend your walls against dents:
You'll see why a dartboard cabinet is beneficial when we reach this point. Dartboard cabinets shield your walls from steel-tipped darts that may easily harm their surface and fly erratically. Your play space virtually doubles when you open the cabinet to begin playing. Your darts won't strike the wall, which could cause them to bend and become worthless, even if you miss the target.
Finding a location to hang that object adjacent to the dartboard may not be simple, even though many players opt to purchase a separate scoreboard to keep track of their points. Instead, the issue is immediately resolved with a dartboard cabinet. A scoreboard is usually integrated with cabinets. Our magnetic scoreboard with dry pen markers can be used with the dartboard cabinet. Even cabinets without scoreboards have an easy mounting option for one on each of their doors. The dart board cabinet dimensions are enough to keep the scoring record.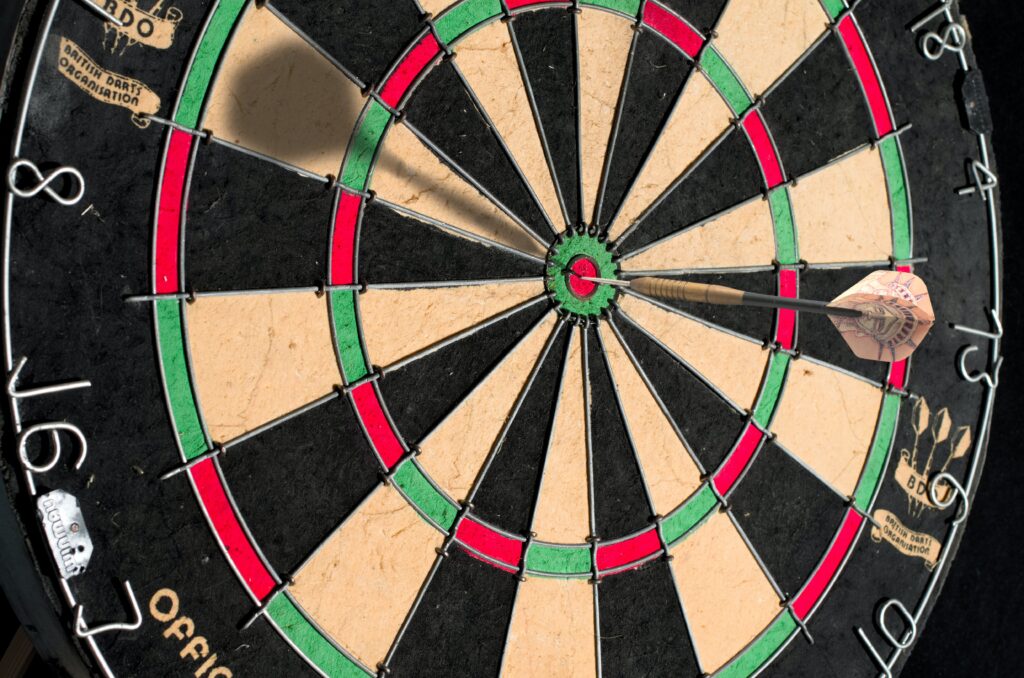 Keep your darts equipment in one location:
Utilizing a dartboard cabinet has the added benefit of allowing you to store all of your darts and accessories within. You can't pass up this perk if you're a neat freak. Many dartboard cabinets come with hooks or a caddy so that you may keep your accessories. In this manner, you can ensure everything is in its proper location, and you won't have to worry about losing or misplacing your darts. With such a cabinet, you can avoid the time-consuming task of finding your darts and ensure that everything is always within reach when you're ready to play.
Darts are among the most popular games in bars, clubs, dining establishments, and homes. Pointed darts are thrown at rings on the dartboard in this game, which can play between two players or teams. The player with the greatest score is the one who regularly throws more darts that are closest to the center of the dartboard. To maintain a fair and enjoyable game, it's vital to appreciate the size and placement of the dartboard and cabinet before putting them up.
The dart board cabinet dimensions are 20.9" x 23.2" x 3.5" when it is closed, and 42.1" x 23.2" x 3.5" when it is open. The darts placed within are attractive and capable of defending the wall. It has a scoreboard so players can compete and keep track of their scores with friends and others. The board on the rear is aluminum plastic and has a 15mm foam board surface painted with outdoor anti-UV paint.
Is a dart board cabinet help to reduce your stress?
Playing 301 or other sports like cricket can require a lot of focus and concentration to throw the darts accurately and consider what you need to do to score. This is a useful diversion, taking your attention away from other things you may be dealing with in your life and promoting relaxation. It's nice that winning a game of darts can make someone feel more confident. But participation can also boost confidence in people who may be highly introverted, so it's not just about winning. Darts need you to stand up in front of others and act, which might boost your confidence in general. While playing any form of the game requires gathering with other players, dart practice can be done alone at home. Playing darts with friends is a terrific way to interact, and if you form a team and enter a league, it may also be a great way to make new acquaintances.
Conclusion:
This dartboard cabinet is, without a doubt, a worthwhile purchase. You will have years of fun from it. It secures the wall while also being an appealing dartboard cabinet. Additionally, it is already partially assembled, so after receiving the pieces without their installation, all you are left to do is hang them on your wall for three minutes before you can begin playing with your friends and family. SZX offers perfect dart board cabinet dimensions with a long history of producing dart boards of the highest caliber. You can purchase our dart board cabinet from our established online store. Our dartboard will wow visitors with its timeless design and premium components. You won't ever get bored. Gets a dartboard cabinet right away!