What is exactly a Classic foosball table?
Playing foosball with friends, family, or coworkers may be a great way to unwind and have fun without being distracted by anything else, as you would when playing authentic soccer. Any home would benefit from having a modern foosball table, and they are not as expensive as you may think. They also come with top-notch foosball rods and bearings, assuring accurate and fluid play.
Things to consider before buying a classic foosball table:
One of the first considerations you might make before purchasing a foosball table is its size. The size you can buy depends on your particular tastes and the size of your space.
Before buying a foosball table, you should also consider how much it weighs. It won't be stable enough if it's too thin, and it'll not be easy to install and will cost more to ship if it's too heavy.
Before you furnish your game room, get a table that is both easy to set together and strong enough to stay solid.
Why should you get a classic foosball table?
The decor in your home might include foosball tables. The foosball tables are fashionable and attractive, so if you like home design, you could agree. Nowadays, there are a variety of exquisite foosball tables available. It's possible to select a foosball table that complements your home's decor.
Everyone of any age may play this game, which makes it enjoyable and amusing. Everyone in the family is encouraged to participate in the fun when there is a foosball table at home. Foosball is ideal for players of all ages since it has easy-to-understand rules and is straightforward to learn how to play.
Playing foosball in the comfort of your own home will satisfy your desire for competitiveness if you love it. Even though playing foosball with friends might start as an enjoyable activity, it can quickly become very competitive. Even though it's simply a basic tabletop game, it might motivate you to work harder and develop your abilities to get better.
A classic foosball table is the SZX-S08. It has four extendable legs. When it's not in use, you may fold it.
Structures that fold up can save space. Additionally, removing it will be more convenient for you.
The surface of the table body is also simple to clean, which is another quality.
It is 54 inches long. The size works well in most locations. It features two plastic scorers that make handling it simple.
These four incredible ways that a classic enhance your health with a foosball table:
Most of the time, purchasing a classic foosball table is a pleasant option. However, did you know that this game also benefits your health? After doing some research, we found some excellent benefits of playing frequent foosball for fitness.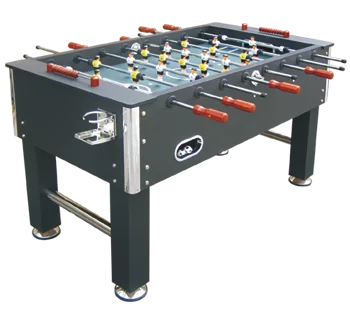 The Joints Benefit from Foosball:
Knee, ankle, or wrist discomfort is the worst for making you feel your age, but foosball may also assist with those issues. Osteoarthritis players have claimed benefits due to the game's mild yet effective joint exercise. Even though you might not notice much difference when you're playing, a game of foosball will have you moving around, your joints being active rather than immobile. As we age, it's essential to safeguard our joints and exercise caution while engaging in demanding sports like jogging that can put a lot of strain on them. After a few games, seniors who enjoy playing foosball frequently feel fitter and healthier, and this low-impact workout can keep you flexible for longer.
Relaxation through Foosball:
The problem of stress extends beyond the mind. Due to its significant bodily effects, we might experience sleeplessness, acne flare-ups, and even unexplained aches and pains. Playing a game like foosball is one of the easiest and most efficient methods to relieve tension. It's an activity you do just for enjoyment with little stakes. The best part about foosball is that it needs focus, so you'll forget about anything depressing for the duration of the game, whether it be your job, a bad relationship, money issues, or anything else. In your daily schedule, don't ever undervalue the value of downtime. Hit the foosball table if you're starting to worry since stress without it might result in even more health problems.
Spending extra time with your family:
The ability to play foosball with your family or friends at home will, if anything, provide you with more opportunities to bond with them. In addition to developing your children's interest in sports, you may teach them how to play foosball. Having a pleasant activity that you and your children like is a fantastic idea. Playing foosball each night, you'll make memories as a group.
Although foosball is a tabletop game, it can also be a very effective workout. Your shoulders, wrists, knees, and feet are constantly in motion as you play foosball. You'll be able to move and play more quickly as you get healthier, which will help your body's blood circulation. In addition to being a beneficial type of physical activity, foosball may be utilized as an arthritis rehabilitation sport. You play the game to stay active and keep your joints from becoming stiff. Your hand-eye coordination will also improve when you play foosball. Your reflexes and response times will quicken as you play more. Then, all of these physical advantages will also affect other areas of your life.
Conclusion:
After investing in one, you want your classic foosball table as soon as possible. Because it is an entertaining game for players of all ages, many people install foosball tables in their homes. To find a foosball table, buyers typically visit their preferred game retailer or a sporting goods producer based on the desired size, the features offered, and, of course, their budget. SZX has the foosball table for your gaming room, whether you're searching for a traditional wood table or a modern table. Our modern foosball tables are made to last and are sure to give the whole family countless hours of entertainment.