What Is The Table Tennis Table? What Is The Collapse Table Tennis Table?
Table tennis is a fun and exciting game that can be enjoyed by almost anyone! It's one of the most popular sports in the world, and it's easy to see why.
Table tennis is played by two players on a court with a table, bat, and ball. The goal is to hit the ball over the net so that it lands on your opponent's side of the court. If you make a successful shot, you will score a point. The first player to reach 11 points wins!
Table tennis tables can be found both indoors and outdoors. Indoor tables are typically made of wood or composite materials and are used in homes, clubs, and other indoor facilities.
Outdoor tables are typically made of more durable material, such as metal or concrete, and are designed to withstand weather conditions such as rain and wind. They are typically found in parks and other outdoor recreational areas.
What Is The Collapse Table Tennis Table?
The collapse table tennis table mentioned here is a series of products produced by SZX. These tables can be folded from the middle, which can greatly reduce the space occupied. Take SZX's nine-foot Collapse Table Tennis Table, for example, which measures 108" x 60" x 30".
Furthermore, this is a table that can be used indoors or outdoors. Because it has very convenient functions. Let me introduce you to the SZX-T006 Outdoor Collapse Table Tennis.
Why Can You Place The The Collapse Table Tennis Table Outdoors?
In some people's opinion, the Collapse table tennis table is not suitable for outdoor use. Some low-quality tables are indeed difficult to do. But SZX's table tennis table does a good job of entertaining people in an outdoor environment.
Here are some of its features:
Weather Resistant 6mm ACP: Long Lasting
The table is made of a weather-resistant material called 6mm ACP, which stands for the aluminum composite panel. This material is durable and able to withstand various weather conditions, such as rain, wind, and sun, making it suitable for outdoor use.
Convenient folding design: space flexibility
The table's ability to fold in the middle allows it to be easily stored and transported, making it convenient to use in a variety of settings. Its compact size and lightweight design make it ideal for use in outdoor spaces where space may be limited.
Equipped with swivel castors: ease of transport
The table is equipped with swivel castors that make it easy to move and transport, even on uneven outdoor surfaces. This feature allows you to easily relocate the table to a new location or store it when it is not in use.
Foldable safety lock: support single-person training
The table is equipped with a foldable safety lock that helps to keep the table securely in place during use. This feature is especially useful when the table is being used for solo training, as it prevents the table from collapsing or tipping over.
This table has two safety locks left and right. When using it alone, you can lock it on one side for training. When not in use, you can lock both sides to save space.
Clamp style inside net: stable and reliable
The table features a clamp-style inside the net that provides a stable and reliable playing surface. This net is securely attached to the table and is designed to withstand the impact of the ball during gameplay. It is also easily adjustable to the proper height for competition play.
To sum up, this one has a high-quality 6mm ACP table, which allows it to withstand the complex factors of the outdoor environment. This is a very elastic panel, which is not easily deformed and is extremely weather-resistant. Some other features make it a duck to water in outdoor environments.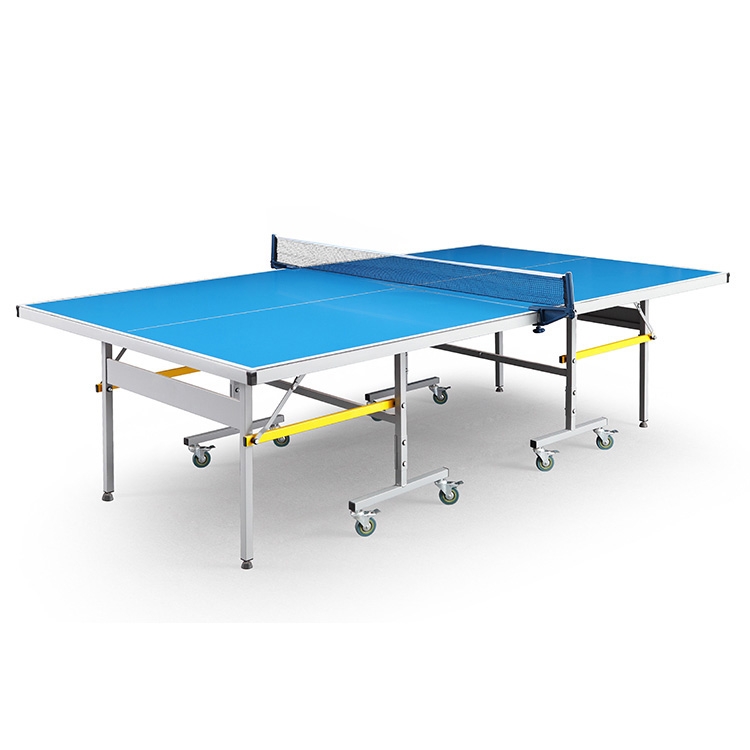 How Much Space Do You Need For A Collapse Table Tennis Table?
The collapsible table tennis table can be used both indoors and outdoors in a variety of locations such as homes, clubs, schools, parks, and other recreational areas. It is important to ensure that there is enough space for the table and players and that the table is placed on a flat, stable surface.
When using the table outdoors, it is important to protect it from the elements and ensure that it is allowed to be placed in the desired location.
The amount of space required for a 9-foot collapsible table tennis table outdoors is similar to that needed for an indoor table. The table itself should be placed in a space that is at least 20 feet long and 12 feet wide, with additional space around the table for players to move and play comfortably.
Additional space:
However, it is important to consider the specific outdoor environment in which the table will be placed. If the table is being placed on a patio, deck, or other covered areas, the space requirements may be similar to those for an indoor table. However, if the table is being placed in an open outdoor area, it may be necessary to allow for additional space to account for wind and other weather conditions.
In general, it is a good idea to have at least 3-4 feet of clearance around the table to allow for proper movement and maneuverability. It is also important to consider the height of any obstacles or structures that may be present in the playing area, such as trees or overhead wires, to avoid collisions during gameplay.
The Collapse Table Tennis Table Is A Great Try For Commercial Use:
The collapse table tennis table has a net weight of 65 kg and is equipped with movable casters, which makes it more portable. High-quality materials and stable table legs allow it to perform well in outdoor environments.
If you plan to equip your community or park with some sports equipment, this Collapse table tennis table will save you a lot of trouble. Its outstanding performance makes it have greater commercial value, and you can rest assured that it can be used for commercial purposes.