What is meant by a 6ft convenient foldable pool table made in China?
The little room is ideal for a 6-foot pool table. 6ft convenient foldable pool table made in China folds up for simple storage and is simple to assemble and disassemble. It has excellent construction and is quite durable. The table is also straightforward to maintain and keep clean. This table is intended to encourage snooker matches worldwide as a present for kids and anyone else in need. You can use it at home or in your bar and library. It is convenient for schools to teach kids billiards games so they can practice and learn the game.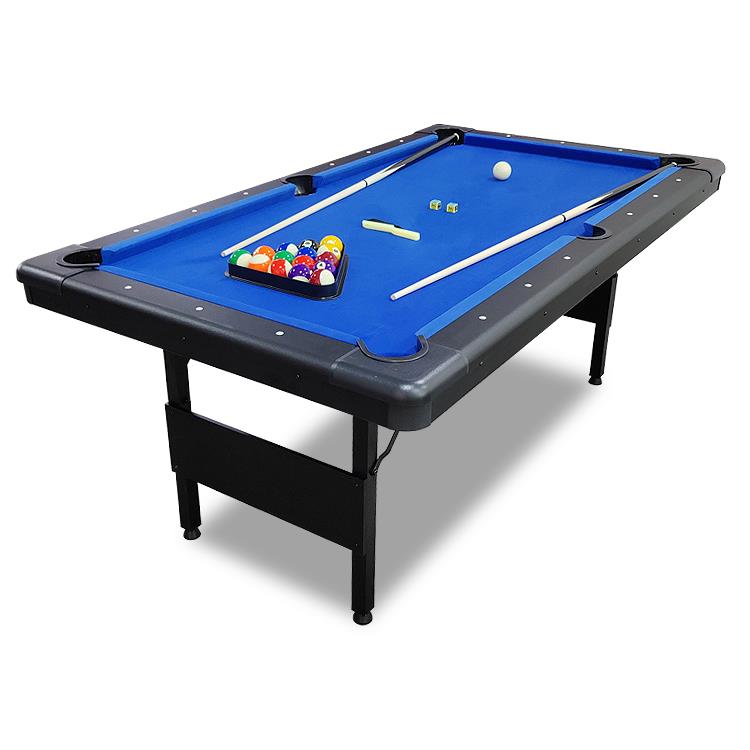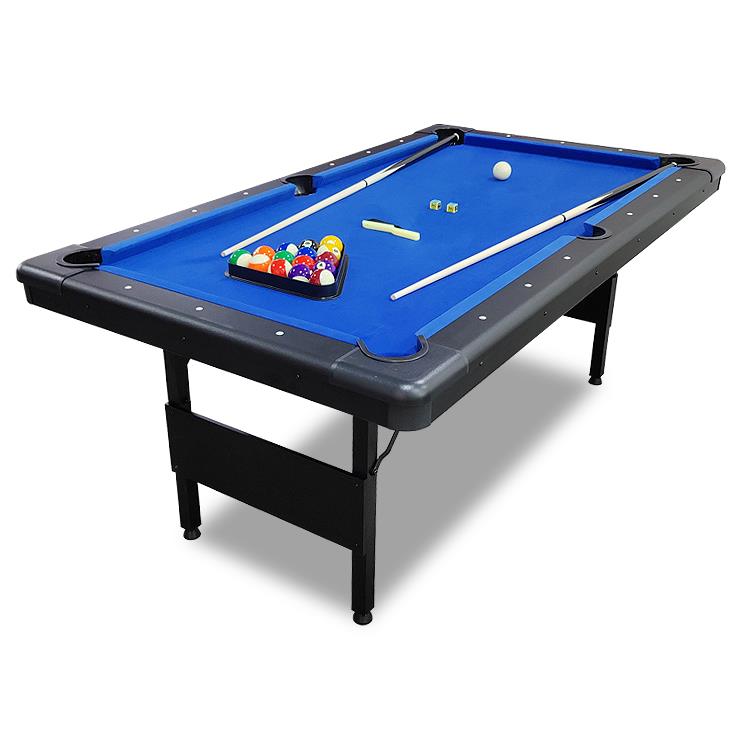 Why should you buy a 6ft convenient foldable pool table made in China?
A sturdy, 6-foot folding pool table with a light blue cloth and chrome plated corners will provide hours of entertainment for friends and family. It is perfect for relaxing nights with friends. It is an Ideal pool table for the game room, family room, office, or even your garage because it is lightweight, with perfect balance between stability, sturdiness, manoeuvrability, and optimal size. A tiny gaming room would be ideal for this furniture style because it folds up quickly for storage and has outstanding ball rebound. 
You can play the pool table in your gaming room, office, or living room thanks to its premium regulation-grade pool tables, which were created after years of research, design, and development. Every aspect was perfected to exceed competition requirements. With its vintage billiards vibe, this 6ft convenient foldable table Pool Table made in China stands directly on the runway. We created this medium-sized game table with foldability in mind for children, teenagers, and adults. This snooker table swiftly and conveniently folds up, allowing you to preserve the most playable space possible without lugging a huge, bulky table back and forth. It then tucks away into a nearby closet or storage space. 
This foldable pool table is one of our most popular products. People around the world have widely used it. The ball intake may be modified to meet needs, and the billiard table net bag is made of woven net, which is more robust. It has an excellent mesh design that makes it easy to see through. Its unique mesh design keeps your balls organized while still allowing them to be seen clearly.
This pool table's table leg is foldable, making it easy to transport and freeing up space for family use. Even still, the excitement for the pool cannot be curbed by the issue of freedom. With just one touch, these folding pool tables fold up and unfold. It is easy to carry around and store away when not in use. These folding pool tables are designed with high-quality materials and durable construction. This pool table has been designed especially for those with limited space and folds up for easy storage.
This pool table has two sets of legs. However, a crossbar has been added in the middle of the legs to strengthen the table's stability and guarantee a good playing experience. This foldable pool table is innovative, making it easy to store, carry, and transport. It has a durable material, so you don't have to worry about its durability. It is stabilized in a 6ft foldable pool table using three types of wooden material, bamboo, popular wood, and pine wood, as the main body. It has four casters, which can move freely on the ground and move from one place to another.
Are you looking for an affordable but high-quality folding pool table?
The table is already partially completed when the package is opened, and just the table's legs are required to finish the assembly of the item. It is straightforward to do and only takes two people 20 minutes. It has 18 mm MDF with an 18" x 18". The playing surface is smooth thanks to the one-sided imitation cotton flannelette; after being struck, the balls run.
This 7' by 8' billiard table is excellent for usage at home and may be placed in living rooms, garages, basements, and outdoor spaces, as well as in bars, game rooms, and other entertainment facilities.
Included accessories are pool clues and pool balls:
This foldable table allows you to practice in a tiny space and saves room. The table can be folded up when not in use to conserve space. The foldable pool table includes a pool table set, pool chalk, pool triangle, and table brush. Its Small size is appropriate for kids to use for training, allows them to move their fingers and exercise their bodies safely, and helps develop dedicated and critical thinking. It also provides a great deal of versatility when playing.
Premium quality materials:
It is straightforward to play on and comes with a comfortable cushioning surface. As it is made of high-quality materials, this folding pool table has a sturdy frame and is durable enough for daily use. With its compact size, this folding pool table can be stored easily, and its folding property makes it unique and ideal for people.
Conclusion:
If you are looking for a pool table that's both convenient and affordable, then you should consider purchasing a 6ft convenient foldable pool table made in China. The SZX factory manufactures all these items. You should pay more attention to them because they are affordable and made from high-quality materials. Our customer service staff will reply within 24 hours. It is perfect for usage in confined spaces. The assembly was straightforward. When not used in the home, this billiard table's table leg can be collapsed, making it simple to carry and store. A shortage of space cannot dampen the passion of billiards fans. We have the best price folding pool table online store with high quality and fast delivery service.