A 40-inch tabletop air hockey table is one of the best ways to have fun with friends and family. When not in use, this table is simple to stow and the ideal size for tiny spaces. Playing air hockey on a tabletop is a fun option to engage in some friendly rivalry with family and friends. Any game room would benefit from a good air hockey table. They're fantastic for games of competition and family fun. Because it is the ideal size for both children and adults, this table is the greatest. The smooth surface and high durability make it suitable for air hockey play. It has an automatic scoring system to keep track of the action and a strong blower motor for quick movement and fluid space. Two pushers and two pucks are also on the table.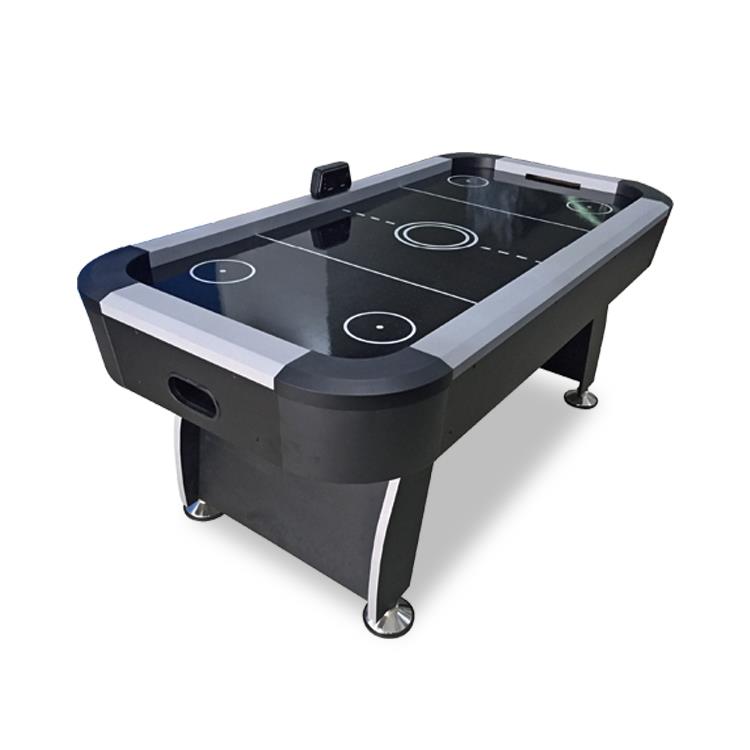 The accessories were also designed with small hands. This table is a terrific source of enjoyment for kids because of its small size. Try to interest them in the sport, and your child will find the game more engaging to participate in if you play with them. With its unique gameplay, this air hockey table is a terrific way to keep your kids entertained. The vast, level playfield, marked with ice hockey pitch lines, has a goal at either end. The tables initially merely had sliding pucks, but the playfield rapidly had thousands of tiny holes. The puck could float on this air cushion just as it does on the ice during an ice hockey game, thanks to electric pumps that forced a powerful air current through these openings.
The majority of inexpensive air hockey tables are made of fragile plastic. We are impressed by this table's strength, considering its size. Because it is made of MDF hardwood, it can maintain stability throughout lengthy playtime. The table is simple to set up and play with because of this. The table is quite valuable despite its inexpensive cost. You get a table that mixes form and function with features like constructed hardwood.
Best for relieving stress:
40-inch Table Top Air Hockey Table moves quickly and calls for quick reflexes. It's a fantastic game for parties and family get-togethers as well. They offer hours of family entertainment and are simple to set up and take down. Both an excellent workout and a great way to decompress are playing air hockey. This game is ideal for gatherings with friends or family because the size table can accommodate four players.
An air hockey table has several benefits:
Promotes wellness by Burning Calories:
Many people don't think of table sports as actual sports. Given that they require significantly less physical labour than most other activities, it makes sense. On the other hand, even a board game like air hockey might be a helpful workout or addition to one. Similar to table tennis, electronic air hockey is a MET 4 exercise or one that is quite similar to it. This means that it's almost four times as difficult as doing nothing but lying on your couch for a few hours. That suggests that a wild air hockey game could burn significant calories depending on your body weight.
Improved Hand-Eye Coordination:
The speed of an air hockey puck is comparable to that of a major league pitcher, but not entirely. The comparatively short distances (usually just over 6 feet) involved help with this. Air hockey game table manufacturers and other table games can be a fantastic way to enhance your hand-eye coordination and capacity to anticipate quickly moving objects because keeping up with such a fast-moving item requires quick reflexes.
Enlarge your social network:
To compete in electronic air hockey, you must have at least one opponent, just like in any other physically demanding activity. This gives you lots of chances to connect with new people who, coincidentally, have at least one shared passion as you do. Making new friends is a beautiful experience; it's among the essential things in the world.
Purchase Advice of 40-inch tabletop air hockey table:
The dimensions of this table are 40 inches. The accessories are created for kids, and adults are welcome to play on this board, but they must play with less force than usual. In general, if you have a little bit of space to play on, this table is a decent choice.
Examine the fan's airflow:
Customers complained about the fan's airflow. It blows at 100 CFM but is not strong enough to last over time. Therefore, for the fan to function, we advise keeping it well-maintained.
You are purchasing extra pucks for your air hockey table. During a game, pucks could disappear. Nothing is more aggravating than ending a game because there aren't enough pucks. You can keep playing the game by purchasing extra pucks.
Conclusion:
If space is limited, you may want to consider getting a 40-inch tabletop air hockey table. It will fit perfectly on most tables and provide hours of fun for everyone involved. Our air hockey table has adjustable legs, so you can adjust the height to fit your needs. This air hockey table was designed for players who love playing air hockey in their own homes. All SZX items run electronically, and you won't regret purchasing them. Some have sturdy MDF and PVC lamination and come in various sizes. These waterproof tables do not allow water to enter since the air holes are constructed so that they do not. These game tables are all highly recommended due to the qualities listed above. Buy yours today!