nvesting in a PVC Laminated MDF Adult Air Hockey Table is a wise decision for any gaming room. It may give hours of entertainment for gamers of all ages, from novices to veterans. However, not every sort of player wants the same air hockey table. This air hockey table buyer's guide will assist you in selecting the best model. Here are seven considerations to consider when purchasing an air hockey table.
1) Table Dimensions
When purchasing PVC Laminated MDF Adult Air Hockey Table, you must consider its dimensions. Standard-sized tables are eight feet long and four feet broad. This is the optimal size for serious gamers, and it is also an excellent option for business usage. With a regulation-sized table, you can conduct tournaments and attract professional players.
However, since not everyone has the room for a full-size table, air hockey tables are also available in sizes ranging from 4 to 7.5 feet in length. This makes finding a gaming table that matches your area easy. No matter what size you choose, you'll require at least 36 inches of room on each end to walk about freely when playing.
2) Big Puck vs. Tiny Puck
PVC Laminated MDF Adult Air Hockey Table comes in two sizes: small and big pucks. The fans in 2 3/4-inch-puck air hockey tables only generate enough pressure to lift the smaller pucks, whereas the fans in 3-inch-puck tables generate enough pressure to move the larger pucks. Air hockey tables with small pucks are perfect for youngsters and early adolescents. However, if the pucks are struck too hard, they will fly off the table, therefore older players would likely prefer tables with larger pucks. Small puck tables are often the most cost-effective alternative since they are intended for informal usage.
The engine on tables meant for big pucks is more powerful, allowing for somewhat larger and heavier pucks (3 14 inches broad). Teenagers and adults prefer to strike the pucks with more power, making large-puck air hockey tables suitable for them. Large puck air hockey tables are often more costly, but this is because they are constructed to last years of play, even in a commercial setting.
3) High-Quality Components
A table manufactured from high-quality materials will last for years of air hockey play. Here are a few factors to consider before purchasing a new air hockey table.
Look for rink walls constructed of high-density aluminum or nylon, since they will be subjected to repetitive impact during play. Similarly, a wear-resistant laminate should be applied to the playfield to boost its durability. A dependable air hockey motor must have the UL certification mark to guarantee safe operation, and if it includes a Plenum chamber, you can be confident that it will distribute air evenly throughout the table.
The legs of your air hockey table must be made of sturdy wood or steel to provide sufficient strength over time. Choosing a model with leg levelers also ensures a level playing surface regardless of where the table is placed.
Possibly the greatest maker of air hockey tables, Gold Standard's Gold Flare Home Air Hockey Table is featured above.
4) Electronic versus Manual Scoring
Next, you must choose how you will maintain your score. Some tables have computerized scoring that keeps account of every goal scored from the beginning. Others include a manual scoring device, such as an abacus or whiteboard. Some individuals prefer manually maintaining scores since it enables them to establish their own home rules and dismiss unintentional goals. If the convenience of play is the most important factor, computerized scoring may be the best option.
5) Aesthetic
When viewing air hockey tables, you will realize how visually distinct they all are. Some have vibrant hues and eye-catching patterns, making them appear ideal for an arcade. Others are constructed of smooth, polished wood and would look perfect at home in an elegant gaming room. It is simple to locate a PVC Laminated MDF Adult Air Hockey Table that complements the décor of your house or game room since there is such a vast selection of designs.
6) Decoration
Air hockey tables often have overhead lighting and scoring device. This enables you to play in poorly lit places and elevates the overall aesthetic of the table. Frequently, this also contains extra features such as black illumination, which may cause your paddles and pucks to glow in the dark! Other tables illuminate from underneath, and others have pucks and paddles that illuminate independently for even more spectacular action.
7) Boomerang versus Traditional Air Hockey Table
There are two types of air hockey tables, standard, and boomerang, a fact not often known. The boomerang variant of the game has an eye-catching, distinctive appearance that fits its name. Both players stand at the same end of the table and shoot for their opponent's goal by hitting pucks against the opposing wall. A boomerang PVC Laminated MDF Adult Air Hockey Table may be a significant space-saver since it can be pushed against a wall. A boomerang table is worth considering if you're seeking a creative spin on this traditional game.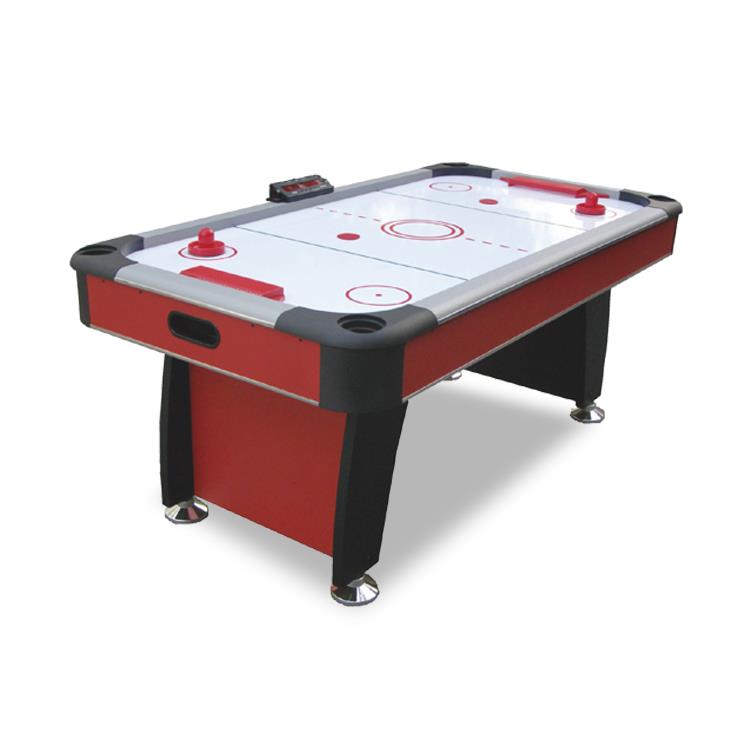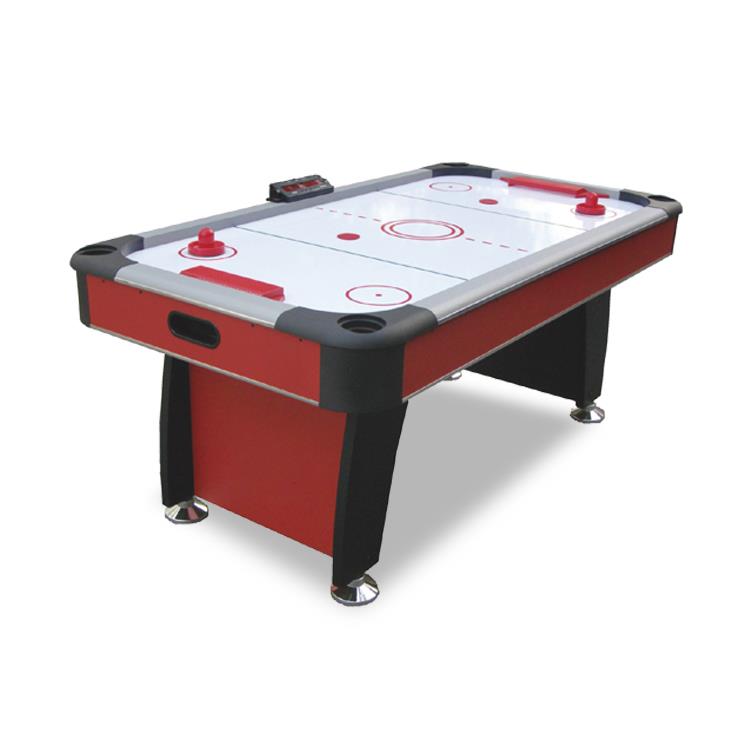 High-quality PVC Laminated MDF air hockey table for adults By SZX
Black ABS nook with built-in cup holder 1.
With the ABS black corner's cup hold feature, players may keep a water bottle, a can of soda, or a cup of juice within easy reach while gameplay without worrying about spilling a drop.
Second, a set of leg-levelers
To play on a level playing field regardless of the condition of the floor, the table's legs may be adjusted using a simple mechanism.
Third, the use of computers for keeping score and making substitutions
The electronic scorer is far less complicated to use than the manual one. The player is not required to keep track of their score. The score is presented on the screen immediately, and it's spot on.
Conclusion
MDF PVC Laminated MDF Adult Air Hockey Table may be made from either wood or plastic MDF. Both are possible to get. However, the quality of an air hockey table depends on more than simply the components used. As a result of reading this, you should be better prepared to choose an air hockey table. For a top-notch MDF air hockey table, check out SZX. A wide selection of air hockey tables is available. SZX is committed to satisfying its customers by always providing superior products. Don't worry; your expectations will be met and exceeded.