Modern Dartboard Cabinet Detail:
1. Cabinet Hinge
A dartboard cabinet hinge is made of lacquered metal. Therefore, it will resist rust and corrosion.
The lacquered metal is stiff and rigid, which makes it durable and suitable for cabinets.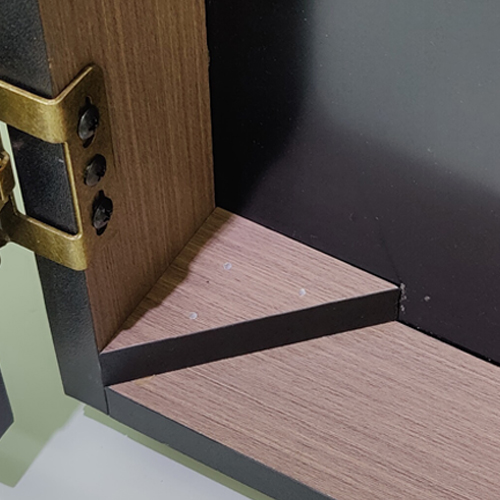 2. Storage area of darts
This is an area where darts can be stored after use to prevent loss and damage.
The storage area has laminated wood to prevent scratches and wood-eating insects from destroying the darts.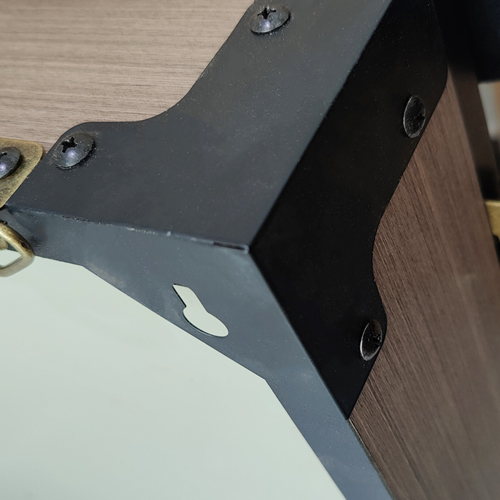 3. Angle bead
These angle beads are placed, so it protect the corners of the cabinet and better position the boards to prevent them from dropping.
These angle beads are coated with rust-resistant paint to enhance their life.
About This Item:
Dartboard lovers might become bored using ordinary cabinets that no longer look stylish. Therefore, SZX has introduced a modern outdoor dartboard cabinet set that looks professional to carry and looks modern.
Not just the appearance of the outdoor dartboard cabinet is modern, but also its features! We have made it resistant to rain, thanks to the laminated wood on cabinet doors that are closed airtight. Because it's an outdoor dartboard cabinet, it has a comfortable handle so the game can be played at a desired place.
SZX has also made the whole cabinet stronger, more durable, and more modern while keeping it as lightweight as possible. The old classical cabinet used to be heavy, with sharp edges, but this SZX-DBC003 dartboard cabinet is just classy and portable.
Add-ons with modern outdoor dartboard cabinet
We can confirm your request if you want to get even more from the modern dartboard cabinet. For example, adding light can add more unique features to this modern cabinet set. So it becomes an electronic dartboard cabinet that features a light. It can be in the form of rechargeable light or plugin light that adds charm to the modern ambiance of a dartboard cabinet,
Technical details of SZX-DBC003 outdoor dartboard cabinet
MATERIAL: 15mm foamed board surface is coated with anti-UV paint, which means the original color won't fade in summer. In addition, The board on the back is an aluminum plastic board.
USE: The darts inside are high-quality and can add beauty to the wall.
PACKAGE: The package delivered to you is fully assembled. You only need to spend three minutes unboxing and hanging.
 ENTERTAINMENT: It contains a scoreboard for playing and writing down the score with friends and family.
SUITABLE PLACES: This modern outdoor dartboard cabinet can be used in the living room, garages, basements, and out yards, as well as in bars, game rooms, and other entertainment venues.
Don't hesitate to buy this modern dartboard cabinet for outdoor gaming. Built with high quality materials to make modern appearance, this cabinet should be your first choice to buy!
Dartboard cabinets seem to be an excellent solution for everyone who prefers to maintain his darts protected and organized. It is always advisible that dartboard inside the cabinet set should be avoided in rain. Though it is desgined for outdoor but rain can damange somehow the board insider or outside. SZX offers the greatest quality of dartboard cabinets, so you can enjoy your game the most.