Just like cue sports and billiards played worldwide from centuries we will light on dart board games that you must be familiar with. Dartboard is a very old fun game that is played around the world mostly played in Europe and America. The game is very simple to play, enjoyable and fun to have little friendly competitions with friends or family. To play the game you must have a good quality dart board with a cabinet (optional) or other accessories.
However, the traditional dartboard hanging on the wall may look awkward and won't fit in with your home decor. That's where a dartboard with a backboard comes in. If you choose a custom backboard it will add a luxurious touch matching your home decor and ambiance.
Generally, the dart board is fixed to a wall like a wall-clock, and there's nothing behind that to ensure safety and look pleasing.
Frankly speaking If you don't have a dartboard yet you are too boring. Also, if you don't have a dartboard with a backboard, how do you manage to look at the wall?
Let's light up the benefits of having a custom background to match your home decor and make it lively.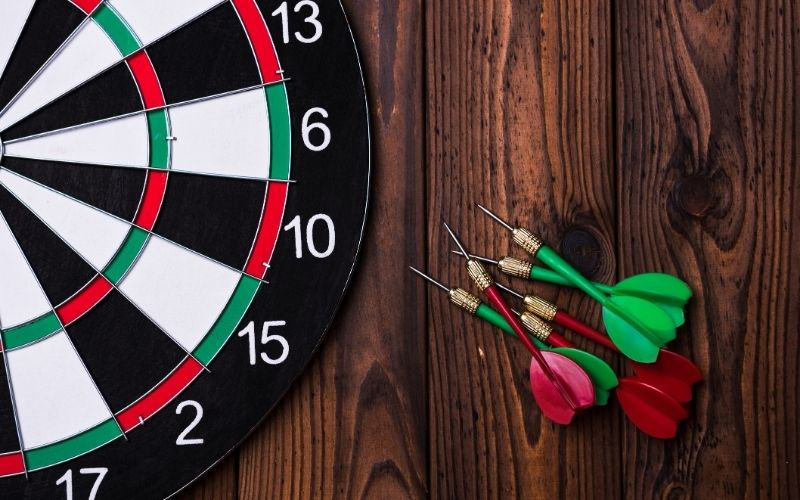 Benefits of a Dartboard with a Backboard
Now let's discuss the true benefits of having a dartboard with backboard, so that your living room looks more adorable with a matching home decor.
Blackboard Protects Your Walls
No matter what, a dartboard with backboard will not only protect your wall's paint but also protect it from missed targets. Whether the player is a champion (like me), the chances of missing the target is a part of the game. Therefore, those missed targets will make notable holes in your walls if you don't have a backboard mounted yet.
Looks Professional and Appealing
A question that we asked earlier, how awkward a wall will look with only a dart hanging like a wall-clock? So, a dartboard with a backboard adds a professional touch to your game setup. Moreover, it also gives your setup a more polished and complete look matching your home decor.
You can also go for a custom backboard of any style, including shape, size, color and design to match with your favorite home decor.
Easy to Install even without a plumber!
The backgrounds are not difficult to hang like a grandpa fixing the faulty car. Neither one should be a DIY expert to put one together. The backboards come with hardware accessories like screws or nails to fix it tightly because the dartboard background has to be fixed on the backboard.
How to Make a Custom Dartboard with a Backboard At Home?
It's quite fun and interesting if you plan to create a custom dartboard with a backboard at home. Seriously, it doesn't need a youtube tutorial or expert's consultation. You just need to have the right accessories that I am going to tell you now. Once you have those, using your creative ideas you can build a background of your matching home decor.
Let's jump to the topic now!
Materials you need building a dartboard with backboard:
Plywood board (4' x 4')
Cork board (4' x 4')
Wood glue or white glue
Four 2 inch screws
Saw
Sandpaper
Wood lacquer
Paint brush and paint
Dartboard (with or without dartboard cabinet)
Instructions:
Using SAW to Cut the plywood board to required size
Using a saw, cut the plywood board to the desired size. A 4' x 4' board is standard for a dartboard.
Make the edges smooth backbaord
Using sandpaper, sand the edges of the plywood board until they are smooth from all the corners.
Glue the cork board to the plywood board
Using wood glue, glue the cork board to the plywood board. Make sure to spread the glue evenly and smooth out any bumps.
Fix the dartboard with backbaord
Using 2" screws, attach the dartboard to the center of the backboard and mount it using screws. Make sure it doesn't move and is balanced.
Apply Wood Lacquer
A wood lacquer is an optional to apply but it adds life to the wood, makes it shiny and water resistant.
Match the decor by painting!
Using a paintbrush, a chosen paint or even spray paint for wood, evenly paint it from all the sides and let it dry. You can repaint it if you want more vibrant colors.
Mount the backboard to the wall
This step requires hardware work, you might need to mark the hole's position and drill into the wall. Then place the board on the wall and tighten the screws.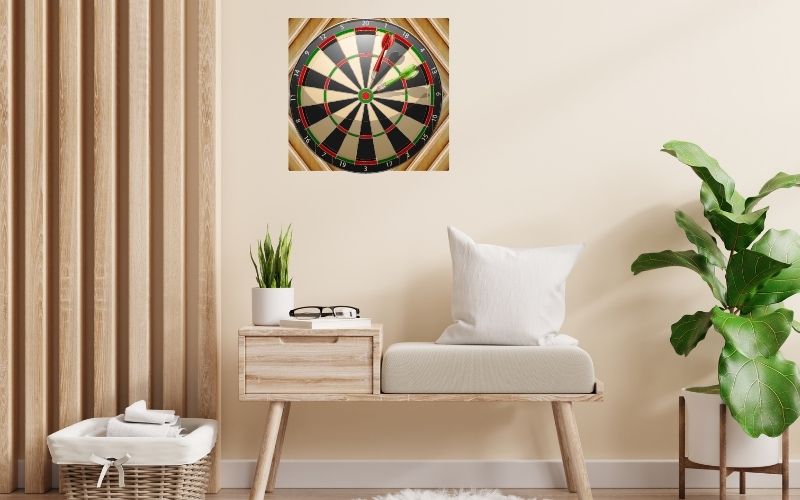 Conclusion
A dartboard with backboard adds beauty to the wall and makes it professional while playing darts zestful. It also secures the wall from the missed shots and doesn't look awkward un-matching the home decor.
Whether you decide to purchase a pre-made backboard available online and offers free shipping. Or you can make one for yourself. The steps of construction are easy like a school project. You won't regret investing in one if you follow our tips!.
Just a bit of creativity and you get a professional dartboard with backboard.