What Is An Air Hockey Table?
An air hockey table is a game that looks similar to a pool table with a flat, smooth surface and two side walls. The game is played with two, three, or four players, with each player controlling a paddle and trying to hit the puck into their opponent's goal.
The puck slides on an air-powered cushion of compressed air that blows up from beneath the playing surface. The compressed air keeps the puck on the table and provides resistance to the players' paddles.
What Is Its Structure?
Air hockey tables are made in different styles, sizes, and designs. Some are large rectangular tables while others are smaller round ones. However, most of them have some common features:
A flat playing area covered in felt or plastic for smooth gameplay.
Two side walls about 4 inches high to prevent pucks from flying out of bounds.
A scoring system that indicates where shots land on the table.
A puck that players use to shoot at their opponent's goal.
A compressor provides airflow under the table surface and creates resistance for the puck.
The size of an air hockey table depends on what you are going to use it for. If you just want a smaller version of this game, then you can get one that measures around 3 feet by 6 feet or even smaller.
In addition to the above, if you want to play a hearty air hockey game, you also need strikers and pucks. Before you get an order from those air hockey table wholesalers, you need to know if the accessories are complete or not.
How Does SZX Differ From Other Air Hockey Table Wholesalers?
No matter which country the air hockey table wholesalers are from, the most important thing is the product quality that this wholesaler can provide. SZX, a professional air hockey table producer, is also more mature than other air hockey table wholesalers—because they have many years of experience.
The biggest difference between SZX and other ordinary air hockey table wholesalers is that it can provide air hockey tables with higher sports technology. This means that every detail, function, and construction has been rigorously evaluated.
Here is a hot-selling air hockey table from SZX: PVC Laminated MDF air hockey table
Two sizes for your choice: 6ft/7ft
Like other air hockey table wholesalers, SZX has many sizes for you to choose from. However, SZX can provide ODM or OEM services with more aesthetic value. This table is made of PVC Laminated MDF and has two sizes to choose from 6ft to 7ft.
6 feet: 72" x 36" x 32"
7 feet: 84" x 48" x 32"
Perfect accessories: strikers and pucks
This air hockey table comes with 2 strikers and 2 pucks in the package. The strikers are made of plastic, which is safe to use for children. Meanwhile, the pucks can be used for both home and commercial use.
Classic conspicuous color matching: red, black, and white
This air hockey table looks different from other air hockey table wholesalers, it is made of three color combinations red, black, and white. The black ABScorners wrap around the four corners, forming a harmonious combination of red and black. On the smooth white table playfield, red lines divide the two areas, which is very conspicuous.
Convenient space design:
It also has a lot of very convenient and useful details, which distinguish it from other shoddy air hockey table wholesalers:
1. ABS black corners:
The black ABS corners can effectively prevent the puck from falling off and make it more convenient to play.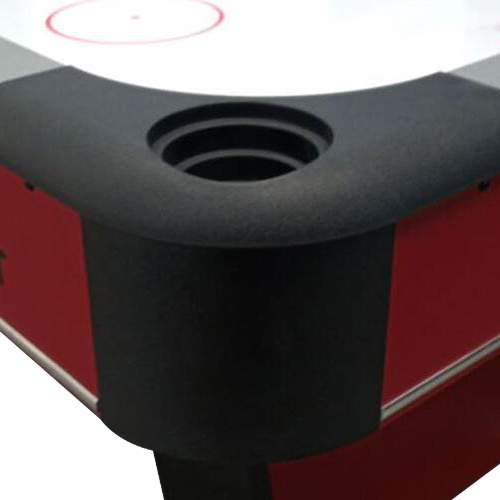 2. Cup holder function:
The cup holder on the table will help you to keep your drink within reach while you are playing. This is a very convenient and useful feature, which is not commonly found on other shoddy air hockey table wholesalers.
3. Leg height adjustment system:
The leg height adjustment system will allow you to adjust the height of the table according to your needs. This is a very convenient and useful feature, which can make it easier for people of different heights to play at the same table.
4. Electronic scorer:
The electronic scorer will help you to track your score and keep a record of it. This is a very convenient and useful feature, which can make it easier for you to improve your game.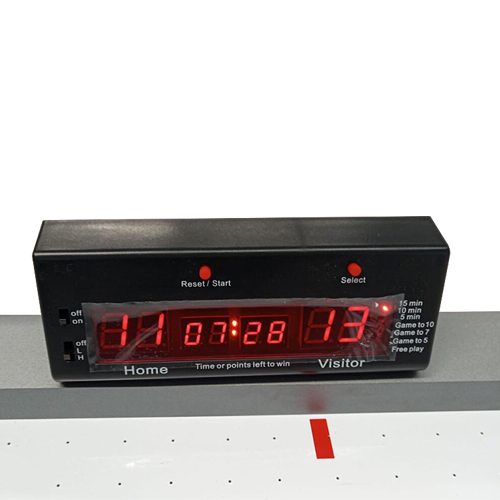 The Advantages Of Choosing SZX As Your Air Hockey Table Wholesaler:
Many people have different concerns when choosing their target air hockey table wholesalers. But in an order process, different wholesalers will provide different experiences. For example, SZX is a company with 27 years of operating experience. They have their habits and processes when serving customers, to achieve the purpose of providing customers with better services.
Here is a brief introduction to the process:
1. After you choose the product, you can contact customer service directly and provide the size of the table and other basic information.
2. After confirming all information, our salesperson will send you a quotation for reference. In addition to the price, we also need to know what type of material you want to use for your air hockey table. There are many types of materials available, such as PVC boards, MDF boards, and others. Different materials have different prices and physical strength.
3. After receiving your confirmation on the quotation and order details, our salesperson will arrange production according to your needs. Usually, it takes about 30 days or so for production completion before shipment. It depends on your order quantity.
4. If everything goes smoothly in this process, we will prepare shipping documents and send them to you in time after production completion so that you can start shipping immediately after receiving goods from us!
How To Assemble Your Air Hockey Table And Put It Into Use?
Unlike other air hockey table wholesalers, SZX tables are semi-assembled. This means that when you receive your item, unpack it, and only need the legs of the table to complete the product assembly. This process only takes two people 20 minutes to complete, very simple.