CE certification is limited to the basic safety requirements of products that do not endanger the safety of human beings, animals and goods, rather than general quality requirements. The harmonization directive only provides the main requirements, and the general directive requirements are standard tasks. Therefore, the accurate meaning is: CE mark is a safety qualification mark rather than a quality qualification mark. Is the "main requirement" that forms the core of the European directive.
The "CE" mark is a safety certification mark that is seen as a passport for manufacturers to open and enter the European market. CE stands for CONFORMITE EUROPEENNE.
In the European Union market "CE" mark is a mandatory certification mark, whether it is the product produced by enterprises within the European Union, or the product produced by other countries, in order to free circulation in the European Union market, it must be affixed with the "CE" mark, to show that the product meets the basic requirements of the European Union "New Method of Technical Harmonization and Standardization" directive. This is a mandatory requirement for products under EU law.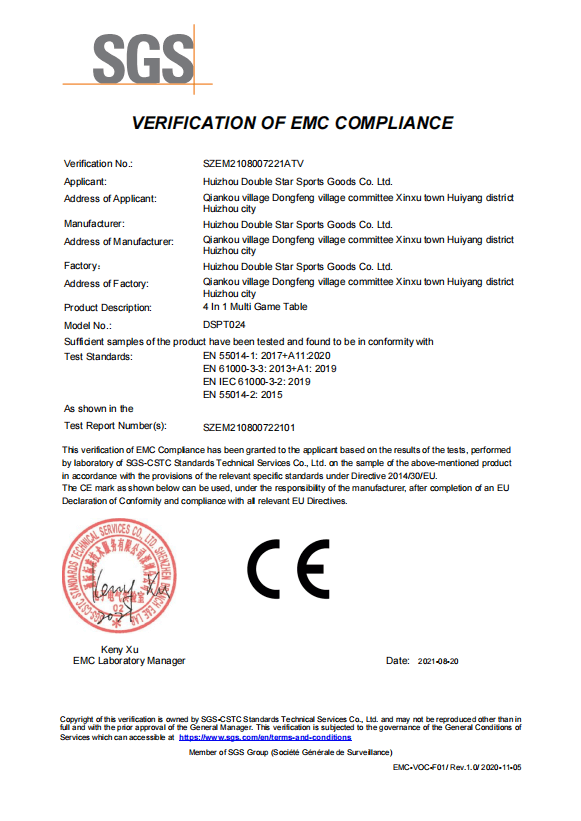 In order to further expand the European market,Double-Star also sent our products to the authoritative agency SGS for certification, and successfully obtained the product certificate.
We hope to have the opportunity to cooperate. If you are interested in our products, please do not hesitate to click the link below or contact me.
https://www.alibaba.com/product-detail/SZX-manufacture-Modern-best-price-hot_62253352914.html?spm=a2747.manage.0.0.685571d22XfKWA
DSPT024 is a 4 in 1 modern multi game billiard pool table. It comes with features as following:
(1) Includes billiard Air Hockey and Table Tennis games. Multi game function can bring you extra fun and makes the table super economic!
(2) Rotation design allows quick and easy game switches. By rotating the pool table top, the table becomes an air hockey table. By flipping the table tennis table top, it becomes a dinning table top.
(3) It comes 95% pre assembled. Simply attach the legs and you are ready to play.
(4) Built-in storage rack provides easy access for storing accessories.
(5) Full accessories included!